BIO NOVA Fertilizer to every grower
0
335
[Total: 4 Average: 2.5/5]
Today I will talk about fertilizers for growing marijuana Bio Nova.
This Dutch nutrients house has more than two decades producing mineral and organic nutrients to any grower. For each culture medium there are specific fertilizers, BIO NOVA additives are compatible with any base.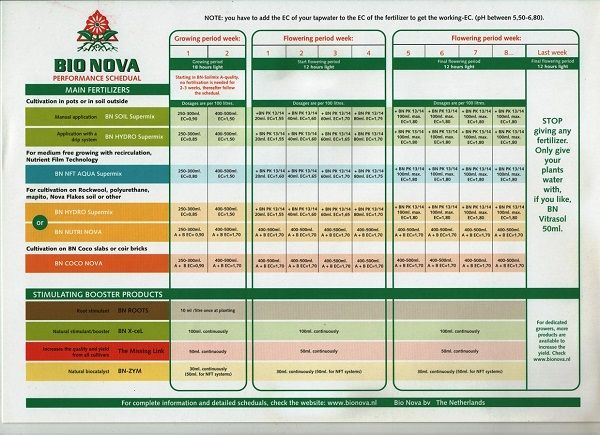 For inexpert grower they can use 2 products in its catalog, and obtain more than reasonable results.
The A and B system for all inert or artificial substrates:
– Nutri-Forte A and B, in amounts similar to rock wool substrates or the like.
– Coco-Forte A and B, in equal amounts, for coconut fiber.
You can also use the SuperMix fertilizers:
– Soil-Supermix, for soil cultures.
– Hydro-Supermix, when you use droppers or you cultivate in hydroponics.
– NFT-Aqua-Supermix in culture systems where there is no culture medium.
– LongFlower-Supermix, for plants that have a long blooming period and any culture medium.
You can combine any fertilizer Supermix with PK 13-14 in the flowering stage.
Growers midlevel can add 4 products more to earlier and get exceptional results.
– BioRoots, for planting and transplanting, the best protection and stimulation of the roots.
– BN-Zym breaks accumulations of products in the substrate, and makes them available to the plant.
– TML The Missing Link, improves health and immune system of plants.
– X-Cel Booster, designed to be combined with the above, and to improve productivity and quality of the harvest.
These 4 products by themselves or in combination, increase the possibilities and compensated immediately. The plants benefit and learn more, better it understands the needs of the plant. Following increases yields in every way.
If you are a master grower, you are looking for excellence or just want to try with special varieties:
You have to your disposition a range of products that can be combined with all of the above.
And if you use P20 and K20 instead of PK 13-14 if you want to respond more accurately to the needs of the plant. You can also use single-element fertilizers such as nitrogen, phosphorus, potassium, calcium, magnesium, to make your more accurate own solution, the need of our beloved plants.
MicroMix, is a combination of trace elements. Citric acid, Free Flow, Spraymix, AlgaeMix and Vitrasol are organic additives.
With all these possibilities, Bio Nova covers all the needs of marijuana growers, curious and experienced.
Source: Piensa En Verde