Calendar of cannabis events: June-December 2015
0
11
Throughout the whole year, 
numerous fairs and events
 held around the world of 
cannabis
 either in Spain or the rest of Europe. Of those held 
from June onwards
, we will talk in this new blog.
As is the case with other business areas, marijuana has its own trade fairs, conventions or other events held throughout the year and throughout the world, being Spain one of them. In fact, several of our country fairs highlighting, not only at the local or state level, but also within the European framework.
Each has its own characteristics, but have in common the will of organizers and participants to extend knowledge of the cannabis world, both in product variety, and uses and other issues.
In this new blog we are going to focus precisely on all fairs are to be held in Spain and in some highlights of Europe from June until December. So grab pen and paper and find out when and where they are held closer to have in your home or, why not, to prepare the trip to attend those that are of most interest you.
Fairs and major events in Spain
After the celebration in May of 2015 Espocáñamo (in Seville), the World March of marijuana held in Spain, in the cities of Madrid and Barcelona on 1 and 2 more or the twelfth edition of Spannabis Barcelona 2015, still there are many fairs and events to be held in our country, related to the world of marijuana.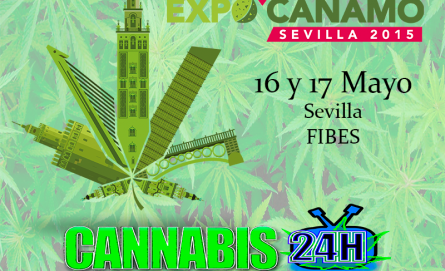 It is true that, in addition to that then we will mention other more minor events are held, but we would like to focus on the most important or rather, in those with bigger audiences, activities and participating in professional same.
Spannabis Málaga 2015: Andalusian edition one of the most important Spanish fairs, held this year and following the success of previous editions, the sixth edition of Málaga Spannabis 2015, to be held from 19 to 21 June at the Palace Fairs and Congresses of Malaga (FYCMA). So far, it had developed in different parts of Spain.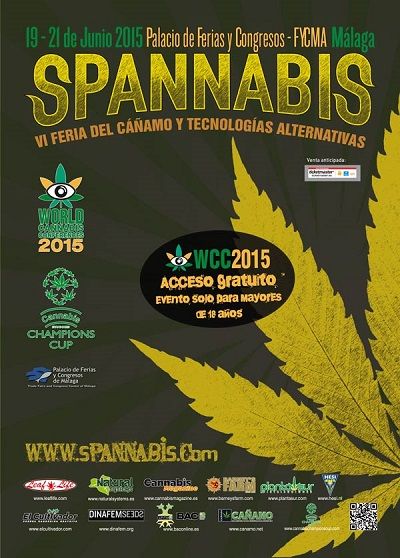 The schedule of the fair will be uninterrupted, from 11.30 to 20.30, except on Sunday June 21, the exhibition center will close at 20 hours. The entrance fee per day is 12 euros per person and bonus for three days, is 25 euros. Of course, entry is prohibited to persons under 18 years. Throughout these three days, visitors can enjoy different products from different companies participating in this year, and other parallel activities.
Its success has been such in the past editions, which Spannabis South is becoming a true international benchmark and, in fact, this year, in addition to Spannabis, also hosting the 2015 edition of Worl d Cannabis Conferences, involving Spanish experts, along with national and international companies.
Clicking this link, you will have access to the full program of this conference, but include, among others, the presentation will take place on Friday, June 19, "uses of cannabis: food, cosmetics and derivatives" and "Cannabis and Science", to be held on Saturday, June 20th or "Culture 2.0 .: the new cultivation of cannabis." Programming these days, also it includes the screening of audiovisual materials relating to the world of cannabis.
InterCannabis 2015: Fair medical and industrial hemp will be held this year in Alicante, particularly at the fairgrounds of Alicante (IFA), located in Elche. This is the first edition of an event that is here to stay and in which, as the name suggests, besides knowing the latest products also will be announced all aspects of marijuana use in medicine as well as all the news from industry that have to do with this plant.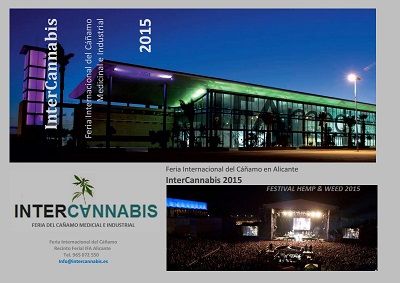 Although there are still several details to make known, which itself is known is to be held on 26, 27 and 28 June, on a schedule of 11 to 20.30 hours, except on the 28th, the exhibition will close at 19 hours.
Expogrow Irun: Fair cannabis in the Basque Country and has in particular where held, the fairgrounds Ficoba, is located in the border town of Irun, 200 meters from the border with France. An event that could be qualified, therefore cross-border, which meet all the news from the world of cannabis, while enjoying all parallel activities, day and night, held in that place, because of this fair and that many people congregate, especially when concerts take place.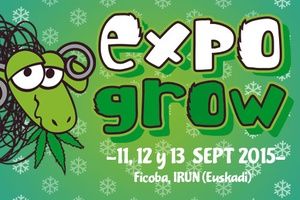 In this case, the fair, now in its fourth edition, will be held from 11 to 13 September. A different fair, and an enclosure with over 5,000 m2 divided into 3 pavilions and 7,000 m2 outdoors, it offers the public the opportunity to visit the various stands of known seed banks, of grows, distributors of vaporizers, companies specializing in crop products, etc.
Moreover and for the fourth consecutive year, will be held a new edition of the International Social Forum, which brings together major figures, national and international, related to the world of cannabis. Other names include those of: Augusto Vitale, psychologist, socio-analyst and teacher in the School of Psychology at the University of the Republic (Uruguay)   Antoni Llort   Drug Dependence Unit of San Joan de Reus Hospital and   Charlo Greene, media TV reporter in Alaska fighting for marijuana reform, among many others to be confirmed shortly.
In parallel, other activities that encourage much the fair, such as music concerts or activities such as human footsball, or surfboards simulators will be held. Of course, there are also food stalls and drink.
Cannamed Valencia 2015: to be held on 9,10 and 11 October in the Exhibition of the Valencian capital, with six areas to enjoy the world of cannabis and its relationship with medicine. It is divided into six areas: nutrients; Seeds, Shops, Products; Medical Lounge and Outdoor Terrace.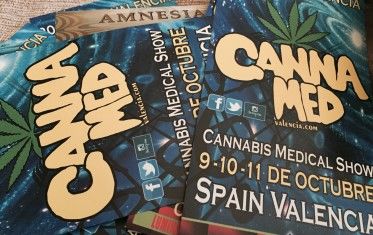 A fair that is different from other, precisely because of its strong character in defense of marijuana as a drug or used in medicinal therapies. As you can read in the manifesto of defense of cannabis as medicine, in its website , you can read the benefits that it has on problems such as glaucoma, cancer and AIDS treatments, in addition to improving the state of life persons with arthritis, rheumatism or inflammatory conditions.
Fairs and major events in Europe
If you like the fairs held in Europe on cannabis, pay attention to the following notes, where we have made ​​a small selection of some of the highlights on this sector.
Hanfparade: August if you feel like taking a tour of Germany, particularly in Berlin, on August 8 is held in the German capital's famous demonstration that this year celebrates its twentieth edition and in which only last year, involving a total of 6400 persons. Following the same, ending at the Brandenburg Gate, there will be debates and discussions about cannabis as well as other activities, such as music concerts. Scheduled time: 13 to 22 hours.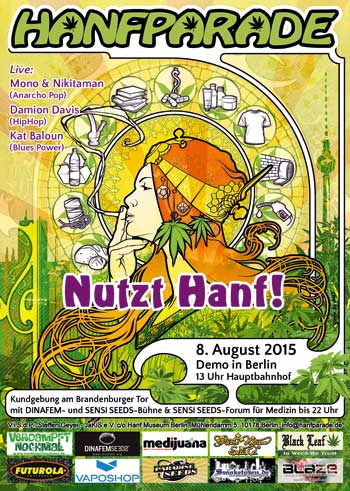 Grow London Festival. And a European capital to another, but this time in September, namely 26 and 27. the first day, is specialized in hydroponics and organic farming fair will be open to everyone, but the second, access will be restricted to professionals.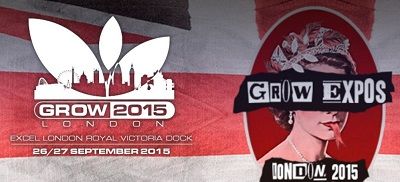 Hanfmesse grown Vienna: A few days later, on day 2,3 and 4 October, the Austrian capital celebrates its particular hemp fair. At the same flock both public and professionals across Europe. This year you can enjoy more than 100 stands.

Cannafest of Prague will hold its sixth edition on 6,7 and 8 November. During the fair, diverse conferences will be held, with the use of cannabis as medicine, to focus the main focus of the theme.


By Noelia Jiménez, Team Piensa En Verde