Cultivate your marijuana in growing cabinets
0
163
Dedicate an exclusive space for cultivation in home and do not interfere external agents is the main objective of grow boxes, which also allow you to better control the production you want to have exactly, since space is limited. Allows manual or purchase them.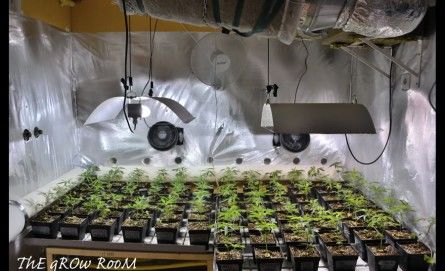 You've already decided: you're going to grow marijuana and, rather than outdoor, you've chosen to do indoors and at home, so the best thing to do is to do it in a closet culture. And for this you have two options: either do it manually with tarps and tables or buy it. That depends on your pocket or your skills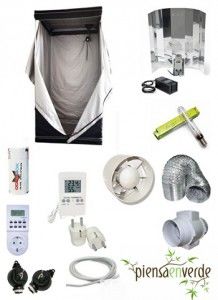 when put to work building your own cabinet interior.
Whatever your decision, once you have your cabinet there are several aspects that need to take into account, and it does not matter if your closet is manual or purchased. We speak of lighting, ventilation and temperature and humidity thereof.
Aspects which will vary depending on the amount of marijuana you want to plant , and the time of cultivation and / or growth of the plant of marijuana. Then we will detail all aspects mentioned so far.
The cabinet
As mentioned earlier in this article, there is the possibility of becoming a cabinet manually with tarps that stand up in the heat and temperature changes, as well as some wood to shape the closet.
In any case, you take the decision you take, before buying the closet or get to build it, which must have very clear is the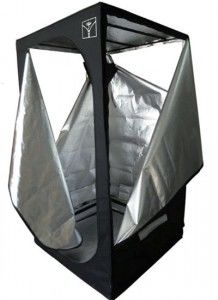 number of plants you want to plant, as the size will vary, as is logical, depending on the number of plants. As a rough example of the cabinet could be 120x120x200, if you are a habitual marijuana smoker and you smokes two to three grams per day.
And a little more would explain about closets, unless if it is purchased normally usually come with a reflective inner white or silver. The most recommended is this latter due to the degree of reflectivity featuring plants and with all the benefits that entails.
Lighting
This would be the second most important step. In this regard, it is noteworthy that the spotlights that are bought, must to be between 35 and 60 cm. Is much difference of cm, but this varies depending on the type of bulbs. If the lamps are sodium and 600 watts should to be as far as possible, between 50/60 cm. Conversely, if the lamps are sodium, but 400 watts must be put closer to about 35/40 cm. In any case and whatever the type of lamp power by which you decide, as plants get older, also need to up the lamp, so that the distance remains the same, ie 35 / 40 cm or 50/60 cm of plants.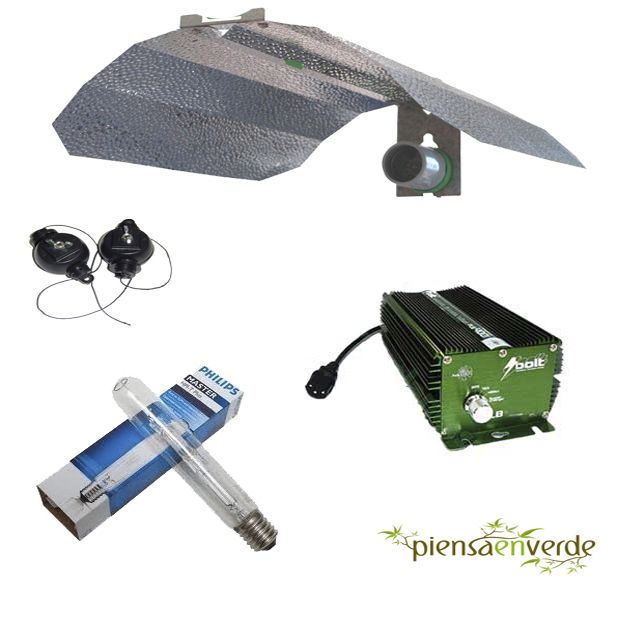 Another recommendation of lighting is recommended to start with a low consumption lamps and when the plant is in growth phase, ie flowering, lighting should be more powerful. Of course you can also use LED lamps which consume far less and lasts longer, although initial investment is greater than if we bought sodium lamps.
Ventilation
There are growers who do not pay attention, but much of the success of the quality of marijuana, is because the plants have good ventilation. In fact, thanks to good ventilation, not only the quality of the air inside the cabinet is improved, but also allows to control the temperature, humidity and odor inside the cabinet, so that it is not very strong.
A good ventilation system should be composed by an intractor and extractor. The former is responsible for bringing fresh air into the cabinet and the second will remove the hot and stale air. In any case, the latter should always be more powerful than the first, so that the air quality inside the cabinet is optimal.
Temperature and humidity
The ideal temperature for growing marijuana in a closet indoor culture should be between 20 and 28, depending on the time of growth in which the plant is located. In any case, the limits between 17 and 31, from there your crop may be jeopardized.
As the humidity level is concerned, it is recommended that always between 40 and 60%, although at some point in time, could have pulled up 90%, but this can only be a peak point, otherwise, the plant sick.
Now you have the basic information to get you to grow marijuana growing in a closet. Luck!
By Noelia Jiménez, Piensa En Verde Team