Moby Dick: hallmark of Dinafem
0
144
[Total: 3 Average: 1.7/5]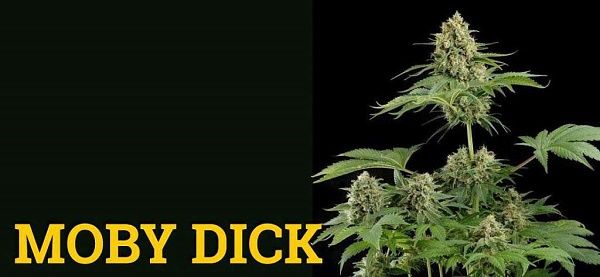 Spanish seed bank, created this variety in 2005 and since then, are numerous awards that it has received. It is characterized by its large size, easy to grow, and the excellent results it offers.
Holland was undoubtedly the benchmark as far as seed production and creation is concerned, not only at European level but also worldwide. Hence they are numerous varieties that are awarded in different international competitions they arise from the country of origin European center.
However, we have the great fortune of having Spanish seed banks, thanks to their good work, with years of experience behind them and thousands of customers that endorse, produce seeds equal to or better than those of that country and also they receive major awards throughout the world.
Such is the case of Dinafem. A seed bank that, although it was born 10 years ago in 2005, has professionals with a much longer career.
One of its star seeds and has great prestige in the world of marijuana is its variety Moby Dick.
First created in 2005 (in fact, a year before, but not until that date when they can be sold officially), has become a symbol of that company, which specializes 100% feminized seeds, stable and able to achieve equal or superior levels to some of the best Dutch varieties.
With fans around the world, the first thing to note of it is that in 2010, this seed was named by readers of 'Soft Secrets' and 'Girl of the Year 2010', which, until then, had Spanish bank earned any seeds. A year later, in 2011, it is considered as' Best Sativa' in the 'Summer Cup 2011" and also won the 'Silver Cup' (Argentina).
Moreover, it is one of the varieties with more positive comments on 'The Bible of the varieties'.
Features Moby Dick
As already mentioned, Moby Dick is a Sativa phenotype and feminized 100%, which is the result of crossing the best and the best sativa and indica seed bank Dinafem. Specifically, the sativa used and which has 80% of its phenotype, is a clone selected White Widow , with more than 15 years old.
It is a plant that can grow indoors, and outdoors, but keep in mind, first, that it is a seed that results in large plants and, therefore, great production, so it is important to calculate the site (about 3 meters from each other). So, inside it is recommended not to plant many boards or other variety, so it can grow freely. Outdoors also need more support substrate quality. Plants from these seeds are high and wide.
Similarly, it is a plant that needs a lot of sun, so if we decided to grow it outdoors have to consider the weather around us and if we do inside, it must have enough light throughout its growth.
Another feature is that blooms at an average of 65/70 days, resulting in robust plants with compact buds and a large whitish glazed and very resinous layer. As for its aroma, it combines the smell of pine, incense, wood and small hints of pepper.
One of its main advantages is that it is a type of plant, in optimal conditions, offers great productions of up to 1500 grams.
As for its effect, it is a very cerebral very psychoactive variety and lasting effect. THC level is very high (up to 21%), so it is not recommended for first-time users. It is often used, especially for therapeutic purposes, especially to combat anorexia, as it gives much hunger as well as to alleviate the side effects of chemotherapy in people with cancer.
By Noelia Jimenez Team Piensa En Verde