New varieties autoflowering 2015
0
17
If you collect your harvest hurry, if you want to give a medicinal cannabis or your growing space is limited, here's some good advice.
The autoflowering cannabis strain is one that does not need to regulate the levels of light to produce flowers. They do not depend on the day-night cycle and begin to flower three or four weeks after germination, regardless of the light to which they are subject.
As dependent on those grades of light is a species that can be grown in cold climates, indoors, outdoors, our home … This kind of variety grows very quickly, in about three months can have marijuana. With this type of plants can be 3 or 4 crops a year. The autoflorewing seeds are, for 4 years, the most sold worldwide.
We present the best known varieties of 2015.
It is a new strain of automatic feminized marijuana. This is the next generation of autoflowering strains with high genetic quality. Among the leading denomination Automatic, is also the Northern Light Automatic, a highly prized for its medicinal properties strain as it relieves pain and anxiety; It is also good for people who suffer from insomnia.
The best clone of Amnesia was crossed with another from the California valleys, the result of this union was a plant with enormous dimensions and with one of the best flowers that have ever been seen. Its growth is amazing and strong structure, makes this species develop more branches than usual and, therefore, more flowers, and a large central bud. It also has a great strength for any type of fungus. The effect is that awakens our imagination surprisingly, so is very useful for artistic creation. So get your creative streak and takes your artistic skills with this plant!
It is ideal for growing in a small space because they do not grow beyond 60 centimeters, so they are very discrete. Despite its size can give 60 grams of buds in just one month, so you know: good essence in small packages. Its effects occur sense of tranquility. Another automatic flowering variety is the Royal Automatic starting to bloom in 3 to 5 weeks. It is also very small so it is ideal for both small interior and exterior spaces. We can also find the Royal Creamatic with which you get a good crop in just two months. Its effects are sedative and is used for medicinal purposes.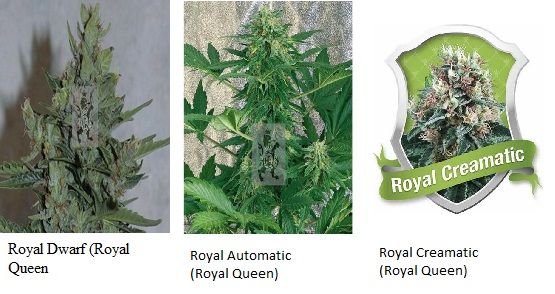 This seed also has a very fast growth, is a species of cannabis seeds autoflowering from Royal Queen Seeds most important. It will be ready for harvest in a period of 8-9 weeks.
It is another species that is not very high (about 60 centimeters) and offers a very interesting performance because each plant can get about 165 grams of buds. For its size, it is also very suitable for cultivation in any choquito. Its effects are relaxing and soothing the pain so it is used for medicinal purposes.
One of the big banks focused on creating new genetic varieties autoflowering, is Fast Buds that this year has released the results of its new research. For example, Six Shooter is one of the multi-hybrids called between Haze, Northern Lights, Super Skunk, Brazil, Pakistan and Trainwreck, its flavor is acidic and fruity. There is also the Girl Scout Cookies, a hybrid between Durban Poison and OGKush with a powerful cerebral acting leaving the body relaxed and sedated, so it can be used medicinally.

One of the best known varieties of this bank is the BlackBerry you can find in Piensa En Verde, is a resulting marijuana cross between the best Spanish genetics and the best California resulted in a strain-scented exotic fruit Purple color. This variety reaches 1 meter high and just 55 days of flowering crop 70 to 300 gr / plant was obtained.
By Noelia Jimenez Team Piensa En Verde