Nutritional properties of hemp seeds
0
44
Hemp seeds are very beneficial for health because they contain amino acids, essential fatty acids, help boost the immune system and are high in fiber.
Hemp seeds have numerous beneficial health properties. Its essential fatty acids help boost the immune system and provide the body the vitality it needs at all times. These acids also help maintain optimal mood that brings health and wellness.
It is important to note first of all that the THC content of these seeds (the chemical that produces the psychological effects of marijuana) is less than 0.2%, therefore, its consumption does not occur at all the symptoms that can occur hemp containing, for example, a marijuana cigarette. Hemp seeds do not produce the hypnotic effects of marijuana.
One of the most beneficial properties of hemp seeds is that its rich in fatty acids make this product highly recommended to prevent cardiovascular disease. In addition, vegetable proteins and essential amino acids they contain are presented as a good choice to be consumed by persons performing vegetarian diets or even for those who consume in their daily lives few proteins.
What does it taste like?
The flavor of hemp seed is very soft, pleasant and slightly sweet. You can remember the flavors of other nuts such as sunflower seeds, hazelnuts, walnuts or almonds. In addition, many experts say hemp seeds do not produce allergies. To consume as nuts must be purchased peeled because their skin is pretty tough. And to benefit from all its properties, vitamins and minerals are to be eaten raw unsalted and unroasted. Palatability is maintained even if they are without added salt and are not toast.
Incidentally, hemp seed is a product without Gluten.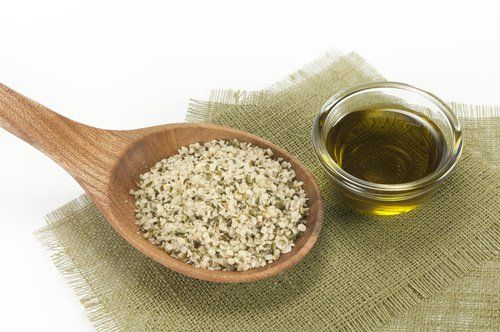 How can I eat?
Hemp seeds can be consumed in various ways, either whole, ground, germinated or an oil. Whole seeds can be used to add to desserts, cookies, breads or even to consume as nuts as is done with sunflower seeds or pumpkin. The crushed seeds offer many options in the kitchen as it can be added as seasoning to salads, pastas, soups … Sprouted hemp seeds are the least used but are an option to consider because such seeds have qualities slightly higher than other formats. Hemp seeds can also get flour, an essential ingredient in the kitchen; this flour can be used as traditionally know and it can do the same foods containing this ingredient: pizza dough, cakes, cookies, batters, breads … and everything we can think of that can be done with flour.
The composition of the oil obtained from the seeds of hemp makes it very interesting as it has, as we have seen some great beneficial health effects. This oil also contains tocopherols, which are good because they can reduce the risk of cardiovascular disease, cancer and macular degeneration in the eye, in addition to having high antioxidant qualities. The content of these phenols in soybeans is even greater than that found in other vegetable oils such as sunflower oil can be or soy. Also, this oil is rich in polyunsaturated fatty acids and contains low concentrations of saturated fatty acids.
Another interesting properties of hemp seed is the large amount of fiber they have. Therefore it is ideal to have a good digestion and proper function of internal organs. Like any food with high fiber content also prevents constipation.
Athletes or people with stress or fatigue symptoms are also suitable candidates to consume these hemp seeds. Three tablespoons per day (breakfast, lunch and dinner) provide protein and magnesium. At this dose of seeds it provides the body is more than 40% of the daily magnesium needs a person per day. This mineral helps keep bones strong and also contributes to muscle relaxation necessary after exercise or any period of rest.
For every 100 grams of hemp seeds are obtained:
– 25% protein.
– 35% of carbohydrates.
– 35% of oil (essential fatty acids Omega 3 and Omega 6).
– 380 Kcal. (caloric intake, like any other nut that is consumed is somewhat high).
Consumption of hemp seed also contains vitamins A, C, D, E and Group B. And also provides minerals such as calcium, phosphorus, iron and magnesium.
Moreover, many users consumed cannabis as a medicinal supplement as it can be good to improve the well against diseases such as Parkinson 's , MS, diabetes, AIDS, effects of chemotherapy in cancer treatment, eating disorders, alcoholism, asthma , tuberculosis, and skin problems, among others. in addition, scientific studies that have shown its antibiotic effect and seeds have been used as a good analgesic for the effects in relieving pain.
From Piensa En Verde we suggest several products other than marijuana seeds so you can prove which one best suits your needs. For example, Hemp seeds unpeeled , are ideal for cooking light and healthy dishes. It can be roasted, but to retain nutrients, should not be roasted more than 220 degrees. You can also try the oil hemp seed , its rich in polyunsaturated fatty acids, especially linoleic acid and gamma-linolenic makes can have many therapeutic applications (premenstrual syndrome, inflammation, arthritis …). Furthermore this oil is high in Vitamin E (antioxidant) and other vitamins and minerals that makes it beneficial for skin care.
By Noelia Jimenez, Team Piensa En Verde