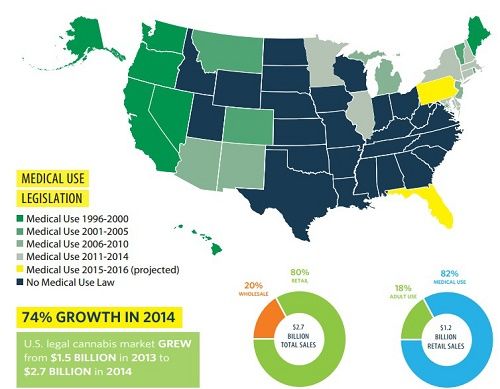 Cannabis is legal in states like Colorado, Oregon, Washington and Alaska. In another dozen states use for medical purposes is permitted; and total legalization is being debated in California and Arizona. Therefore, in the US the law is very different depending on the area.
Marijuana laws are in constant motion, in the land of Stars and Stripes. At the beginning of this year 2016, the State of New York has opened the door to medical marijuana, to catch it with all of the law. The therapeutic cannabis, in this state, may be drunk, swallowed or inhaled but not smoked. Companies must produce these drugs in confined areas and safe within the State and can be distributed in the form of liquid or oil, capsules or preparations for inhalation as a vapor. The selling price is fixed by the State of New York, and cannabis treatments typically cost between 300 and 500 dollars a month per patient.
Partnership for cannabis
In the US there is a large organization that works in favor of legalization and reform policies cannabis. It is Marijuana Policy Project, an association that wants to regulate the possession and sale of marijuana similar to existing around the consumption and sale of alcohol laws so. The work of this association is seeing off and one of its latest achievements has been to the past 2015 in Delaware the penalty for possession of marijuana is reduced (albeit in small quantities) to a simple fine.
In the state of Illinois, the organization Marijuana Policy Project has made ​​the medical marijuana legalized. It happened in 2013 and since then you can buy marijuana legally to treat patients with cancer, AIDS and other serious diseases.
In 2014 another state, Maryland, also legalized cannabis for medicinal purposes, thanks to the work done by this organization. This new legislation also allows cultivating marijuana for medicinal character.
Colorado, the first
The legalization of cannabis in the US is relatively recent since the first State where the sale of marijuana is allowed for recreational purposes was Colorado and did so in January 2014, just two years ago. This law allows citizens over 21 legally buy cannabis throughout the state. Of course, we must bear in mind that the law does not allow public consumption, so even though the sale of marijuana is legal, must be discreet when using marijuana in public places. Colorado regulations allowed to buy one ounce (28 grams) under the auspices of the Law.
In Washington, the law allows over 21 years to have 50 grams of marijuana and grow up to six plants in their homes. But cannabis should be consumed in the home and is not allowed to use marijuana on the streets of this state and not the restaurants or other businesses can allow their customers cannabis use in their establishments.
It is clear that are increasingly supporters of legalizing marijuana.
The president of the USA, Barack Obama (who admitted having smoked marijuana when he was young) said in an interview with New York magazine that "marijuana is no more dangerous than alcohol or snuff."
In terms of tourism, the legalization of marijuana has been a success, because since the new law was approved, states like Colorado and Washington have tripled the number of travelers from around the world who visit these two states.
Cannabis for medicinal use is legal:
– Alaska (recreational use is also legal)
– Hawaii
– Washington (recreational use is also legal)
– Oregon (recreational use is also legal)
– Nevada
– California
– Arizona
– Montana
– Colorado (recreational use is also legal)
– Michigan
– Vermont
– Maine
– Massachusetts
– Rhode Island
– Connecticut
– New Jersey
– Delaware
Fines and jail
Keep in mind that in the states where legalized marijuana medicinally and is not legalized as recreational use, it can be punished. For example, in Hawaii, the possession of a few grams is a misdemeanor punishable with up to one year in prison and a $ 2,000 fine. Another example, in Rhode Island, possession of a kilo of cannabis is a crime that is punishable by a mandatory minimum sentence ranging from 10 years to 50 years in prison. California is punishable by fines the possession of 28 grams.
In other states, where legalization is not covered or for medicinal purposes or for recreational purposes, the penalties for possession and consumption vary by location. For example, in Florida, possession of up to 20 grams of marijuana is a misdemeanor, but that is punishable by up to one year in jail and a fine up to $ 1,000. Possession of more than 20 grams of cannabis, meanwhile, is punishable by up to five years in prison and a fine up to $ 5,000. Of course, in this state the sale of marijuana is also penalized and even if performed near a university, a school, a park or a church, is punishable by up to 15 years in prison and a fine of 10,000 dollars.
There are states in which even contemplated life imprisonment. In others, have a simple spliff is punishable a few days in jail. And, in some states, if the amount of marijuana that someone possesses is 50 to 100 grams, it is punishable by years in prison and there is no possibility of reduced sentence. So, you see, if you intend to travel to the US, depends on the area where you go, the legislation varies considerably.
By Noelia Jiménez, Team Piensa En Verde