Grow Organik
Reduced price!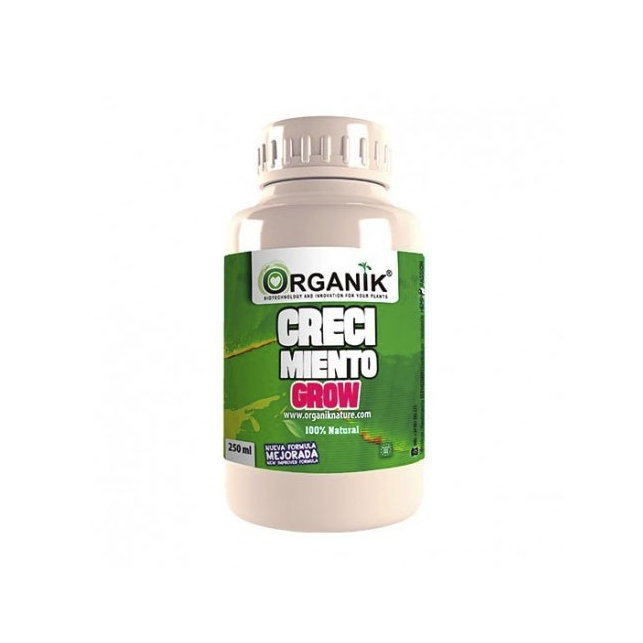 Description
Growth Organik.
It is a unique and environmentally friendly organic fertilizer for the cultivation of medicinal and aromatic plants in any type of substrate. It incorporates all the necessary nutrients for the body to grow plant with all the force necessary to make the most of their production.
Usage instructions:
-Shake before use.
-Dissolve 1,5-2 ml per litre of water and use twice a week. If the quality of the soil is very poor, it can be used three times a week.
-1,5 ml per litre for foliar feeding.
-Always ensure that the nutrient solution has a pH of 6-6.5
More info
Composition (% P/P)
Amino acids 28,1
Organic Nitrogen (N) 5
Water-soluble Phosphorus (P2O5) 1,5
Water-soluble Potassium (K2O) 2
Total Organic Material 30
Organic Carbon (CO) 17,4
Boron (B) 0,03
Iron (Fe) 0,2
Manganese (Mn) 0,05
Zinc (Zn) 0,03
Cadmium (Cd) <0,7
Lead (Pb) <45
Mercury (Hg) <0,4
Arsenic (As) 0
Data Sheet
| | |
| --- | --- |
| Composition | Organic |
| Brands | Organik |
| Cultivation phase | Growth |
| Type of crop | Soil |
| Type of crop | Coco |
| Type of crop | Hydroponics |
Send us your questions! We are happy to help you.
There are no questions about this product, be the first to ask!
---