Organik PK Plus
Reduced price!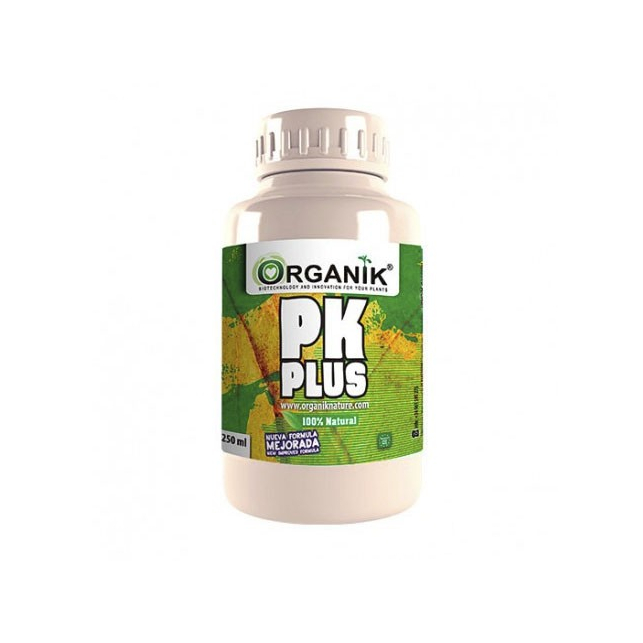 Description
Organik PK Plus is an fertilizer natural and ecological.
Organik PK Plus has the function of increasing production in the final stages of the crop due to the extra intake of phosphorus and potassium.
For more information, see our sections on Science and Technology of cultivation and crops with Organik.

Usage instructions:
-Shake before use.
-Dissolve 1.5-3ml per litre of water and use once or twice a week during flowering cycle.
-Always ensure that the nutrient solution has a pH of 6-6.5.
More info
Composition (% P/P)
Water-soluble Potassium (K2O) 20
Phosphorus (P2O5) 2,1
Water-soluble Phosphorus (P2O5) and neutral ammonium citrate 2,02
Iron (Fe) 0,13
Sulphur (SO3) 14
Manganese (Mn) 0,05
Molybdenum (Mo) 0,0011
Boron (B) 0,06
Cadmium (Cd) <0,7
Lead (Pb) <45
Mercury (Hg) <0,4
Arsenic (As) 0
Data Sheet
| | |
| --- | --- |
| Composition | Mineral |
| Brands | Organik |
| Cultivation phase | Flowering |
| Type of crop | Soil |
| Type of crop | Coco |
| Type of crop | Hydroponics |
Send us your questions! We are happy to help you.
There are no questions about this product, be the first to ask!
---