White Widow x The Ultimate
Reduced price!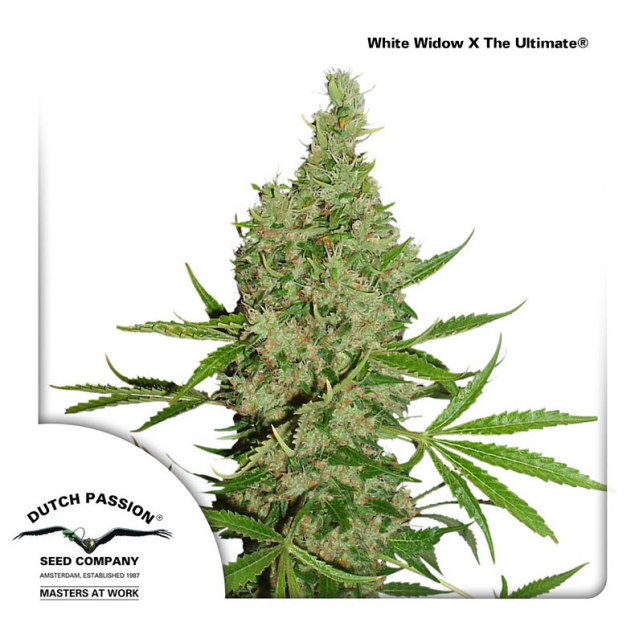 Description
Dutch Passion's White Widow x The Ultimate seed is now available at PevGrow, for you to plant at home. We offer you more details about its genetics, characteristics, effects, cultivation methods and taste.
This plant is the result of the crossing of a male seed, the White Widow, with another female seed, The Ultimate, which allows equal proportions of indica and sativa.
The effect, when smoked, is active, ideal for socializing or taking things with humor; in certain cases, it also serves to whet the appetite, with a high THC content, which can reach 19%. The optimum growing period is 10 weeks (although it can be harvested at eight o'clock) and outdoors you will pick the harvest at the end of September. You can grow it both indoors and outdoors, although the yields are obviously higher in the second case.
In the case of indoor cultivation, the ScroG is a good system for making the most of the space when using 600-watt light bulbs. Yields reach 500 grams per square meter from nine plants; it is a species of high productivity and can reach 1.5 meters in height.
If you want to grow outdoors, you should know that this species offers up to 600 grams per square meter, although you have to make sure that it is exposed to the sun, because it makes it easier to grow. It reaches a height of three metres.
Dutch Passion's White Widow x The Ultimate is a very oily plant when smoked and the flavors are earthy and sweet, with a small citrus touch. If you are looking for a plant to grow in your home with high productivity and active effects, this is, in short, a really interesting option.
More info
Bank: Dutch Passion
Seeds: Regular
Mod. Culture: Indoor/ greenhouse
Phenotype: Sativa-indica
Height: Up 1.5m
Flowering indoor: 8-9 weeks.
THC: 17-19%

Data Sheet
| | |
| --- | --- |
| Genetics | White Widow |
| Features | High THC |
| Effects | Appetite |
| Disease | Anorexia |
| Flavor and aroma | Earthy (earth) |
| Flavor and aroma | Lemon |
| Symptoms | Lack of appetite |
| Banks | Dutch Passion |
| Type | Regular |
Send us your questions! We are happy to help you.
There are no questions about this product, be the first to ask!
---