In PEV Grow, we are brave and we have decided to open the pandora box and despite what the legend said ... No thunder and misfortune have escaped, but the new Auto AK x Auto Jack Spanish Seeds! One of their best secrets! 
This autoflowering variety preserves intact the qualities of their respective seasonal versions, both organoleptic and the effect it produces and of course the quality, non-negotiable for Spanish Seeds' breeders.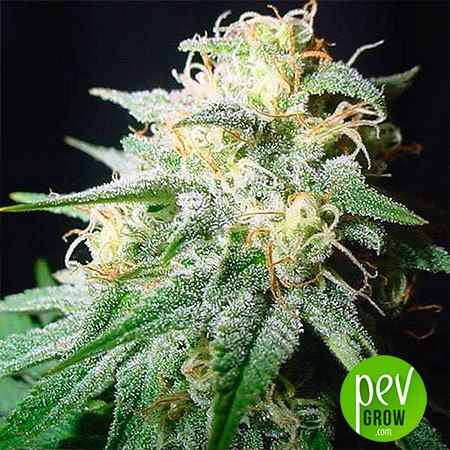 What is the structure of Auto AK x Auto Jack? 
Auto AK x Auto Jack is a non-photo-dependent seed, hybrid with 80% sativa predominance, with a structure of thin leaves and long stems, which allow light to enter without needing pruning, so you can get very similar specimens, which improves production. It will be ready for the cut between 70-75 days from germination. 
What is the taste of Auto AK x Auto Jack? 
Its taste is a blast, a combination of sweet fruits with a somewhat spicy and strong finish, a very addictive contrast!
What is the effect of Auto AK x Auto Jack? 
The effect is very balanced, everything starts with a fun and joyful mental activity, which evolves into a pleasant body relaxation, perfect for calming nerves, but without being afraid to knock yourself out.
How do you grow Auto AK x Auto Jack? 
In indoor crops, it needs a lot of light intensity to be fully developed. I place it at 20 hours of light and 4 hours of darkness during the whole cycle, with a LEC focus with 315 w, whose technology uses a spectrum of red and blue lights, which are the best absorbed by plants, so you get impressive results. With 11 litre pots you can place up to 9 specimens in a 1 m2 wardrobe. Ventilation is very important, always connect the extractor while the focus is on and in darkness, during growth 15 minutes per hour and in flowering 30 minutes per hour. 
In outdoor crops, plant it in a final pot of about 30 liters and work a substrate with at least 30% coconut fiber so that the roots have all the space to develop at their ease. Favouring root development, I always use Canna's Rhizotonic, which prevents roots from getting sick or, if they are already sick, helps to reverse the situation. In flowering, Bloombastic by Atami increases sugar levels, and with it its weight, also improving organoleptic properties. 
How much does Auto AK x Auto Jack produce? 
Indoors is where you can get the most out of this weed, up to 400 grams per m2, while outdoors you get up to 175 grams per plant. 
Are you looking for an autoflowering plant that is a safe bet? Auto AK x Auto Jack is a winning horse! Now available in PEV Grow!