CBD Oil (3%) Raw Endoca 10ml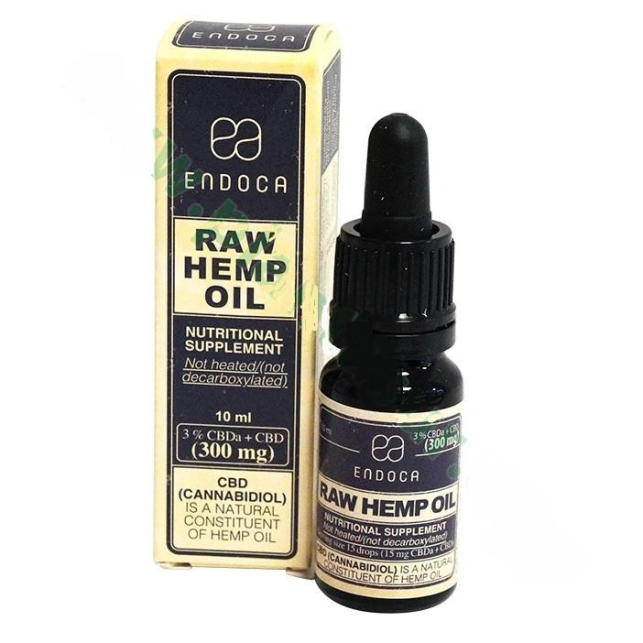 Description
Now on Piensa en verde, you can find oil Raw CBD of Endoca home.

This oil is mainly composed of phyto cannabinoid CBDA (cannabidiolic Acid): 2.1% and CBD (cannabidiol): + -1%. 1 drop contains 1 mg CBD + CBDA. Also it contains, although at lower concentrations CBC, CBG, CBN.

Furthermore Raw oil Endoca CBD has terpenes such as myrcene, limonene, alpha and beta pinene, linalool, B-caryophyllene, caryophyllene oxide, Terpinolene and humulene and natural molecules as alkanes, nitrogen compounds, amino acids, sugars, aldehydes, alcohols ketones, flavonoids, glycosides, vitamins, pigments, water and hemp seed oil. They are natural components of the marijuana plants.
Hemp plants used to make these oils are grown in Europe, and for its care, no pesticides are used, biological products only. Oil extraction of CBD is made at low temperature and high pressure for best results.
More info
How to use the oil CBD Raw Endoca:
It may take 3 times a day, getting 1 to 2 ml under the tongue and holding the oil for 60 seconds, then you can take it. Do not take if you are pregnant or lactating. Always consult your doctor before use. This product is not intended to diagnose, treat, cure or prevent any disease.

We recommend saving the CBD Raw oil Endoca, away from sunlight, heat and humidity, refrigerate after opening. Shake before use.
Send us your questions! We are happy to help you.
There are no questions about this product, be the first to ask!
---