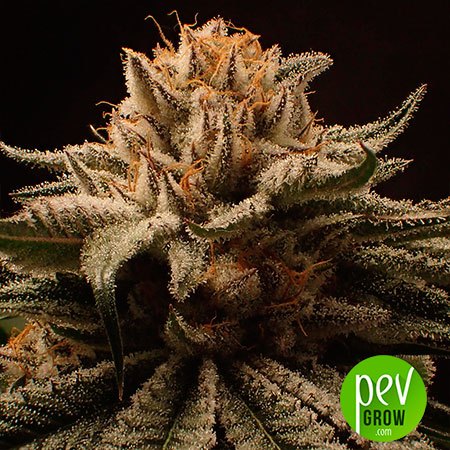 PEV Grow and Humboldt Seeds Organization present Mango Sapphire.
This marijuana plant, born of the marriage between Bubba's Gift and elite clone OG / Afghan and the result could not be better.
Mango Sapphire grows vigorously, reaching an average size, flowers quickly, and its buds at the end of flowering, are compact and very hard, for it off its cultivation is very simple.
Mango Sapphire, mostly indica phenotype, remarkable for its therapeutic purposes, and stained at the end of flowering, with a peculiar reddish hue and purple, that will surprise you.
Its dense resinous flowers have a delicious fruity aroma and flavor, and a relaxing effect, which perfectly combines therapeutic use, and recreational use.
It can be grown indoors and outdoors, under the sun shows all its splendor if planted in dry, warm, sunny and temperate climates.
We recommend using tutors to sustain the branches during flowering. You'll love the results!
We can not forget the organoleptic properties of Mango Sapphire, as the name makes us guess, has a very intense flavor of tropical fruit, coconut and mango, with hints of citrus.
Its effect is relaxing, powerful and durable as good Indica. Are you ready to grow this natural medicine?
You may also be interested in: