I have the pleasure to introduce to you, one of the most productive strains of the catalogue of Dinafem Seeds, Industrial Plant. In this plant you will find everything that a good grower can desire, productivity in record time, excellent performance in any growing medium, resistant to pests. Its origin goes back to the 70's, when it arose from the crossing between a very productive Indica Afghani and a Sativa Thai, giving rise to a living myth that drags a good caterpillar of smokers around the globe. But this variety is best known for being the mother of a legend, Jack Herer, I think there are too many words!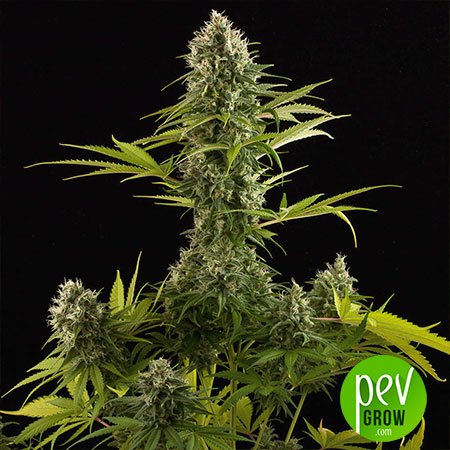 What does Industrial Plant look like?
Industrial Plant, is a feminized seed with clear predominance Indica, grows with the typical chandelier structure, and is that all branches even the lowest are stretched to the height and thickness of the central stem. Its flowering period is very short, as in just 50 days will be ready to harvest a good sum of resinous buds.
What is the taste of Industrial Plant?
Its woody aroma in combination with a citrus flavor, lemony with notes of black pepper, which give it that touch of spicy personality. This is the typical taste that old lovers fall in love with, and those of you who haven't tried it yet. Don't you know that retro is fashionable? These types of varieties remain on the market for so many years because of their genuineness.
Which is the effect of Industrial Plant?
As a good Indica, a good Industrial Plant "high" is characterized by active mental effects, accompanied by intense body relaxation, which will leave you prostrate on the sofa, making it a very interesting option to smoke before going to bed and stay totally relaxed. If you have insomnia or a period of intense stress, Industrial Plant can become your best ally.
How do I plant Industrial Plant?
In indoor crops, its small size makes it a perfect choice thanks to its maneuverability and ease even for the most novice growers. Due to its size that oscillates between 90 and 110 cm, with pots of 7 liters you will have plenty of space, and you will be able to place up to 14 specimens per m2. Remember, a photoperiod of 18/6 in growth and later when you pass it to flowering you put it to 12/12.
In outdoor crops, if you place it directly on the ground you will be able to discover its maximum potential, since it will become a whole shrub of 3 meters, capable of producing up to 1500 gr per m2, Incredible but true!
Don't miss the opportunity to grow one of the most beastly strains in the Dinafem Seeds catalogue, a real machine to produce buds with a truly amazing ease of cultivation.