Reading Time:
5
minutes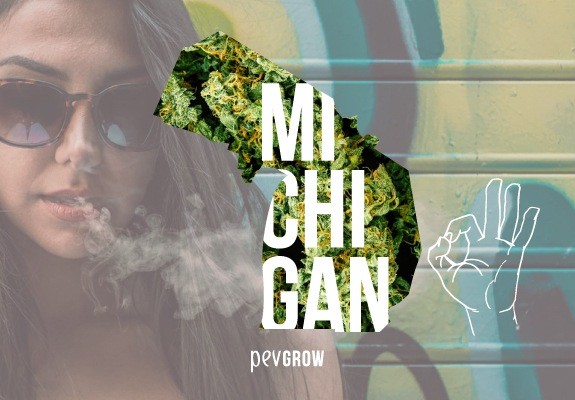 Yes, the therapeutic use of cannabis has long been allowed, and this state was the first in the Middle East to legalize recreational use for people over the age of 21. Michigan law in this sense is quite permissive with respect to those of other states, and both recreational consumers and patients have very easy access to this plant, as we will see below.
⚠️ Since when is weed legal in Michigan? The historical dates
Medical marijuana has been legal since November 2008, here they called the "Michigan Compassionate Care Initiative" the law that allowed patients with certain diseases to buy or grow their own cannabis.
In contrast, recreational marijuana was not approved until 10 years later, in November 2018, through the MRTMA. This (Michigan Marijuana Tax and Regulation Act)state was not among the first to legalize adult use of this plant, but we think that its laws are much more permissive than those of other states.
The day that recreational marijuana officially began to be sold to those over 21 years of age was December 1, 2019, although many cities and small municipalities in this northern state of the USA still do not allow the sale for recreational consumption
🧐 How much marijuana can you buy and own?
Adults may purchase and possess up to 2.5 ounces (70.85 grams) of marijuana buds each day, but the monthly purchase limit cannot exceed 10 ounces (283.4 grams) total.
For cannabis concentrates the limits are set at a 0,5 once (15 grams) maximum of per purchase, and that is the same amount that can be legally possessed. Consumers of medicinal cannabis or their authorized caregivers have the same conditions, and cannot exceed the amounts stipulated for recreational use.
🎬 Is smoking weed legal in Michigan?
Yes, but not anywhere, since it is only allowed in the home or private spaces with authorization. If you get caught smoking on the street or in any public space you can get a good fine, so it is best to wait until you get home to do it.
This state is taking into account some of the problems that are occurring in other parts of the USA since they legalized the use of cannabis, such as the increase in penalties for consumption in public places. For this reason , Michigan legislators have enacted a law that will allow the opening of designated consumption premises, to be able to carry cannabis and consume it there in a totally legal way.
👾 Cannabis-friendly hotels in Michigan
However, if you plan to visit Michigan and want to enjoy the cannabis offered by dispensaries in this state, it is best to find accommodation in one of the weed-friendly hotels that are everywhere in their territory, many of which you can see in the following list next to their address.
The Inn At Harbor Shores
800 Whitwam Dr, Saint Joseph, MI, 49085
Lake Bluff Inn – South Haven
76648 11th Avenue, South Haven, MI, 49090
Silver Beach Hotel – Saint Joseph
100 Main Street, Saint Joseph, MI, 49085
Holiday Inn Express – Saint Joseph
3019 Lakeshore Drive, Saint Joseph, MI, 49085
Embassy Suites – Downtown Grand Rapids
710 Monroe Avenue NW, Grand Rapids, MI, 49503
Holiday Inn Express – Mackinaw City
364 N Louvingney St, Mackinaw City, MI, 49701
Hamilton Inn Select Beachfront
701 S Huron Avenue, Mackinaw City, MI, 49701
Bridgeview Motel
1143 South Huron US 23, Mackinaw City, MI 49701
Pointes North Beachfront Hotel
2211 U.S. 31 North, Traverse City, MI, 49686
Bayshore Resort
833 East Front Street, Traverse City, MI, 49686
Cherry Tree Inn & Suites
2345 US 31 N, Traverse City, MI, 49686
The Beach Condominium Hotel Resort
1995 North US 31 North, Traverse City, MI 49686
Super 8 – St. Ignace
923 West, US-2, St Ignace, MI 49781
St. Ignace Budget Host Inn
700 North State Street, Saint Ignace, MI 49781
Econo Lodge Lakeside – Marquette
2050 Us Highway 41 S, Marquette, MI, 49855
Terrace Bay Hotel – Gladstone
7146 P Road, Gladstone, MI, 49837
Courtyard by Marriott – Flint
5205 Gateway Center, Flint, MI, 48507
Embassy Suites – Detroit / Livonia
19525 Victor Parkway, Livonia, MI, 48152
Courtyard by Marriott – Detroit / Livonia
17200 N Laurel Park Dr, Livonia, MI, 48152
Courtyard by Marriott – Holland Downtown
121 East 8th Street, Holland, MI, 49423
🎯 Where is it legal to buy marijuana in the state of Michigan?
To buy cannabis legally, you have to do it in one of the many authorized dispensaries. In this link you can see the address, hours, website, and even the reviews of these stores, so you can check which ones are closest to your location.
Thewebsite bestmarijuanaguide.com has developed a ranking with the best dispensaries in this state, based on the quality of the products, prices, the environment, and other valuation factors, below you can see the top 10.
🔥 Top 10 best dispensaries of Michigan
KKIND
The Curing Corner
Herbology – Ann Arbor
Amazing Buds
Herbology – Ann Arbor (New)
Northern Specialty Health
The Patient Station
House Of Dank Fort St
Compassionate Care By Design
Green Pharm
Patients who need cannabis or their caregivers have it easier, because although not all municipalities have yet accepted the adult use law, medical cannabis is accepted throughout the territory. But if you are a Michigan resident and a recreational consumer of yerba, don't worry, because you can have your own cultivation completely legal.
📲 How to grow legal marijuana in Michigan?
One of the best points of the cannabis law in this state is that it allows the home cultivation of up to 12 marijuana plants for self-consumption. You can maintain the harvest of these plants at home, but the limits would be the same as those of possession, so you cannot exceed 283.4 grams. 
These limits are the same for both therapeutic and recreational consumers, although patients or their caregivers can apply for a license to grow larger amounts. The culture must be located in a properly closed facility and out of reach of public view.
In our Pevgrow grow shop we send everything you need to grow cannabis to Michigan and the rest of the US states, with the best prices and the fastest and most discreet shipping. If there is a product that you cannot find on our website, or you prefer to buy in a physical establishment, here you can see many hydroponics stores and grow shops in the state of Michigan.
☕ How to get a medical marijuana card in Michigan?
Patients have to be over 18 years of age, and be diagnosed with any of the diseases that this state considers that can be treated with this plant. You must register with the Michigan Medical Marijuana Program (MMMP) and designate a caregiver if necessary. Here are the qualifying diseases:
Alzheimer´s
Amyotrophic lateral sclerosis (ALS) or Lou Gehrig's disease
Cancer
Crohn's disease
Glaucoma
Hepatitis C
HIV / AIDS
Nail-patella
Syndrome Cachexia or wasting syndrome
Seizures, including features of epilepsy
Painsevere and chronic
Severe nausea
Spasms severe and persistent muscle, including, among others, the characteristic of multiple sclerosis

✨ Conclusion
Cannabis Michigan law is not perfect, but is much better than most countries in the world. If you need marijuana therapeutically you can buy or grow the amount you require, and if you consume recreationally you can do it without problems as long as you respect the rules of consumption.
Is recreational and medical marijuana legal in the state of Hawaii? →