Reading Time
2
minutes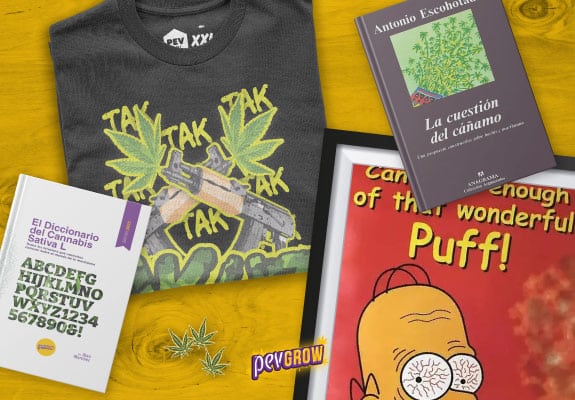 Greetings to all lovers of marijuana, fashion clothing and accessories, and of course art! Today we are excited to announce the opening of our new online store, PEV.Art, where you can find a wide selection of products related to our marijuana seed bank, PEV Seeds. In this article, we will take you on a fascinating tour through the fusion of fashion and cannabis art that you will find in our store.
At PEV.Art, we have put together a wide variety of products that reflect the essence of our passion for marijuana, fashion and art. One of our featured categories is cannabis clothing and accessories. Our store offers a wide range of garments with unique and original designs, from t-shirts and swimsuits to hats, socks or scarves, and accessories such as backpacks, bags or purses among others, all inspired by cannabis or hemp culture. Whether you want to show your love for the plant in a subtle or blatant way, you will find the perfect garment to express yourself.
But that's not all. In PEV.Art we also value art in all its forms. That's why we have incorporated a section dedicated to art and collectibles related to the world of marijuana. Here you will find incredible pieces of art that you won't find anywhere else, such as old books and magazines, posters, pins, coins, and even cassettes. Each item has been carefully selected to offer you an incomparable artistic and cannabis experience.
Our online store not only focuses on product quality, but also on customer experience. With an intuitive and easy-to-use interface, you can browse our various categories and view detailed images of each item. At PEV.Art, we are committed to providing you with high quality products and exceptional service. We value creativity, authenticity and passion, and that is reflected in every aspect of our store. Our goal is to provide you with a unique and fulfilling experience, where you can find not only high quality products, but also inspiration and meaningful connections.
We are excited to welcome all cannabis and art lovers to PEV.Art. Join us on this exciting journey through cannabis fashion and art! Explore our online store and discover a new way to express your passion for marijuana and art.
Visit us at PEV.Art and be inspired by the fusion between weed clothes and art!
Top 10 Cannabis Documentaries: A Comprehensive View →