Reading Time
5
minutes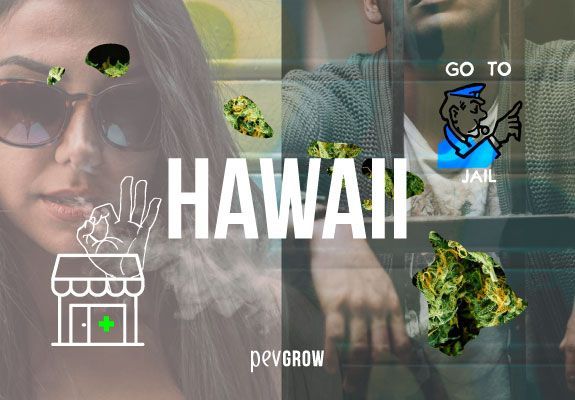 Medical marijuana itself is legal,but with certain restrictions, but use recreational marijuanastill not allowed inHawaii.It could be said that the possession of small amounts for personal use is not punishable by jail, but the margin is so small that you have to be careful with what you carry with you, as we will see later.
Hawaii is reputed to be a weed paradise, and it is true that excellent cannabis has been grown in this land for many years, they even have some top quality landraces like the potent Maui Wowie. But that does not mean that you can buy, grow, or consume marijuana freely.
⛳ Medicinal cannabis in Hawaii What does the law say?
More than 20 years ago, the use of medical marijuana was approved in this state, through law 228 that allows the cultivation and consumption of cannabis to patients who demonstrate that they have any of the diseases that this state considers can be treated with marijuana .
This law has been changing over the years, at first they could only grow their own weed, but since 2018 cannabis patients with a card can buy their marijuana in dispensaries, or grow it, as they prefer.
⭐ How to get a medical marijuana patient card in the state of Hawaii?
You must register in the medical cannabis program in the state,and certification of a licensed physician to show that the patient suffers any of the conditions listed below is needed:
Cancer
Cachexia or Wasting Syndrome
Epilepsy
LateralALS(disease Lou Gehrig)
Glaucoma
HIV / AIDS
Lupus
Muscle spasms, including those characteristic of multiple sclerosis or Crohn's disease
Multiple sclerosis
Post-traumatic stress disorder (PTSD)
Rheumatoid arthritis
Seizures
Severe nausea
Severe pain
It is necessary to provide some documentation proving the address and identity of the Applicant, who does not have to be a resident of Hawaii or of legal age, but in the case of minors or the sick who need it, they have to designate a caregiver who is in charge of the supply. The last step is to pay the annual fee of $ 38.50 or $ 77 for 2 years, and print the card to carry it..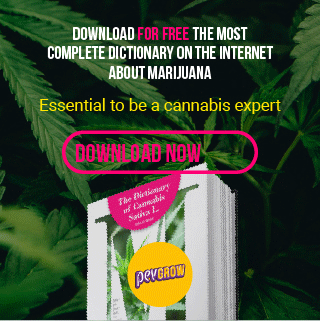 Free Download
Cannabis Dictionary
2023 Edition
Insert a correct email address
You must accept the privacy policy
SITE OF SHOPS ONLINE S.R.L with CIF: B98262777 and address for notifications in C/ VEREDA MAS DE TOUS Nº 22 LOCAL C, 46185 LA POBLA DE VALLBONA, VALENCIA, Phone: 961658271 Email: customer(at)pevgrow.com
At the name of Consulting we process the information you give us in order to provide the requested service, perform the billing of the same. The data provided will be kept as long as the business relationship is maintained or for the years necessary to comply with legal obligations. The data will not be transferred to third parties except in cases where there is a legal obligation. You have the right to obtain confirmation as to whether SITE OF SHOPS ONLINE S.R.L. is processing your personal data and therefore you have the right to access your personal data, rectify inaccurate data or request its removal when the data is no longer necessary
✨ How to buy marijuana in Hawaii?
Card patients or their caregivers can purchase medical cannabis in this state at any of their dispensaries licensed.
Cannabis home delivery is not legal yet in Hawaii, if a patient cannot go shopping at a dispensary by himself, his caregiver will be the one to go and take care of transporting his marijuana.
Most of Hawaii's dispensaries are located in its capital, Honolulu, since it is also where the most population is concentrated in the entire state. The website yelp.com has created a ranking with the best, which you can see below:
Top 10 best dispensaries in Honolulu
Noa Botanicals
Aloha Green Apothecary
Cure Oahu
Malie Cannabis Clinic
Aloha Green Apothecary (Waikiki)
Honolulu Wellness Center
Noa Botanicals – Aiea
Medical Marijuana Hawaii
Beyond Mental Health
Hemptuary
Card patients from other states can shop in Hawaii with their accreditation, or even this state allows them to validate their medical certification to get a Hawaii cannabis patient card.
📲 Smoking weed in Hawaii
In this state is allowed to smoke or vaporize marijuana only in private,at home or a private residence with permission of the owner, never in public. This is what the law says, but this state has a great culture and cannabis tradition, and unless it is consumed blatantly in a busy place, it is normal to have no problems in this regard.
So far no public spaces have been opened to consume cannabis in this paradisiacal state, not even for patients. It is possible that in a short time this will change, and when recreational use is legalized we will begin to see salons or other special places to smoke marijuana.
🚀 Growing marijuana in Hawaii
Until now , the self-cultivation of marijuana for personal use is only allowed to patients with a card or their caregivers. These people can grow 10 plants maximum at a time, which have to be together and properly labeled with the patient's card number.
Hawaii legislators have already announced that this law will change as of January 1, 2024, and from that date it will no longer be possible to grow cannabis plants to cover the personal consumption of the sick, so they will have to buy your medicine in one of the authorized dispensaries.
If you have a patient card, you can
buy seeds and everything you need to grow your own marijuana
in our
online grow shop
, where you will find the best prices and the largest catalog on the Internet. However, if you prefer to make your purchases in a grow shop or physical hydroponics store in the state of Hawaii.
✅ Traveling with weed to Hawaii
It is not allowed to travel to Hawaii with marijuana from another state, and on the contrary neither, the medicinal herb that is bought in this state must be consumed in situ. It is not even allowed to travel with cannabis between the islands that make up this state, so that patients or their carers can only transport the cannabis they buy in dispensaries to their homes. In the case of self-cultivated yerba, the ideal is that it does not leave the house where it is harvested, although by law they can have up to 4 ounces, but always hidden and properly sealed.
🔥 Future legalization of recreational marijuana in this state
It is a bit strange that the use of cannabis for adults has not yet been legalized in Hawaii, because it is one of the most permissive states of the USA with this plant on a social level, especially compared to other states where it was supposedly less accepted.
We think that Hawaii is close to legalizing recreational marijuana, in 2019 the Senate of this state considered the proposal SB 686, which would allow the possession of up to half an ounce (14 grams) to people over 21 years of age for recreational consumption. This proposal goes ahead and is currently pending, but we think that throughout 2021 or 2022 there may be positive news in this regard.
🎯 Fines for possession of cannabis in Hawaii without a patient card
In 2019, the possession of up to 3 grams was decriminalized of marijuana for personal use, and currently only a fine of $ 130 is paid. Thewas also lowered the penalty for possession of 3 grams to 1 ounce, to a $ 1,000 fine and 30 days in prison, which continues to be too high for the amount of weed we are talking about.

👾 Conclusion
The most famous Pacific islands, the most paradisiacal US state, and the land that saw the birth of legendary varieties such as Maui Wowie, Kona Gold, Hawaiian Indica, Blue Hawaiian, or Aloha White Widow, has not yet legalized recreational marijuana for use adult as many other more restrictive states have done.
If you have a patient card you can rest easy, since you can grow your own weed and have easy access to quality cannabis, that is, between $ 10 and $ 30 per gram. But if you like to use marijuana in a playful way and you live or visit this state, be very careful and respect the rules if you do not want to have problems.
← Legal marijuana in Louisiana What does the law say in this state?
Legalization of recreational cannabis in Germany →