Safe destinations for lovers of marijuana
0
397
[Total: 6 Average: 2.5/5]
If you want to travel abroad, with security to smoke your marijuana quietly, without risk of fines or imprisonment, we offer the safest countries, for friends of cannabis.
For many marijuana users it is paramount to travel without the fear that can lead to drug laws in many countries. To move comfort in the world without fear or carry cannabis smoking will propose a series of destinations where you can smoke in peace.
Amsterdam, the paradise
They are well known coffee shops, local in which you can buy and consume cannabis, either for smoking or for consumption as food.
Yes, always keep in mind that in these places, you must be of age to enter, and you can not use other harder drugs.
Cambodia
Although it is not legalized hundred percent, you can use marijuana. Even many Cambodian restaurants have its menus recipes made ​​with cannabis or serve some dishes with cannabis as accompaniment.
Canada
It is not yet legalized cannabis but there are many establishments where smoking marijuana is allowed. Among Canadians there is a broad movement for the legalization of cannabis. In this country you can even find bars where food made ​​with marijuana is served.
North Korea
Oddly enough, this country does not consider cannabis as an illegal drug. Cultivate, consume and sell is not penalized. Although, perhaps, despite this permissiveness, you prefer a holiday in another destination where freedom is not as alibi for its citizens. But you know, if you go there, you can smoke in peace.
Denver and Washington (USA)
They are the only two places in America where cannabis for recreational purposes is legal. In these two areas you can not only eat with confidence, but also, meet establishments (shops, bars, restaurants …) in which the main ingredient with which it is traded is marijuana.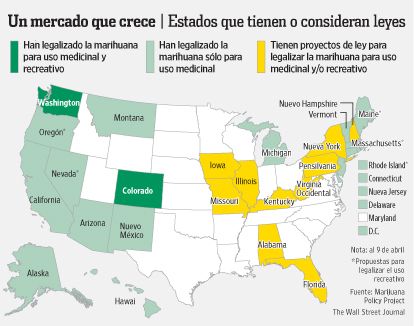 Denmark
This country is not legalized consumption but there is a commune in Copenhagen where you can smoke and buy marijuana, and there are farmers who also sell made products ​​with this herb, like cakes.
Spain
In the state there where cannabis clubs can legally consume marijuana. Two of the areas with cannabis clubs are the Basque Country and Barcelona. In Euskadi there are 77 cannabis clubs, and in Barcelona about 400.
But, though in smaller numbers, there are also cannabis clubs in Alicante, Aragon, Asturias, Cádiz, Fuerteventura, Gran Canaria, Tenerife, Lanzarote, Castellón, Castilla La Mancha, Leon, Madrid, Málaga, Murcia, Seville, Valladolid and Vigo. In Spain small grass crops are allowed for personal use but the sale is illegal.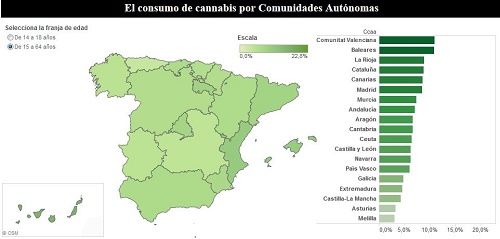 Jamaica
In the cradle of marijuana it was recently decriminalized the possession of small amounts of cannabis, so what better destination than the multicolored island to smoke quietly and smoothly.
Montevideo
The capital of Uruguay in 2014 completely legalized marijuana and its derivatives. Today it is the safest way to consume cannabis, but with the difference that, under the law of this country, only residents city can consume and cultivate.
But it seems obvious and common sense that a tourist not going to be fined for doing something that is allowed for a person with Uruguayan.
Nepal
Caution! Here you have to be a little more discreet than in other cities, but if you take just enough for your consumption, you can smoke safely without danger of being fined.
Peru
In this Andean country the possession of up to 8 grams of marijuana is allowed, but the cultivation and sale is prohibited.
Portugal
In the neighboring country can have up to 25 grams of marijuana, but keep in mind that grow and sell are penalized.
Prague
In this central European city there is a widespread culture of cannabis. Thousands of Czech citizens use marijuana. The law allows here carry up to 15 grams of marijuana.
By Noelia Jimenez Team Piensa En Verde