Reading Time
9
minutes
Welcome one more week Cannalover! I have something very special reserved for you, what are the best series on Netflix to see stoned? This is top! Let's go to it!?
As a good geek I consider myself, there is no better plan for me than "Netflix, joint and chill". A few years ago I was told about a platform that was sweeping the U.S. and had hooked thousands and thousands of people, but … that would never reach Spain! I was surprised when a couple of years ago a colleague in the office said to me "Hey, did you hear that Netflix is coming to Spain?" "Are you kidding! Shall we share an account?" And so it was! Since then on Sunday afternoons (and one day or another) I've replaced walking through the park, by a marathon of series, smoked and some other pleasure with my girl.
Ahora mismo te estarás preguntando: ¿Esto a santo de qué? Pues como buen comunicador y amante del cannabis, quiero compartir contigo una selección de las mejores series de Netflix para ver fumado, en compañía o en solitario ¡Eso es cosa tuya!?
✅ Netflix Series
Breaking Bad
The incredible story of chemistry professor Walter White, who, after being diagnosed with a serious terminal illness, becomes the largest manufacturer of methamphetamine in the country, under the name of Heisenberg, with the aim of leaving his family a legacy "Above all economic" in his absence.
In order to do so, he will resort to all kinds of strategies, renouncing all the morality that had turned him into an exemplary family father and husband, breaking all the rules. It's going to be awkward for you to shut your mouth with so much surprise and fast-paced action, but if you do, it's the perfect series to take a smoke while you're hours and hours stuck to the TV. A masterpiece!?
Portlandia
Portlandia is probably the great unknown that only a few geeks in the sector know, since not much promotion has been given to this series in Spain. It is a comedy by Sketches filmed entirely in Portlandia, which satirizes a lot the ecological and politically correct conscience of the citizens of Portlandia, with some very funny touches and perfectly executed.
Starring former Saturday Night Live member Fred Armisen and former rock star Carrie Brownstein, surrounded by a cast of guest stars who give the distinction, playing themselves or doing some fixed role. If you want to have a good laugh while enjoying a great joint with colleagues, it's the ideal series!?
The Office
The Office is one of my favorite series, black and sarcastic humor that makes you laugh. Its peculiarity and main characteristic is that it was filmed using the false documentary technique, which takes place in the office of a company that sells paper, in which at first everything seems very tense but that evolves into increasingly crazy and implausible plots.
The main reason for The Office's success is, of course, the brilliant performance of Steve Carrel, who plays Michael Scott, the office's crazy head. If you're looking for an entertaining and disconnecting evening, The Office is certainly a perfect candidate for "Netflix, joint and chill".
Ah, I forgot! I'm referring to the American version of The Office, created by NBC, not the English one which is a little more difficult to digest with the typical British jokes of doubtful humour.
That 70s Show
Prepare the bong, the vaporizer and the cannabic cupcakes, call your friends and get ready for a plan of those that make the hours pass by. Those marvelous 70 in addition counts in numerous scenes with a small group of teenagers sharing smokes and altered hormones.
As its name indicates, it is set in the 70s, more specifically in Point Place – Wisconsin, narrating the life of Eric Forman and his group of friends, good music, sex without love and a good dose of marijuana. Very funny!?
Rockefeller Plaza
Haven't you seen Rockefeller Plaza yet? That's an offense! This series is an indispensable Sitcom, a series that revolves around a group of workers from Rockefeller Plaza's number 30 in New York, combining moments of dramatic comedy, blatant humor and a sociological component, which deals with issues such as race equality or sex.
A perfect series to have fun while you enjoy a nice joint, but I warn you… You're going to burn the automatic play of Netflix! I started… And in one afternoon I watched the whole first season!
Black Mirror
Black Mirror is one of those series that will undoubtedly leave you with your mouth open, each episode is an excellent critique of humanity itself and is devoted to certain behaviors. It's really frightening like for example in episode 1 of season 3 (Nosedive), where you live in a society in which people can rate between 1 and 5 stars to another, through a social network that establishes the people's social status. Here, everyone shares everything they do and the whole society acts in a false way to increase their personal ratings and be able to access a better standard of living??
I came from smoking two good pipes and it came out in personal recommendations, with all the skepticism I plugged it in and what a surprise! Each episode is a world so you can jump one by one and choose the one that most convinces you, is ideal for philosophizing in couple on a multitude of current problems.
Stranger Things
As a faithful fan of Steven Spielberg, when I saw the ad for this series I knew I had to see it and it doesn't disappoint. The plot has many references to many of Steven Spielberg's more classic titles, more specifically I saw many nice references to ET and a lot of classic 70-80 culture, like arcade, role-playing games… It's awesome!
The series revolves around a group of 4 very funny and freaky friends, who have fun playing role-playing games in the basement of one of them, when one night one of them mysteriously disappears. Then comes into play a new character called "C", a girl with telekinetic powers from another world, who has all the keys to explain Will's disappearance.
Roll the joint, take a good popcorn pack and get comfortable, because when you start it you will not be able to stop. Moreover, in the last episode everything is left open and you will not be able to avoid wanting to start the 2nd season. One of the best series of the last decade!
⛳ Marijuana series on Netflix
Weeds
As a good lover of cannabis, you probably know Weeds, a series that in addition to fun is really addictive. It all starts when a typical middle-class woman loses her husband and decides to sell marijuana to friends and family to maintain their current standard of living, very timely, right?
Each episode mixes an unusual brilliance and invites to devour them almost without chewing, with the need not to want to get up from the sofa all afternoon. Prepare your pot, a few packs of beer and call your friends, you're going to be thrilled!?
Disjointed
Another masterpiece in which cannabis is the protagonist, Disjointed is an original Netflix series, which you can only enjoy on this platform. The protagonist Ruth Whitefeather is an activist for the consumption of cannabis, who runs her own dispensary of marijuana for medicinal purposes, and constantly and assiduously encourages its customers to get high and enjoy life in another way. A very funny and original comedy, directed by the great Chuck Lorre (The Big Bang Theory), which guarantees laughter and very good moments, especially for those of us who love this world. The second season has just come out!
Cooking on high
Cooking on High is a reality show in which two chefs prepare exquisite dishes based on mother plant and these are judged by a jury that will surely end up very relaxed and placed, although some sure to bring something from home. In each episode of this series, two chefs face off to create the best dish with marijuana, you can get ideas to cook for yourself and be the king of cannabis cuisine, essential to have a good time!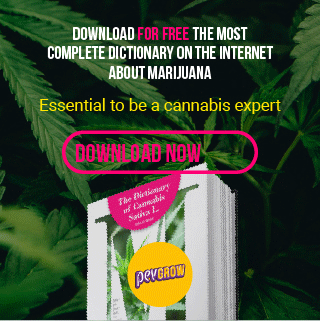 Free Download
Cannabis Dictionary
2023 Edition
Insert a correct email address
You must accept the privacy policy
SITE OF SHOPS ONLINE S.R.L with CIF: B98262777 and address for notifications in C/ VEREDA MAS DE TOUS Nº 22 LOCAL C, 46185 LA POBLA DE VALLBONA, VALENCIA, Phone: 961658271 Email: customer(at)pevgrow.com
At the name of Consulting we process the information you give us in order to provide the requested service, perform the billing of the same. The data provided will be kept as long as the business relationship is maintained or for the years necessary to comply with legal obligations. The data will not be transferred to third parties except in cases where there is a legal obligation. You have the right to obtain confirmation as to whether SITE OF SHOPS ONLINE S.R.L. is processing your personal data and therefore you have the right to access your personal data, rectify inaccurate data or request its removal when the data is no longer necessary
🚀 Anime on Netflix to see stoned
Deathnote
Who hasn't heard of this anime classic? Its first season was broadcast in 2006 and since then its success has been resounding, becoming a cult series for anime lovers, a perfect choice to connect your Vulcano vaporizer or whoever you want and get a crazy smoke. In Deathnote, a Japanese high school student finds a somewhat mystical notebook and discovers that it holds an incredible yet terrifying power within it, everyone whose name is written on it, dies!
Yu-Gi-Oh
This is one of my favorite anime series, I discovered it in 2008 even though I had been active since 2001 and I watched it quite fast, because its episodes are very short (lasting about 20-25 minutes) and the plot is very successful, and if you top or dress with a good joint, then you know that everything feels better! In this series, the young Yugi Muto and his friends Joey, Tristan and Tea, see how their lives suffer a drastic twist when they play a game of fantasy cards, which becomes reality!
One Punch Man
One of the typical animes that fall in love with geeks like me, based on a superhero who can finish with any one punch, and like no one can with him, it fights against boredom and reluctance How difficult it is to be invincible! I watched it almost a month ago in vacation with my girl and as we both are lovers of anime and marijuana, well you can imagine. How cool to have a geek and stoned girlfriend!
Attack on the titans
If you are a lover of epic battles, no doubt this series is perfect to enjoy well high. A city in ruins and the young Eren Yeager who tries to fight the race of giant titans who have destroyed his city and try to annihilate the rest of humanity. Will he succeed? It has a unique season and surely in an intense Sunday afternoon you can watch it. It is the typical anime series that every faithful follower and lover must see. Take the bong, rolling paper or prepare a cannabic cupcake to pay tribute to yourself while you enjoy the attack on the titans.
Little Witch Academia
A hilarious story that takes place in a prestigious school called Magic Luna Nova, where students learn to be witches. The main character is Atsuko Kagari, a young woman who comes from a family with no connection to magic, which at first will make everything hard for her. All this changes when she discovers a magic relic called "Shiny Rod", which had belonged to Shiny Charlot, the main inspiration for Atsuko, who was the one who made her want to be a witch. An ideal series to pass the time while you smoke a good joint.
🎯 Other cartoons to see stoned
Rick and Morty
Rick Sanchez is the typical mad scientist, an alcoholic grandfather, irresponsible and at the same time a genius of madness. It all begins when Rick has to move to the home of his daughter and his grandson meets Morty, with whom he will live bizarre and very funny adventures, in which Rick will try to Morty not the loser who is his father. They form a duo that will occupy a good part of your free time, whenever you want to laugh while you get a good joint..
Futurama
Futurama is one of those series that mark time, I have stuck hours and hours glued to television, laughing at the follies of Bender and Philip Fry, a pizza delivery man who in 1999 stumbles and falls by accident to a cryopreservation capsule, awakening a thousand years later in a futuristic world. Its creator is Matt Groening, which surely sounds like creating one of the best adult animation series in history, The Simpsons. With futurama follows a similar, comical line and a satirical humor where many aspects of society are criticized with a casual and very funny tone, Indispensable in your list of series to see smoked!
Adventure Time
Basically this is one of those must-see series in VO, because it is amazing. The story revolves around Finn and his dog Jake, who has magical powers with which he can change shape, grow and shrink as he pleases. They live in a post-apocalyptic land called Ooo and their adventures will hook you to the TV set, while you enjoy a good one.
SpongeBob
""Who lives in a pineapple under the sea? SpongeBob! "Try repeating this fast and smoked, guaranteed laughs! SpongeBob is mythical and when I started smoking marijuana, I spent evenings in my room watching SpongeBob, while my mother shocked seeing me laughing myself alone…".
The series takes place at the bottom of the Pacific Ocean, in the underwater city of Bikini Bottom, and its main character, SpongeBob, lives in a pineapple, along with his pet, a sea snail called Gary. Bob works as a chef in a restaurant called the Krusty Krab. The crazy stories of SpongeBob are ideal to combine with a high with friends, it is impossible not to laugh with this series!
Robot Chicken
One of the craziest series I've ever seen, shot with Stop Motion technology, is a series of animation for adults that deals with a chicken that is run over and is resurrected, turned into a robot by a mad scientist, who forces it to see violent television series upsetting him, until he manages to escape. It's a crazy and funny series, with some bizarre but well-worn plots, that you can catch from the first minute with very funny scenes with will make you laugh.
Archer
Set in the world of international espionage, this irreverent and carefree comedy is about the adventures of the super spy Sterling Archer, courteous and sophisticated who has the most advanced weapons on the planet, but who do not allow him to get away from the wrath of his mother and his boss. I discovered it a short time ago and it was a pleasant surprise, a perfect series for those times when you do not know what to do and you want to disconnect a bit. Laughter combined with a good dose of smoking, sounds great, doesn't it??
👾 Conclusion
As you see the list of series to see smoked is pretty awesome, and believe it or not, Ihave watched all of them! What can I say… These kind of plans are great! Call your friends, prepare a selection of your best weed, smoking paper in huge quantities or load your marijuana vaporizer because you will need it to be fully charged, to enjoy a good session on Sunday afternoon. Enjoy it Cannalovers!?
If you liked it, do not forget to share it on social networks. Me and many smokers will thank you!✍

Alan Martínez Benito
CEO of Pev Grow, expert grower with more than 20 years of experience.
In constant struggle for the regulation of cannabis, mainly in the medicinal field.
See more posts
Top 10 Cannabis Documentaries: A Comprehensive View →