Reading Time
5
minutes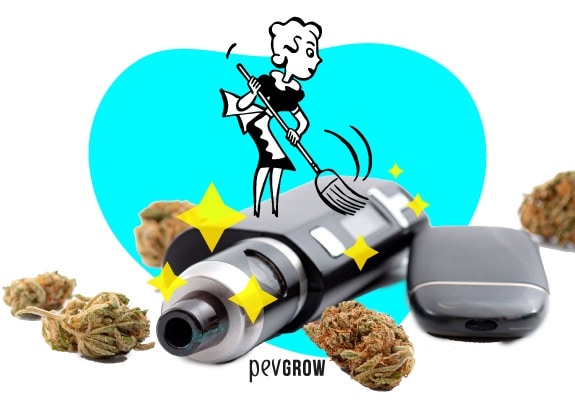 Did you know that by properly and regularly cleaning your vaporizer, it can work just like the first day? If you started using one recently, you will be able to enjoy soft and delicious puffs, but after a few months, its quality may decrease if it is not properly maintained.
Therefore, frequent maintenance of your cannabis vaporizers will not only avoid this situation but also optimize your experience with cannabis. Maximum performance, better taste and long life are just some of the benefits you can get when you learn how to clean a vaporizer.
🎯 Is it strictly necessary to clean a vaporizer?
Yes, maintaining the hygiene of your vaporizer is essential if you want to enjoy your device longer. Vaporizers are known for providing a much purer and cleaner experience, compared to smoking. This is because, as this device does not burn weed when vaporizing, there will be no smoke and the harmful substances that can be produced when lighting a joint or a cigarette will be reduced.
However, this does not guarantee that it will not get dirty over time. When using it periodically, such as when you smoke a traditional pipe or bong, sticky residue will build up. This fact is a little less noticeable in this kind of device, but it is still a reality.
So, if you want to completely prevent dirt from getting into your body with every puff, you must clean your vaporizer.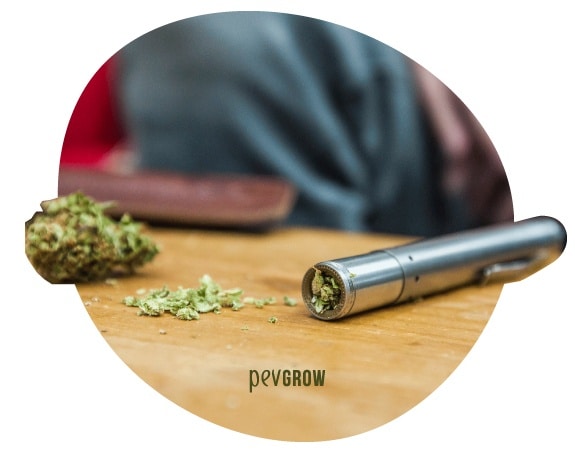 ✅ Vaporizer Cleaning Instructions
You can clean your vaporizer in two ways: through a daily routine cleaning or through a deep cleaning. The first takes only a few minutes and is performed after each vaporization. The second option refers to a more elaborate process that you could do every two weeks or when you move from concentrate to weed
1-Daily routine cleaning
Usually, vaporizers include a brush that will serve for routine cleaning. But, if this is not your case, you don't have to worry. You can buy a small cleaning brush, like those you get with electric razors, or use pipe cleaners and cotton swabs.
For this method, the first thing you have to do is empty the weed chamber of your vaporizer. Then, use your tool (brush or pipe cleaner) to remove the accumulated plant material. In this step, it is essential to brush the screens or meshes if your vaporizer has them.
Finally, you can use the pipe cleaner to clean the inner side of the nozzle and alcohol wipes to clean the external side of your vaporizer. Do you realize how easy it is? You only need a few seconds!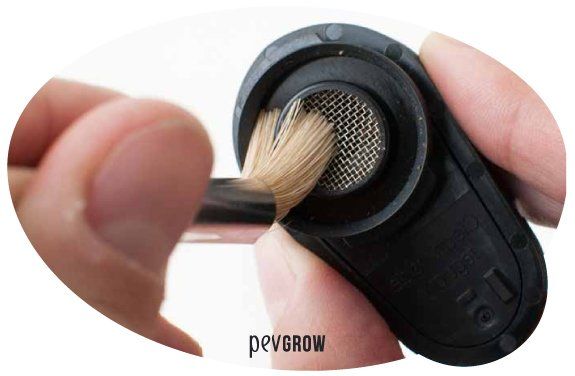 2-Deep cleaning.
If you plan to do a deep cleaning, you must take into account the type of vaporizer you have, since the sanitization process may vary according to its characteristics. Here is an explanation of the three main models.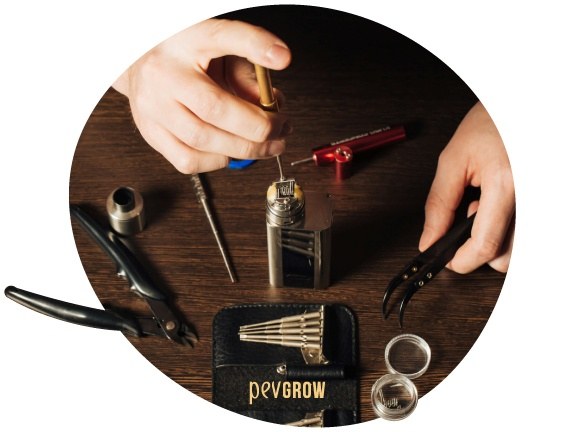 To thoroughly clean a dry weed vaporizer, you need to carefully disassemble the device. Although this type of vaporizer is usually marketed under different brands and models, all of them are usually composed of common parts: nozzle, heating chamber, battery, among others.
Check the manual of your device and follow the instructions to disassemble it. Then, gently shake and tap each part to remove any weed that may be stuck and use a cleaning brush or pipe cleaner to remove any residue from the parts. Be especially careful with the chamber and the nozzle, as well as the screen if your vaporizer has one, as these elements are crucial for its good performance.
Then, use 99% isopropyl alcohol to clean the parts of the device, rubbing the most resistant stains and the stuck weed remains.
After that, take the battery out of the vaporizer and brush it, cleaning the compartment as well. Finally, reassemble the device and clean it externally.
Vaporizer Da Vinci V2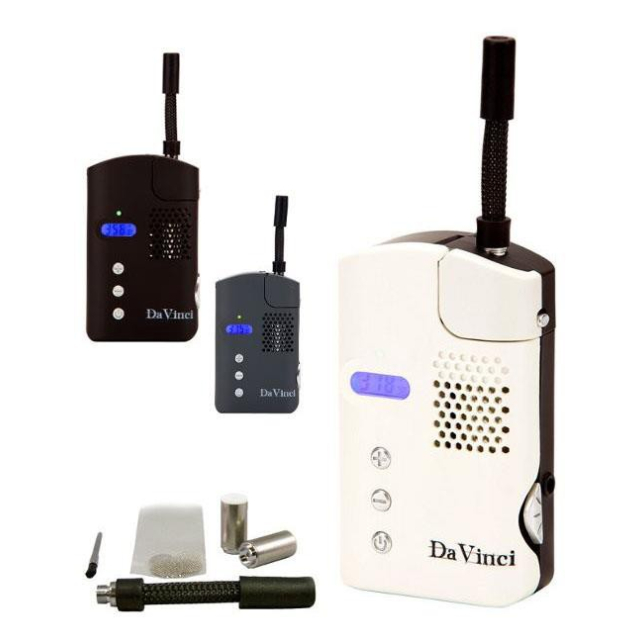 The Da Vinci V2 Vaporizer is portable to vaporize your favorite herbs, it is created in the United States…..
The Da Vinci portable vaporizer includes:
x cartridge oils
1 X cleaning brush
1 x Battery Charger
1 x flexible inhalation tube
Fishnet parts
Manual illustrated to use and guide temperature
MODELS: BLACK or WHITE
One of the characteristics of cannabis concentrates is its viscosity. Then, being particularly sticky, they tend to soil vaporizers easily. This is the main reason why the cleanliness of concentrate vaporizers is often so important. You will find that the stains will be quite resistant. But, it's nothing you can't handle with some implements and isopropyl alcohol.
Start by removing the parts from your device according to the manual instructions. Remove the nozzle, open the heating chamber and clean it carefully with a cotton swab previously dipped in alcohol. Repeat this last step until no residue is left. Then move on to the nozzle.
Remember to thoroughly clean any other parts of your vaporizer such as filters, glass tubes and metal screens if included. If they are very dirty and sticky, rub them with a towel or soak them in alcohol for a few minutes.
Then take the battery out of its compartment and clean it carefully. Put it back in place once all the alcohol has evaporated and finally assemble your vaporizer.
-Vaporizer pen.
This device, known as a vape pen or electronic cigarette, also needs special care. To clean it, start by gently tapping the pen to remove any weed that may have adhered. Then, open it as indicated in the user's manual to access each of its parts.
Take a small brush or pipe cleaner and clean the inner part of your vape pen. If your device has a removable heating chamber, take it out and disinfect it separately. Remember to also clean the threads, as they can hide plant matter and other residue. You can use the tip of a cotton swab with alcohol to do so.
For this type of vaporizer it is very important to clean the screens. Carefully remove and immerse the screens in a small glass with isopropyl alcohol for 20 to 30 minutes. Immediately polish each screen and let it dry..
The last step is to put your vape pen back together and enjoy it like it was the first day you had it in your hands.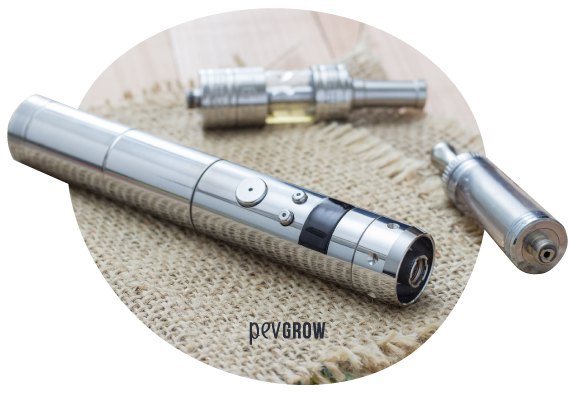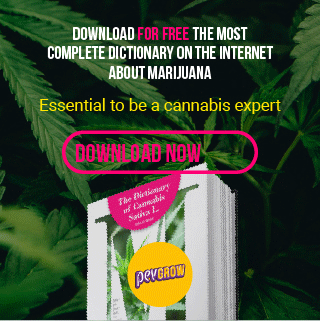 Free Download
Cannabis Dictionary
2023 Edition
Insert a correct email address
You must accept the privacy policy
SITE OF SHOPS ONLINE S.R.L with CIF: B98262777 and address for notifications in C/ VEREDA MAS DE TOUS Nº 22 LOCAL C, 46185 LA POBLA DE VALLBONA, VALENCIA, Phone: 961658271 Email: customer(at)pevgrow.com
At the name of Consulting we process the information you give us in order to provide the requested service, perform the billing of the same. The data provided will be kept as long as the business relationship is maintained or for the years necessary to comply with legal obligations. The data will not be transferred to third parties except in cases where there is a legal obligation. You have the right to obtain confirmation as to whether SITE OF SHOPS ONLINE S.R.L. is processing your personal data and therefore you have the right to access your personal data, rectify inaccurate data or request its removal when the data is no longer necessary
🚀 Conclusion
As you can see, before following any instructions to clean your vaporizer, you should consider the kind of device you have. Each model varies according to its characteristics, structure and parts. Therefore, you must always be very careful when carrying out any sanitizing process.
However, the tools you need for both simple and deep cleaning are very similar. So you can buy them beforehand and be ready, in advance, to disinfect and improve the performance of your vaporizer.

Alan Martínez Benito
CEO of Pev Grow, expert grower with more than 20 years of experience.
In constant struggle for the regulation of cannabis, mainly in the medicinal field.
See more posts
Bio Bloom from Biobizz: How to use, dosage and chart →