Reading Time
5
minutes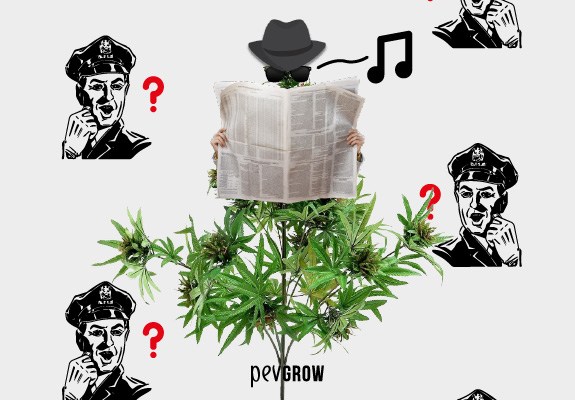 Those of us who grow cannabis outdoors for our own consumption encounter a problem every year, hiding marijuana plants so that no one can see them. In a guerrilla war it is fairly easy to camouflage our plants among the vegetation, but what happens when we grow on a terrace? And on a patio or garden? Do not fear, if you read this post carefully, you will have many more options for your plants to go completely unnoticed.
⛳ Camouflaging marijuana plants grown on the terrace
Growing marijuana on the terrace at home is an activity that many people do every year, for convenience and savings it is one of the most widespread types of cultivation in many countries. But some growers have a problem with this, and that is that their terrace is very exposed to the eyes of the neighbors, or it can be seen directly from the street.
When the plants are small, nothing happens, they could be tomato plants or something else, but as they grow, it becomes more and more difficult. Some people place one or 2 meshes to limit the height of the plants and that they do not exceed the wall of the balcony or terrace, growing as a SCROG but outdoors. This can be a good idea so that the plants are not seen from the street, but if you have curious neighbors they can see your striking crop. In our store you can find tights to make SCROG at the best market price by clicking here.
A good idea is to place false fruits hanging on the branches, as if they were the decorations of the Christmas tree but on your marijuana plant. Believe me that from afar the last thing you would imagine is that those plants are cannabis, some fake tomatoes or peppers, or something similar, can make your crop go unnoticed.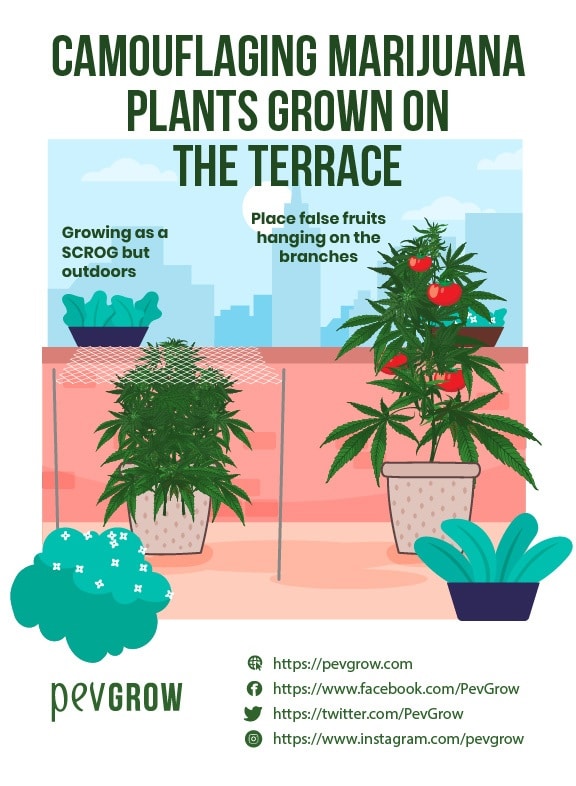 ⭐ Hiding Marijuana Grown in a Garden
In a garden there are several ways to hide marijuana plants from prying eyes . One is putting the plants between fruit trees, making sure that enough sun reaches them to be able to develop well. In Valencia it is usually done between lines of trees in orange orchards, and on some occasions when the plants are large they look like another citrus fruit.
But the way I particularly like to camouflage marijuana in an orchard, is to put a structure like the ones that are used as a guide for tomato plants. In this way it is very difficult to discover that they are cannabis plants, unless you smell them or get too close of course.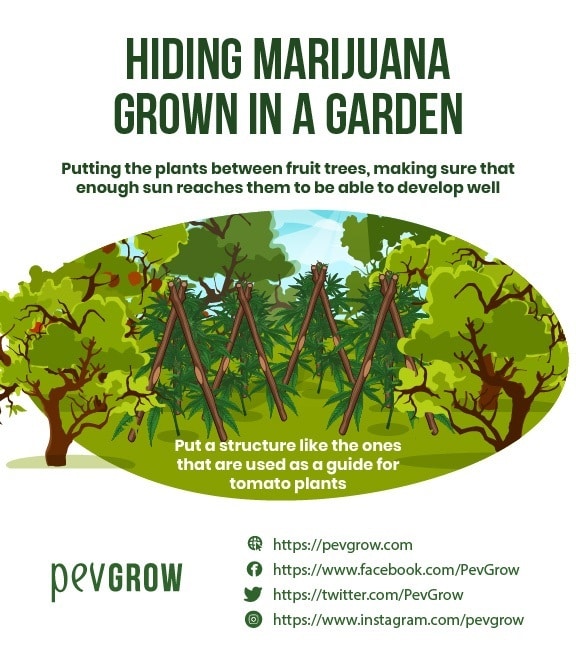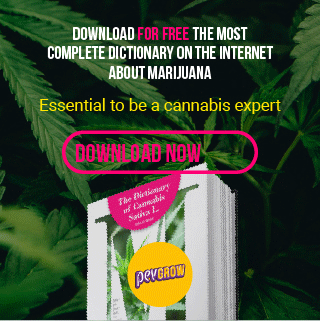 Free Download
Cannabis Dictionary
2023 Edition
Insert a correct email address
You must accept the privacy policy
SITE OF SHOPS ONLINE S.R.L with CIF: B98262777 and address for notifications in C/ VEREDA MAS DE TOUS Nº 22 LOCAL C, 46185 LA POBLA DE VALLBONA, VALENCIA, Phone: 961658271 Email: customer(at)pevgrow.com
At the name of Consulting we process the information you give us in order to provide the requested service, perform the billing of the same. The data provided will be kept as long as the business relationship is maintained or for the years necessary to comply with legal obligations. The data will not be transferred to third parties except in cases where there is a legal obligation. You have the right to obtain confirmation as to whether SITE OF SHOPS ONLINE S.R.L. is processing your personal data and therefore you have the right to access your personal data, rectify inaccurate data or request its removal when the data is no longer necessary
✨ Where to hide marijuana plants in a guerilla crop?
Guerrilla crops are those that are planted in the middle of the forest or field, so it is easier to disguise our cannabis plants. The further away you are from civilization the better, but be careful, keep in mind that you will have to go to water and take care of the plants from time to time, so look for a place that is away from people but accessible to you.
The best thing is that there is no path or path that reaches your crop, that there is tall vegetation, and if it may be an obstacle or impediment that prevents its access. If you leave marks of any kind, it is best to hide them, not to see anything that makes people think that this is a step or path to somewhere.
It is interesting that the crop is oriented towards the south (if you cultivate in the southern hemisphere it is better that it is oriented towards the north) and that there are no trees, rocks, or anything else that blocks the sunlight, so that they have at least 6 hours of sunshine a day. It Also is highly recommended to clean the area of ​​weeds that may attract pests, once you choose the location of your crop, the ideal is to leave the area as clean as possible.
There are guerrilla growers who place associated plants around their crops to camouflage the marijuana plants, transplanting all the plants at the same time and with similar sizes. In this way, 2 things are achieved, hiding the marijuana on the one hand, and preventing insect attacks in a biological way on the other hand, especially.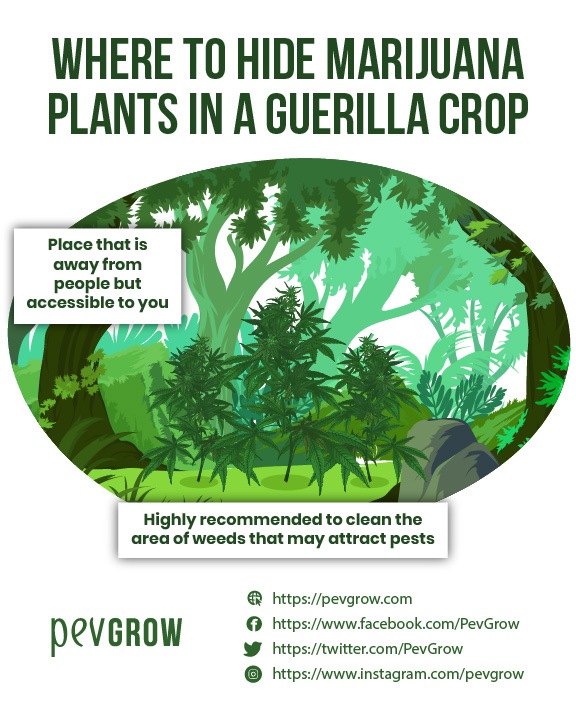 🚀 Hiding cannabis plants in trees
This technique is not as widespread as the previous ones, but it is increasingly being done because of marijuana thieves. The ideal is to place the plant as high as possible, supporting the pot on a strong branch, and tying it well so that it does not fall. If you use fabric pots better than plastic or other material, because the fabric ones are better fixed on an unstable base such as tree branches.
Well, we have already placed our little plant on the tree, and now how do we water? The best thing for this is to place a pre-installation of automatic irrigation, placing the drippers in the pot and dropping a hose through the trunk, so that we can connect a water pump and insert it into a bucket every time we want to water.
✅ The concealment mesh for marijuana crops
And to finish, I want to remember that for other types of cultivation, in the backyard, in the home garden, or also on the terraces, there is the possibility of placing a concealment mesh where leaves pass most of the light, but obstructs what is behind it. As with the guerrilla-associated plants, the concealment mesh fulfills 2 missions, to hide the plants and protect them from the attack of insects.
For small or autoflowering plants there is a system called Pop Up Grow Bed that works very well, because it hides what is inside without preventing the entry of light. It is also very easy to assemble, it is very cheap, and it looks good in any garden so it is one of the best investments you can make to protect your plants from theft.
Mesh cover Pop UP Grow Bed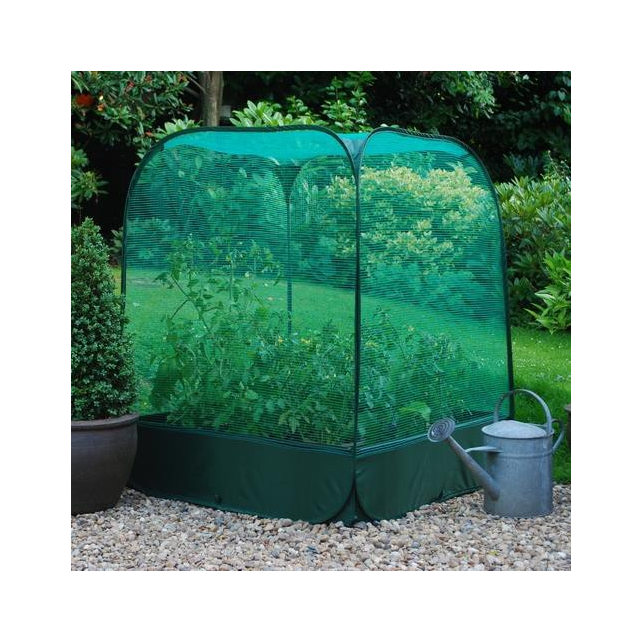 The Mesh Pop UP deck, perfect dimensions to cover the Grow Bed. It is 1.2 meters high and has 6mm holes that are guaranteed to protect from birds, rabbits, insects and other animals…
Specifications
– Mark Garland
– Model: G129
– 100% recycled plastic
– To model G94 Garland Grow Bed
🎯 Conclusion
Camouflaging marijuana plants grown outdoors is not difficult, you just have to use your imagination to make them go as unnoticed as possible. And you, do you have any trick to hide the guerrilla cultivation, orchard, or terrace that you want to share with us? Leave us a comment with your method to help other readers please
Bio Bloom from Biobizz: How to use, dosage and chart →