Reading Time
4
minutes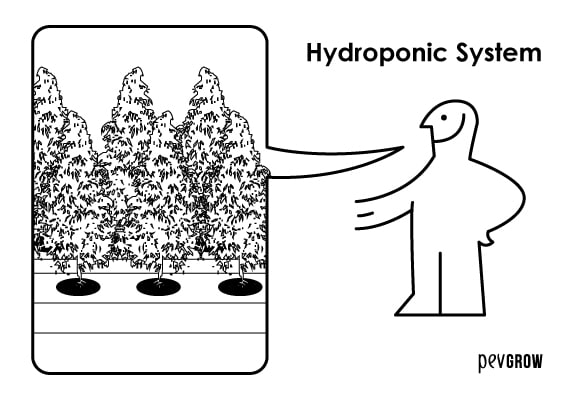 I'm sure you've heard the concept of "hydro weed" and said, "What is that? Relax, it has happened to everyone, since no one was born knowing everything. That is why we decided to create this post explaining what it is and which are the advantages that this growing method has.
⭐ What is a hydro growing system?
The meaning of hydroponics is something like "works with water", since it is a word that comes from Latin and is composed of Hidro (Water) and Ponos (Work). Well, you could say that it is a cultivation system where you work directly with water to develop all kinds of plants.
When we grow in soil, the substrate has food that is absorbed by the roots, and when we fertilize what we do is enrich this soil so that the plant always has nutrients available in the substrate it feeds on. But in Hydro the substrate is inert, usually it is Arlita, Perlite or Rock Wool, this one is only useful as support for the root system, and when we fertilize we do it directly to the roots.

⛳ Benefits of Hydro Weed growing system
Growing hydroponic cannabis plants has many advantages over other methods such as soil. But not everything is positive in this technique, so you can say that each system has its advantages but also its disadvantages.
Advantages of Growing Hydro Weed
Increased bud production
Total growing time reduced
Better use of water and fertilizers
Greater control over feeding
Reduced risk of substrate pests
Work savings, both in irrigation and in the preparation of the nutrient solution
Disadvantages of hydro growing system
Requires a great deal of PH and EC control, as it is less error-prone than soil
A prolonged power outage can be fatal, as plants can die from lack of water
As they share irrigation water, fungi like Pythium can kill all plants in just 24 hours
The quality of the final product is not as good as organically grown cannabis in soil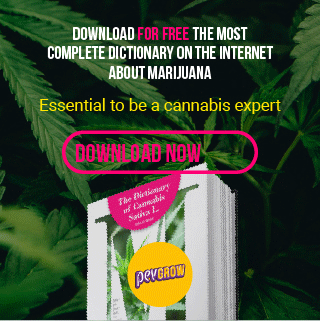 Free Download
Cannabis Dictionary
2023 Edition
Insert a correct email address
You must accept the privacy policy
SITE OF SHOPS ONLINE S.R.L with CIF: B98262777 and address for notifications in C/ VEREDA MAS DE TOUS Nº 22 LOCAL C, 46185 LA POBLA DE VALLBONA, VALENCIA, Phone: 961658271 Email: customer(at)pevgrow.com
At the name of Consulting we process the information you give us in order to provide the requested service, perform the billing of the same. The data provided will be kept as long as the business relationship is maintained or for the years necessary to comply with legal obligations. The data will not be transferred to third parties except in cases where there is a legal obligation. You have the right to obtain confirmation as to whether SITE OF SHOPS ONLINE S.R.L. is processing your personal data and therefore you have the right to access your personal data, rectify inaccurate data or request its removal when the data is no longer necessary
✨ Types of Hydro Weed Growing Systems
Within hydroponic weed cultivation there are several types of systems that are based on this technique, and only the way of irrigation or the kind of root system support changes, let's see the most widespread ones:
Drip irrigation hydro
It is based on a tank in which the nutrient solution is prepared, and a pump inside it pushes it through some tubes to the drippers that are attached to the containers where the plants are placed. It is probably the most widespread type of hydroponic system, due to its ease and performance, it has many advantages but also has some drawbacks.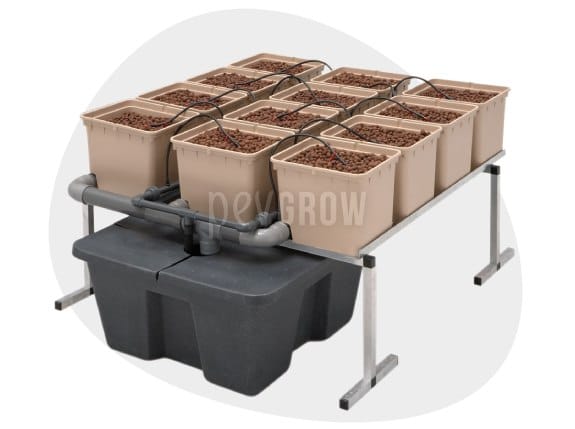 Aeroponics
The aeroponic system distinguishes itself from the hydro by the fact that the roots have no support, they are simply inside a tube or chamber, away from the light. In these tubes there are small sprinklers that spray the nutrient solution directly on the roots, along with a large amount of oxygen.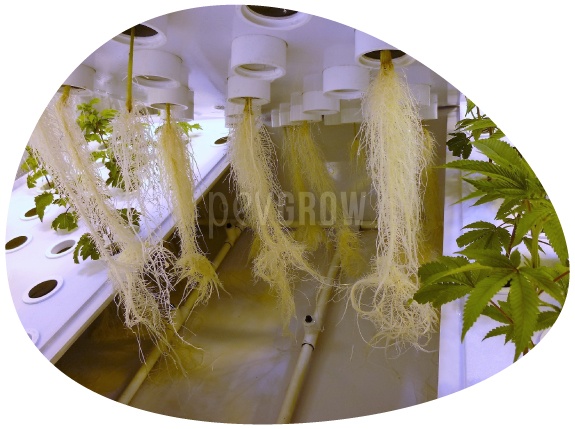 DWC or Deep Water Culture
In this kind of hydro system it does not need watering itself, the roots are continuously immersed in the nutrient solution, inside a bucket that is automatically filled from a tank where the mixture is prepared.
In this case it is essential to use an air pump to oxygenate the content of the buckets, firstly to prevent fungus from emerging, but also to aerate the root system..
NFT system or Nutrient Film Technique
As its name suggests, this method is based on a film of nutrients and oxygen constantly circulating on a slightly inclined surface, through which it falls back into the tank and recirculates in a flow/reflow system. In this case the plants are usually placed in rockwool buckets or similar, supported directly on the tray or inclined surface, and the nutritive solution constantly moisturizes the roots.

What is the best hydro growing system?
From our point of view, the best growing system is the Aero Dutch Pot, as it can be easily converted from Aeroponic to Hydroponic and vice versa. It is also very easy to assemble and is recommended for beginners who want to get started in this kind of crops.
Within individual hydro systems we prefer the DWC Pot from Neptune Hidroponics, very easy to use and suitable for both flowering and keeping mother plants. It is incredible the amount of cuttings that can give you a mother maintained in this hydroponic system, if you have not tried it you will be amazed…
And why not do it yourself? If you're up for it we can help you with this post that explains how to make your own homemade hydroponic system, take a look.
👌 How is hydro weed?
Thanks to intensive feeding, which can push plants to the extreme, hydroponic flowers are very dense and hard, much harder than soil-grown buds.
In terms of organoleptic qualities, it does not usually reach the intensity of aroma and taste that is achieved by growing in soil, but hydroponic Amnesia, or any other variety with a very intense taste, can also have a delicious flavor using this system.
🚀 Conclusion
Hydro crop is the most interesting at a commercial level, as it is the one that achieves the highest yield in the shortest time. If your preferences are speed and production, no doubt this is your growing system, and if you haven't tried it yet I invite you to do so. Do me a favor and share this post in your social networks, it is the best way to spread the information.
Bio Bloom from Biobizz: How to use, dosage and chart →