LED Lighting
Dear Cannalovers
I imagine you already know a little about LED Lighting, well, you are all congratulated!
At PEV Grow we offer you the best LEDs for growing marijuana, the best LED Kits for indoor growing, for the whole complete cycle (growth and flowering), cheap LED panels with remote control and WIFI to keep mother plants and cuttings, and much more!
All LED technology at the best price!
LED lamps are one of the best advancements for indoor cultivation, because they offer one of the highest yields or grams per watt consumed from all the marijuana indoor lighting technologies used so far.
Compared to HPS (High Sodium Pressure) or MH (Metal Halide) LED lamps give us a more usable spectrum of light for plants, without detriment to the performance that HPS or MH offers us.

Always thinking about the best value for money and the total yield of your crop.
LED lighting lamps offer a longer service life, as they can operate without losing performance for at least 10 years...
... imagine the amount of crops you might harvest in that time!
The price of electricity has been rising in Europe stealthily and unstoppably in recent years, this is one of the reasons to choose LED lighting equipment for indoor marijuana growing, minimizing production costs and getting the maximum performance.
Let's talk about electricity consumption in indoor crops

The price of energy in Spain is one of the most expensive in Europe. For the most part, our government has penalized renewable energy sources to encourage the consumption of fossil energy.
For us, and we imagine that also for the rest of the cannabis cultivation lovers, this is an important injury, since our philosophy is to consider the natural, organic and biological as a source that emanates from ourselves.
Energy and environmental expenditure is therefore very high, and is well taken into account by companies in the cannabis sector. Until very recently, a crop with a 400W HPS bulb didn't cost more than 40 € per month on the electricity bill, today, in addition to the tax increases applied to energy and the price of kWh, it means a monthly consumption of around 70 €.
Another important thing is the digital adaptation of electrical energy. They already require the installation of digital meters in buildings, and will therefore soon eliminate analogue ballasts from the market, in order to be sold only digital ballasts.
We remind you that LED lamps do not need ballast.
Below, we present a comparison of the energy cost of the technologies we offer in PEV Grow (HPS, MH, LED and LEC), taking into account a whole indoor growing cycle of 1 m2, assuming a flowering time of 60 days. (Full 90-day cycle):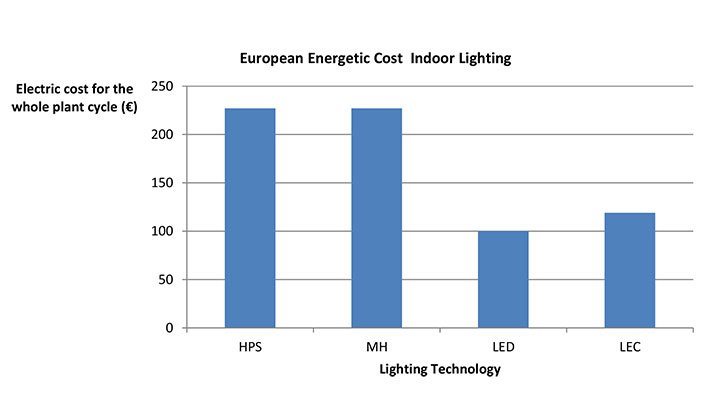 *Own elaboration chart taking into account an average cost of electric energy of 0.3 €/kWh.
**The cost has been calculated taking into account that it is 30 days with a photoperiod of 18/6 h and 60 days with a photoperiod of 12/12 h.
***The reference is for an indoor of 1 m2 equivalent to 600 W HPS.
****Yields in g of cannabis per watt are not estimated because it depends on multiple factors, including the grower's experience.
LED Lighting: A crop full of advantages
In recent years, LED lighting equipment has evolved a lot. Initially, the first units launched on the market were of low intensity, which turned into low production.

With the latest generation LED lamps, excellent yields per watt consumed are achieved, in addition, without emitting hardly any heat, even allowing indoor crops in summer.

At PEV Grow we offer you the best LED equipment!
The new Lumaled LED panels are full cycle, growth and flowering LED panels, with a power range from 120 to 480 W, they are more technologically advanced than the Phytoled.

The Phytoled continue to give good results, with a relation quality-price difficult to match, with powers ranging from 124 to 264 W.
The Apollo LEDs, LED grow lights, LED grow-pro, TGL-STAR, very well adapted for mini culture, or small scale sybarite autoculture are very economical.

Another very advanced range in LED technology is the Xtrasun LED range, with new LED chip, and Wifi control.
The high-performance LED blooming LED panels mount the full spectrum 3000K LED COB chips.
And as an image is worth more than a thousand words, we leave you with a video in which you can see how it works at full flowering performance.

As you can see, marijuana growing technology is advancing at a leap forward, so you will be able to get more out of your buds every time.
And if you need advice, please don't hesitate to call us. The technical team of PEV Grow will take care of you in the best way, adapting us to all kinds of needs.
And you... Have you already installed your LED?
---