South African Kwazulu
Offer!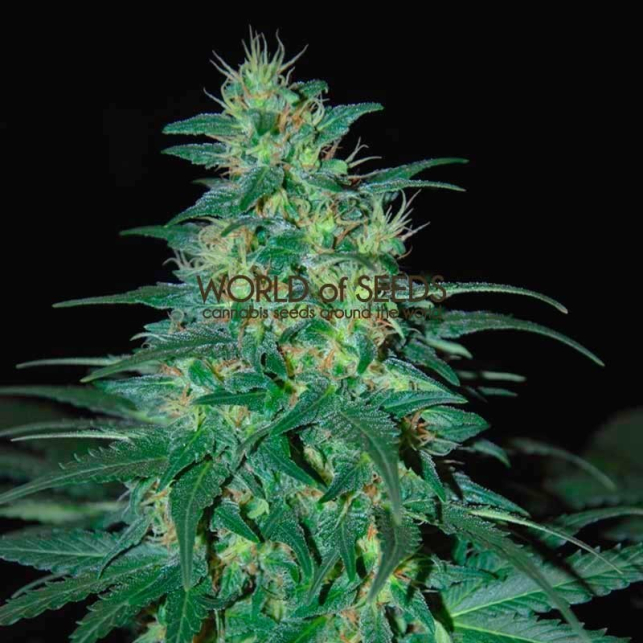 Description
Feminized cannabis seeds South African Kwarulu of bank World of Seeds.
Wild Variety 100% sativa coming from north of Drakenbergs range. It has low harvesting time, Sweet flavour and energic effects, has been cropped by Zulues during several generations goberned by Shaka, becoming one of the native people warriors and farmers more significants in Africa. The legends says that this plant was used in warrior zulu rites before the first British attack in 1879, its long life time and energic effects give warriors more strength for defeating British army, better in number and armament. Is one of the more resistant to plagues and mushroom and its genetic lets adaptation as indoor cropping as outdoor cropping in European latitudes.
Video of South African Kwazulu
More info
Bank: World of Seeds Landraces Collection
Sex: Feminised
Way of cropping: Mainly outdoor
Genotype: Pure race obtained from Kwazulu(south Africa)
Phenotype: 100% sativa
High: Less than 1.5 m indoor/ until 2.5 meters outdoor
Wide: Depending on prune. Some branched without prune
Growing time: 3-4 weeks.
Harvest time: 55-60 days indoor/medium october outdoor
Resistance to mushrooms: High because belongs to wet clime.
Resistance to plague: Depends on the plague.
Irrigation tolerancy: High
Yield: 300 gr per m2 indoor/ 450 – 500 gr per plant outdoor.
Medicinal value: Haverage (low content in CBD). Aplication like an antiemetic and in treatment of intraocular pressure in glaucoma.
Smell: Sweet, intense.
Flavour: Sweet, seems aniseed.
Effects: Energetic, long life effect.
THC Level: 17.3% measured upon the rest of cannabinoids.
8.5% measured upon the rest of organic substances belonging to buds like: aminoacids, sugars, terpenoids, vegetal hormones, and cannabinoids (determined by gas chromatography coupled with mass spectrometry)
Data Sheet
| | |
| --- | --- |
| Genetics | Landrace |
| Features | Sativa seeds |
| Banks | World of Seeds |
| Type | Regular |
| Type | Feminized |
| Phenotype | 100% Sativa |
| Height | High |
| Indoor flowering period | 55-60 Days Indoor/medium October Outdoor |
| THC | 17.3% Measured Upon The Rest Of Cannabinoids. |
| CBD | Haverage (low Content In CBD). Aplication Like An Antiemetic And In Treatment Of Intraocular Pressure In Glaucoma. |
| Genetics | Pure Race Obtained From Kwazulu(south Africa) |
Send us your questions! We are happy to help you.
There are no questions about this product, be the first to ask!
---