PEV Seeds brings you one of the exclusive varieties of marijuana that changed the cannabis scene in the U.S. in the sixties, and inspired a whole generation of artists, the mythical sativa Chocolate Thai. And some will say, what's so special about this genetics? If you keep reading you will get the answer.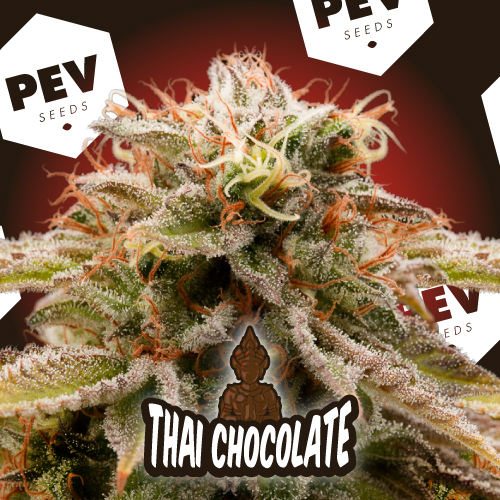 How is Thay Chocolate feminized?
It is a pure sativa adapted to the west coast of the United States for many years. The original Thai sativa grows very ungainly, with many asymmetrical ramifications in all directions, and a long flowering, though not as much as other sativas in Southeast Asia.
Luckily in the U.S. they were shortening size and flowering time to adapt it to their outdoor conditions, and even be able to be grown indoors without many problems. 
Our feminized version preserves the spirit of the original genetics, but much more controllable, with solid structure and quite fast flowering for a plant of these characteristics.
How do you grow indoor Thay Chocolate from PEV Seeds?
In indoor cultivation it does not need a long period of growth, a couple of weeks is enough to end up with good size. You can put 9 or 12 marijuana seeds of this variety in a square meter in pots of 7 liters, with an apical pruning or FIM so that the secondary branches increase weight. In the middle of flowering the cultivation space has to be seen all filled with long hairy arms.
Another interesting form of cultivation for the feminized Thay Chocolate is using the Screen of Green method, that is, putting a mesh to contain the height of the plants. In this case it is enough to put 4 plants per square meter, you can even put 2 or 1, but keep in mind that the less plants we put, more growth time we need to cover the space properly.
Can Thay Chocolate be grown outdoors?
Not only is it possible to grow it outdoors, in fact it is a more suitable variety for growing outdoors or in greenhouses rather than indoors, as it happens with our other pure sativa variety from PEV Seeds, Jamaican Lamsbread. They are large plants with slightly longer flowering than usual, so they need to be adapted to indoor growing, but outdoors they can show their full potential.
Sativas from the equatorial regions, in their native region, enjoy a lot of solar intensity in a natural way, so they are used to this light power. In many climates it is difficult for the pure sativas to perform well, either because of the cold, or also because of the low solar intensity. Luckily, Thay Chocolate has been adapting to other climates for many years, and now it can be harvested in many regions of the planet. 
It is not necessary to germinate Thay Chocolate very early to get a great harvest, sowing in late spring will reach a good size, as during the summer is when these plants grow more. If we are going to cultivate it in flowerpot it will be necessary to prepare a quite big one for its definitive transplant, that it will be necessary to do it in the middle of summer so that the plant takes good advantage of the nutrients of the substratum. On the other hand, if we want to cultivate it in mother earth, the definitive transplant can be done before, but still it is preferable to germinate in flowerpot and move it to earth when it has a good root system.
When is feminized Thay Chocolate harvested?
Originally Thay Chocolate was a very late variety, it needed more than 3 months of flowering to fully mature. After its adaptation during many years to more northern latitudes its flowering time has decreased considerably, becoming much more suitable for indoor and outdoor cultivation of many regions that before were unable.
In indoor cultivation you can harvest Thay Chocolate after 9 weeks of flowering if you want it to keep all the powerful sativa spirit, a blast for a strain of these characteristics.
Outdoors it is cut in mid or late October in the northern hemisphere, and mid or late April in the southern hemisphere.
How much does Thay Chocolate from PEV Seeds produce?
In indoor cultivation illuminated with 600w sodium focus, you can get about 500/550 grams per square meter. Outdoors is easy to reach the kilo with this variety, especially in very bright areas, temperate or hot, and with mild autumns.
The production of cannabinoids is very high, in many cases can exceed 20% THC, and also contains a component that very few other varieties have, THCV, which amplifies the psychoactive effect and has other medicinal properties.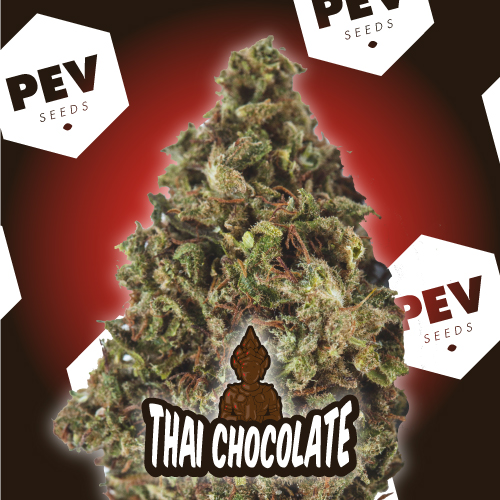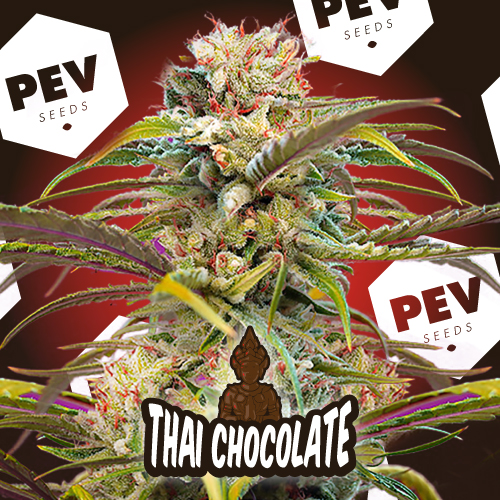 What does Thay Chocolate taste like?
Its aroma is not the most intense, floral and pleasant but not very powerful compared to other genetics. But its taste is a delight, contains a profile of terpenes unique in the world, in the mouth it reminds of cocoa, with a touch of coffee and spicy notes. A breath of fresh air, with a smoke so soft that it seems to caress the palate, lasting the taste of chocolate for a while after consuming it.
This flavor, together with its impressive effect, has become a before and after in the cannabis culture, which until then named the varieties according to their region or color. After Thay Chocolate, the flavor was added to recognize a variety, and today we have many examples, Lemon Kush, Strawberry Haze, Sweet Skunk, mango, etc ...
What are the effects of Thay Chocolate?
The effect is very stimulating, electric, with a strong euphoric rise, great brain activity and the desire to move. The high THC content, added to the THCV and the combination of terpenes that it contains, turns this variety into a bomb, but a very pleasant one.
For many weed users the sativa effect is more appreciated, some use it to motivate themselves, others to treat anxiety or depression, people who use it to party, and most to escape for a while from reality, laugh, or simply fly.
Where can I buy Thay Chocolate seeds?
Dude, you're in the right place, at Pevgrow we've got seeds of this classic especially for you. In addition, now you can buy them with discounted price, in feminized version, and processed to facilitate their cultivation. What else can you ask for? Come on, try them and then tell us about your experience...
You may also be interested in: