Brazil Amazonia
Reduced price!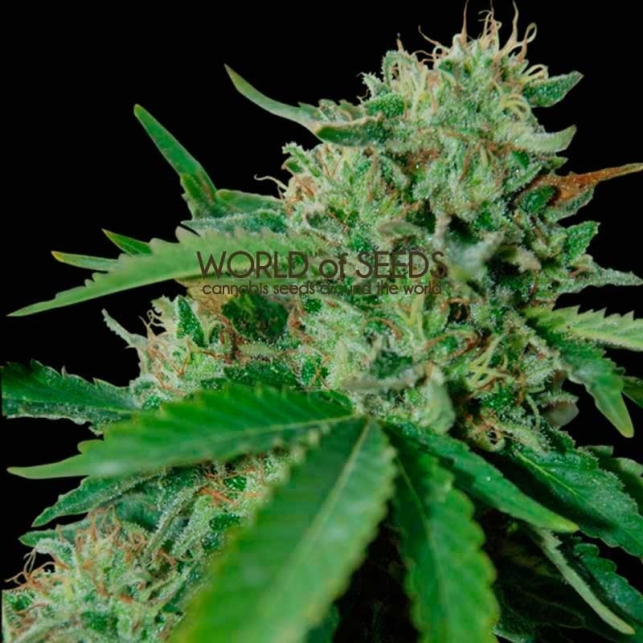 Description
At Pevgrow, your trusted growshop, we already have the Brazil Amazonia seed by World of Seeds.
This feminized seed is originally from southern Brazil, and it comes from other previously crossed varieties. Specifically, it contains 75% Sativa plant and 25% Indica plant.
Beyond the well-known recreational use, it is a plant that offers several therapeutic possibilities to alleviate pains due to its high CBD concentration. It is usual to use CBD derivatives for menstrual, muscular and other pains, and it is an element used in palliative care. Its effects are powerful at first, although they are leveled out within a few minutes.
Brazil Amazonia seeds can be planted both inside and outside, and although their yield is higher in the second scenario, the differences are not very pronounced. It takes 11 weeks to bloom, and in the northern hemisphere, it is usual for it to do so in November. Therefore, and although tolerates pests, its prolonged maturation period forces you to consider certain safety issues.
Indoors, we recommend using 5 pots of 20 liters, for example. It is a plant that can be watered abundantly as it has a high tolerance to watering. We can point out that it can produce 400 grams of product per square meter and grow 1.5 meters.
Outdoors, it offers higher yields, although this is not the main value offered by the plant. With proper care, you can obtain 600 grams of product per square meter, and it reaches 2 meters in height.
The plant's flavor is sweet, with fruity notes of citrus, such as lemon or orange. If you are looking for a tasty seed with tropical touches, the Brazil Amazonia is an alternative you can already enjoy at your growshop, Pevgrow.
More info
Bank: World of Seeds Landraces Collection
Sex: Feminised or Regular
Way of cropping: Mainly indoor/very good yield outdoor
Genotype: Pure race obtained from brazilian forest.
Phenotype: 75% Indica
High: Less than 1.5 m indoor/ until 3 meters outdoor
Wide: Depending on prune. Some branched without prune.
Growing time: One month
Harvest time: 55 -60 days indoor/average October outdoor/pollitano
Resistance to mushrooms: High because belongs to wet clime
Resistance to plague: Depends on the plague
Irrigation tolerancy: High
Yield: 400 gr per m2 indoor/ 500 - 600 gr per plant outdoor
Medicinal value: High (for its high content in CBD)
Smell: Strong.
Flavour: Citric.
Effects: Energetic
THC Level: 18.1% measured upon the rest of cannabinoids. 6.7% measured upon the rest of organic substances belonging to buds like: aminoacids, sugars, terpenoids, vegetal hormones, and cannabinoids (determined by gas chromatography coupled with mass spectrometry.
Data Sheet
| | |
| --- | --- |
| Features | Interior |
| Features | Hybrid seeds |
| Features | Exterior |
| Banks | World of Seeds |
| Genetics | Landrace |
| Flavor and aroma | Lemon |
| Flavor and aroma | Orange |
| Type | Regular |
| Type | Feminized |
Send us your questions! We are happy to help you.
There are no questions about this product, be the first to ask!
---