E-Liquid ARAE CBD With terpenes
100 day satisfaction guarantee
Discreet delivery worldwide
Unlimited cash on delivery
Description
Play Text to Audio
At Pevgrow we have available a wide range of e-liquids with ARAE CBD: Authentic Hemp, Citronella Sky, Somango Haze, Strawberry Blue or Hash CBD.
It will be tough to decide!
What distinguishes E liquids with CBD by Arae Green Purity?
The CBD of ARAE e-liquids is full spectrum, hence their golden colour at the lowest concentrations, as the level of cannabidiol increases it requires further purification and consequently its colour becomes more transparent due to the loss of chlorophyll. The CBD Full Spectrum is obtained from the cannabis sativa plant by supercritical CO2 extraction.

The Cannabidiol (CBD) used in our Eliquids, is of totally natural origin, extracted directly from the leaves of Cannabis Sativa L. not attached to the flower (Hemp), free of impurities, heavy metals and pesticides complying with the strictest GMP quality standards.
The full spectrum of these and liquids to vapear will provide you with an entourage effect and incomparable flavor.
In addition, these e-liquids for vapearing have been enriched with hemp terpenes so that you can enjoy the taste of the most award-winning cannabis strains in history.
The ARAE e-liquids are mainly designed for those gourmet hemp-loving vapers, their aroma is 100% authentic, offering you different concentrations of CBD for each profile of terpenes proposed.
Its unique taste is enhanced by the addition of terpenes obtained by natural extraction replicating the best cannabis strains on the market.
Also, it is important to know that none of these products contain nicotine so they are not addictive.

Compatible with any electronic cigarette.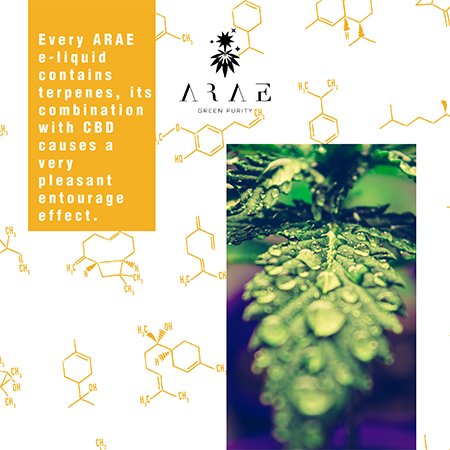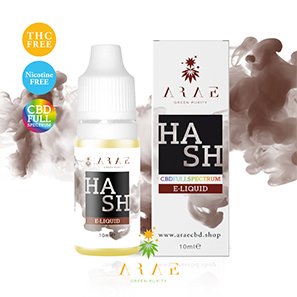 Hash: for those who seek strong experiences.

This e-liquid is the perfect choice for the bravest. With a peculiar flavor and aroma, reminiscent of the best hashish, the e-liquid Hash is the ideal combination for lovers of extractions.
Its original taste is the result of the wonderful combination of the CBD with the Hashishene terpene, which will give you a balanced sensation of relaxation and entourage effect that will intoxicate you.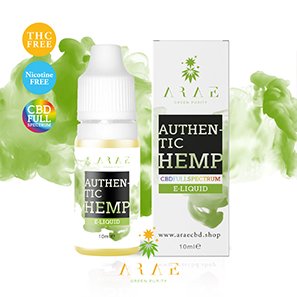 Authentic Hemp: homegrown and the purest taste.

If you are looking for a product with a powerful and intense flavor this is without a doubt your best choice. From the very crop and harvest, the hemp of this e-liquid will give you the most powerful flavor you can ever imagine. Its sour taste with earthy nuances, coming from the most primary terpenes in its formula, will not leave you indifferent at all.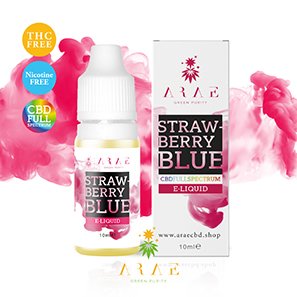 Strawberry Blue: a tasty and natural option.

Choose this e-liquid if you are looking for an aromatic and natural option. From ARAE they have achieved the ideal mixture extracting the best of the strawberry from its natural source, not from a synthesis, and combining it with the CBD.
It's the cleanest and most natural vaping option, since it contains the minimum possible constituent molecules of the aroma, providing a pleasant and sweet sensation.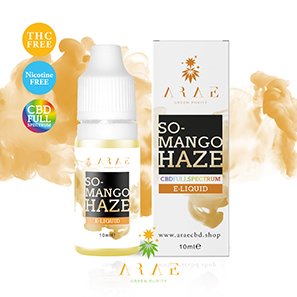 Somango Haze: delicious flavor and Caribbean character.

This ARAE vaping liquid is ideal if you are looking at the same time for a fruity, citric and sweet flavor, which will make you teleport to the Caribbean beaches.
As the name suggests, the basis of its aroma and main protagonist is mango, accompanied by flavors such as banana and pineapple, which are typically tropical.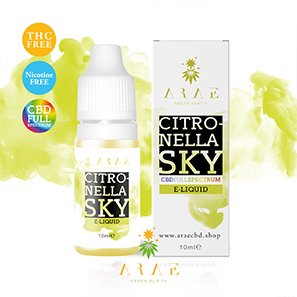 Citronella Sky: for lovers of a more traditional marijuana taste.

Surely if we say Super Lemon Haze you know what we are talking about, as this genetic is one of the most awarded in the Cannabis Cup. If you love a traditional taste of marijuana and also want to add a spicy touch and lemon flavor, this is the option you were looking for. An unforgettable taste experience obtained from the perfect combination between CBD and various terpenes **, which achieve this powerful and unique citrus flavor.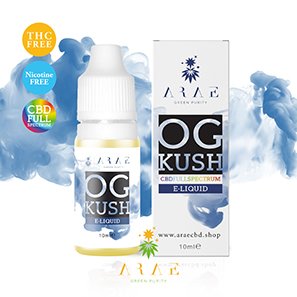 OG Kush: an exquisite and sweet choice.

The elaboration of this ARAE e-liquid is based on one of the most known and cultivated plants in the United States, the OG Kush. If you are looking for an exquisite taste and an intense smell of diesel combined with berries and lemon, this is your ideal choice. In addition, when you vape this e-liquid with your e-cigarette, you will notice original earthy and mint nuances. It will bring you into a deep state of wellness.
Data sheet:
Pack of 10 ml.
CBD Concentrations:
0 mg…0mg/ml.
30 mg…3mg/ml.
100 mg…10mg/ml.
300 mg…30mg/ml.
600 mg…60mg/ml.
Data sheet and characteristics
| | | |
| --- | --- | --- |
| Brands: | | ARAE CBD |
Opinions and doubts about E-Liquid ARAE CBD With terpenes
Leave us your opinion or ask us any questions you have about this seed and participate in the raffle!
Among all those who comment or send us your questions, there will be a monthly raffle for a €50 voucher for your purchases at Pevgrow. What are you waiting for? Write us and participate!