Reading Time
7
minutes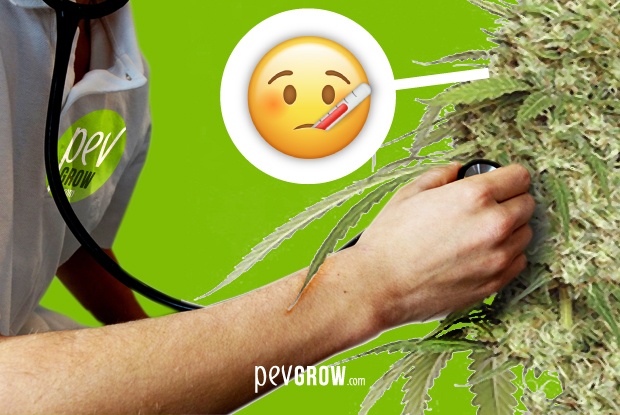 Dear Cannalovers!
Today we are going to illustrate you in a simple way about the main diseases that our cannabis plants can suffer, also helping you to identify the plague that is making your life sour.
In some cases, you will only have to correct certain patterns that you do not do at all properly in your crop, causing the appearance of so-called cryptogamic diseases, or simply making your plant does not develop in an optimal way because it has some lack of nutrients or you are causing an excess.
Now we illustrate the problems you may encounter:
⭐ Plant heat stress
Join the Pevgrow cannabis family in our:
Problem: Your cannabis plant can only withstand a certain amount of heat. It will start exhibiting signs of stress showing dryness and yellowing on the edges of the leaves, with brown chlorosis spots in more advanced stages.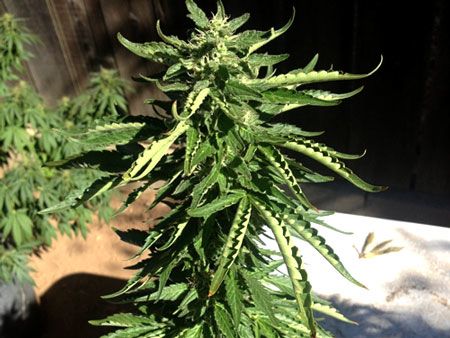 Important for hydroponic growers! High temperatures can cause root decay, a serious problem that can end your hydroponic dream.
Cannabis will also show heat stress when grown outdoors in hot, dry weather, especially when it doesn't get enough humidity.
Tip:
With the installation of an
air intractor
you will be able to maintain an adequate temperature and a correct renewal of the atmosphere of your indoor cultivation.
✨ Nitrogen deficiency and excess (n)
Deficiency: This is the most common deficiency as it is a moving macronutrient within the plant, which is used exhaustively for the synthesis of chlorophyll, which as you know is essential for photosynthesis.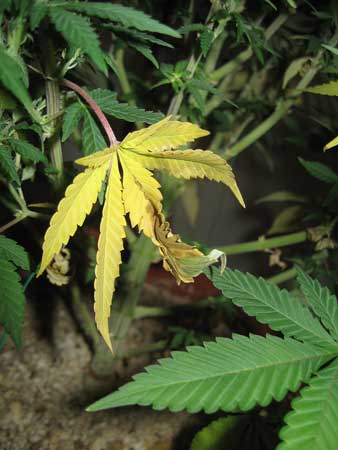 This deficiency begins to show in the older leaves (the lower ones), appearing signs of yellowing between the nerves until they become completely yellow. This symptom is transmitted to the younger parts of the plant, this being the unequivocal sign that it needs nitrogen.
Toxicity: If you notice an excessive dark green in the leaves you are providing an excess of nitrogen. In more serious cases the plant ends up deteriorating its root stopping its development, you will also notice that the stems are weak and brittle
⛳ Phosphorus deficiency and excess (P)
Deficiency: It is also a mobile macronutrient within the plant, which is used in high concentrations in the germination, seedling and flowering stages, being essential for DNA synthesis, and enzymes involved in the biosynthesis of phytohormones, as well as in the production of structural elements essential for plant development.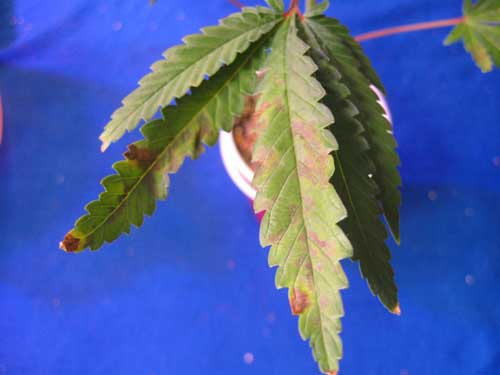 Their deficiency begins to show in poor growth strength, developing smaller leaves with bluish green tones and dark spots. Older leaves turn dark and curl downwards.
Toxicity: Normally the marijuana plant tolerates high levels of phosphorus, especially if the pH is well buffered in your substrate and irrigation water. Its toxicity is based on the interferences it causes in the absorption of other nutrients such as calcium, copper, iron, magnesium and zinc.
? Potassium deficiency and excess (K)
Deficiency: It is also a mobile macronutrient within the plant, and is essential to provide immune resistance to fungi and bacterial pests. It is an essential element in the translocation of carbohydrates and in the opening and closing of stomas. In addition to being essential for the development of proteins that synthesize the resin that host the trichomes during flowering.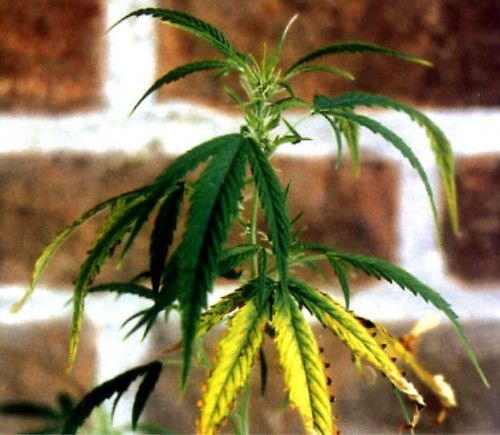 Its deficiency begins to show in the old leaves, whose tips are yellowish and showing very characteristic brown motes. The leaves show a normal aspect in their union to the petiole but mottled along the leaf until the ends totally brown and dry.
Toxicity: Normally this does not occur, and if it does, it is difficult to diagnose. If you are growing in substrates adapted for cannabis do not worry, if you do it in soil cultivation, you should do a soil analysis if it is too high in potassium oxides and calcium. Normally the excess of these salts interferes in the absorption of other elements.
? Magnesium deficiency and excess (Mg)
Deficiency: It is another of the moving elements within the xylem and phloem of the plant. We mention it here because it is also important that you take it into account, although it is no longer considered a macronutrient for your plants, that is, your plant will consume it in smaller proportions than the previous elements, but bearing in mind that marijuana actually consumes a lot of magnesium.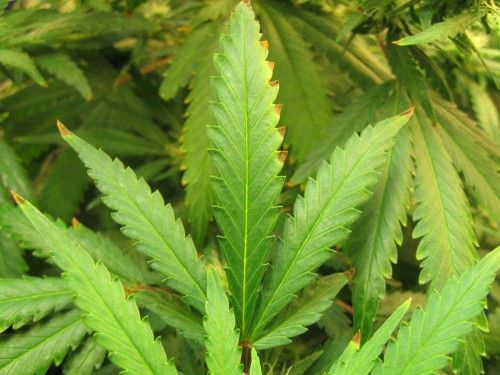 Its deficiency begins to show in the old leaves, losing green color longitudinally along the nerves. As the deficiency progresses, rust-brown spots appear on the margins and tips of the leaves, causing a slight curl upwards. The plant ends up slowing down its development, with leaves wrinkled between the nerves and burnt tips
Toxicity: Not very frequent and normally causes problems of calcium absorption when it competes with this element.
? Root rot
The fungi that cause root decay cause the colour of the roots to change from a silky white to an unhealthy brown yellow. The smell is also characteristic, as the fungus releases chemicals from its parasitic metabolism.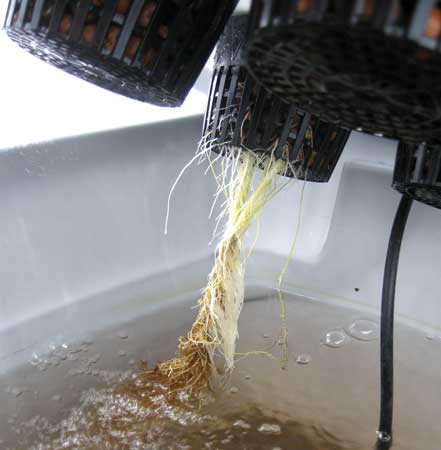 As the rot progresses the root becomes darker, stopping the growth of your plant.
✅ Lack and excess watering
Lack of water: As we have advanced in our practical advice, we show you what a plant looks like whose watering frequency has been deficient.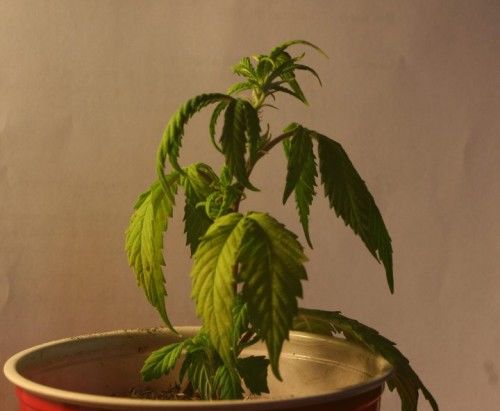 Over-watering: We also show you a plant that shows over-watering. The next step is for a fungus that causes root rot to cause damage to your plant.
Tip: If your indoor crop requires scheduled watering, don't hesitate to install an integrated growing unit, and your plants will be perfectly cared for.
➕ Bud rot (botrytis)
Botrytis, or gray mold, is one of the most common problems in indoor marijuana crops.
It is very difficult to treat, so it is always better to avoid following the basic tips that we propose in the introduction of this article.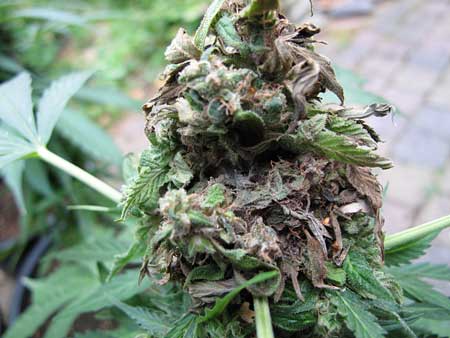 ? Summary of excesses and deficiencies in the cultivation of marijuana
⚠️ Things to be known to avoid these symptoms:
We are going to give you some guidelines to correct some of the mistakes that will change your life and that of your beloved vegetable beings.
1-Introduce in your crop the adequate ventilation: If you don't do it you are causing the plagues of fungi. In addition, your plants do not breathe, as their waste accumulates in the air (water vapour, oxygen, CO2, gases derived from vegetable fermentation…etc) without the possibility of renewal. Another important fact is the overheating of the cultivation space.
2-Provide the appropriate lighting: If your plants do not receive enough lumens you will stop their development
3-Controls the relative humidity: An excessive humidity calls to the plagues of fungi, in addition it makes that your plant absorbs more nutrients and less water, provoking the closing of stomata avoiding the possibility of transpiration. A very low humidity, which is not very common unless you grow in the desert, makes your plant suck water to liters.
4-Control the temperature of the space: If it is very low, below 15ºC, the development of your plant slows down, if it is too high, above 28ºC, the same thing happens, but in addition you increase the risk of appearance of plagues of fungi and harmful insects.
5–Care with foliar sprays: Never ever make foliar risks in flowering, not even when it is starting to flower, if you rot the pistils will delay the final result of your harvest, and if you spray in advanced flowering can cause rotting in the buds in addition to many problems arising from the accumulation of sales in your flowers, affecting the flavor and drying and later curing
6-If you use ozone, practice first: If you drift the ozone flow backwards, that is, towards your crop instead of taking it outside along with a special air filter, you will be poisoning your plants and yourself.
7-Take a watering calendar: If you go too far with watering, you will accumulate excess water in the roots, causing them to rot. If you water a little, the roots will dry out, decreasing the absorption surface of the same one causing that your plant becomes a dwarf (and without being a White Dwarf).
8-Measure the distance from your plant to the light bulb: The higher the power, the greater the distance from the apical zone of your plant to the light bulb. Put your hand, if you get burned, the plant too. Now with the new LEC spotlights we can better optimize the lumens the plant receives, as this technology does not produce as much heat.
9-Precaution with CO2: If you use a CO2 source, also use a measurement device. If the source you use is propane gas combustion, use a CO2 meter but with CO probe, CO is a gas that is released from the inefficient combustion of hydrocarbons and is highly poisonous to people.
With CO2 you will have to be careful not to accumulate too much, since you will drown your plants, if you do not maintain a constant flow and adequate air renewal.
10-Control the temperature of the substrate: The roots love fresh and oxygenated water. A suitable substrate and irrigation water temperature is around 20ºC.

? Conclusion
In this article we have intended to give you some tips to identify what your plant may be suffering but above all to try to prevent any future problems in your indoor or outdoor crop.
If your plant begins to show yellow leaves, we are sure that it is a minor problem that you can solve easily, also following our proposed advice in this and other posts.
We hope you enjoyed it and do not hesitate to share your experiences with us, we will be happy to listen to you and learn new knowledge related to our sweet medicine.
See you at the following post?
See you soon

Alan Martínez Benito
CEO of Pev Grow, expert grower with more than 20 years of experience.
In constant struggle for the regulation of cannabis, mainly in the medicinal field.
See more posts