Reading Time
3
minutes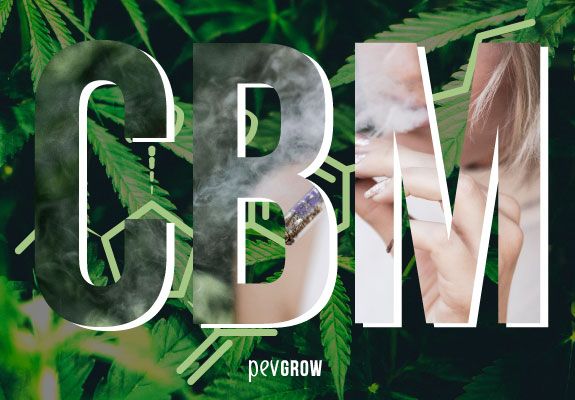 Cannabis is a fascinating and even mysterious plant, since as it is studied new things continue to appear. This plant has about 100 cannabinoids, even more, being the most famous and analyzed the THC and CBD. Nevertheless, recently another cannabinoid has been discovered: the CBM.
CBM, or cannabimovone, was discovered in the variety of industrial hemp Carmagnola. This strain has been named after a village in the Italian region of Piedmont, near Turin, where it was found. This cannabinoid is not exactly new, but until now very little was known about it.
In early 2020, two unidentified cannabinoids in the hemp strain Carmagnola were found. They called them THCP and CBDP (tetrahydrocannabiforol and cannabidiforol). After this discovery, other samples were taken from the strain to further analyze the CBM.
📲 What exactly is the CBM?
CBM is a non-toxic minor cannabinoid chemical compound. It is known of its existence since 2005, but it has not been until 2020 that the first 3D map of its composition has been obtained.
According to a study by a group of Italian universities and research centers, published in the journal Molecules, CBM may bind to receptors activated by peroxisome proliferators, better known as PPARα and PPARγ. These are receptors that control the genes that are responsible for creating the cells of different organs of the human body such as the kidneys, heart, liver, colon, among others. These receptors are also in charge of regulating metabolism.
Although chemically CBM has some similarities with THC and CBD, and with the latter it also shares a similar biological structure, they work in different ways. While CBD and THC are antagonists to the PPARα and PPARγ receptors, CBM collaborates with the PPARγ receptor.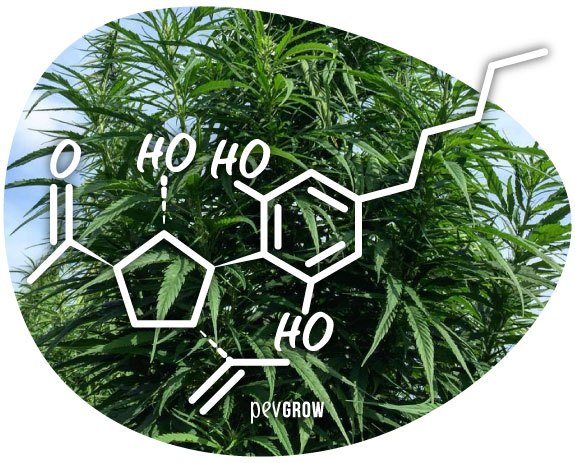 📖 What does the discovery of CBM mean for medicine?
Thanks to 3D modeling, researchers have discovered that CBM is able to activate PPAR receptors, which play a key role in both fat burning and energy levels in the body, as well as in the creation of new cells in the body's major organs and even in the control of genes that create cells in fatty tissues that are regulated by hormones.
Under laboratory conditions, scientists have concluded that the biochemical interactions of cannabimovone in humans can help promote a healthy insulin level and metabolism. Taking this into account, CBM could be useful to treat disorders related to insulin resistance such as diabetes, high blood pressure, obesity, high cholesterol, among others.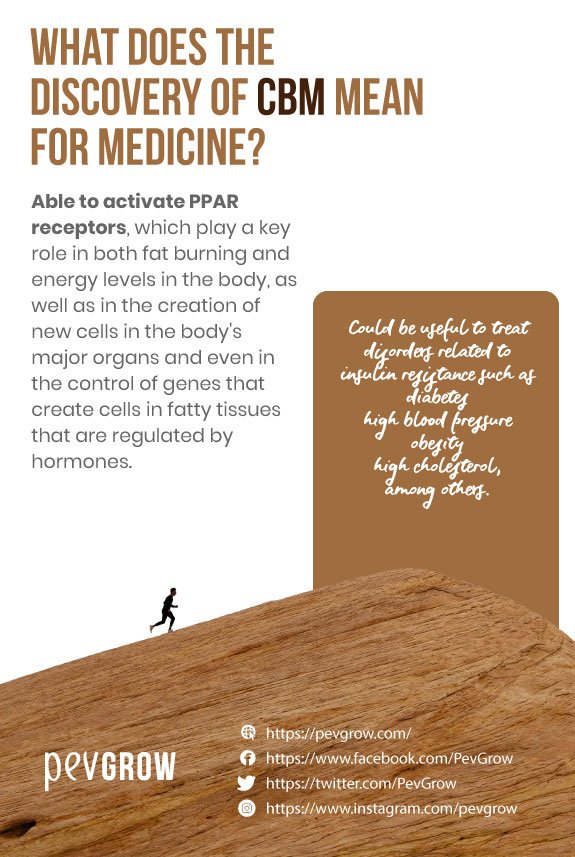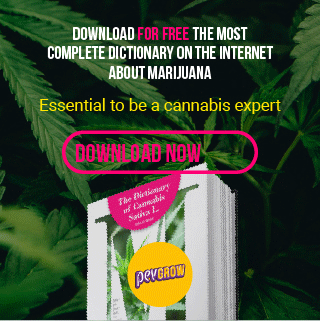 Free Download
Cannabis Dictionary
2023 Edition
Insert a correct email address
You must accept the privacy policy
SITE OF SHOPS ONLINE S.R.L with CIF: B98262777 and address for notifications in C/ VEREDA MAS DE TOUS Nº 22 LOCAL C, 46185 LA POBLA DE VALLBONA, VALENCIA, Phone: 961658271 Email: customer(at)pevgrow.com
At the name of Consulting we process the information you give us in order to provide the requested service, perform the billing of the same. The data provided will be kept as long as the business relationship is maintained or for the years necessary to comply with legal obligations. The data will not be transferred to third parties except in cases where there is a legal obligation. You have the right to obtain confirmation as to whether SITE OF SHOPS ONLINE S.R.L. is processing your personal data and therefore you have the right to access your personal data, rectify inaccurate data or request its removal when the data is no longer necessary
⛳ What is the future of CBM ?
According to the investigations carried out so far, CBM seems to come mainly from the variety of hemp Carmagnola. Although it is certain that there are probabilities that it is also produced in other cannabis strains, it is not certain so far.
Currently growing Carmagnola just to use its CBM does not seem to be profitable, because it is produced in small quantities. Nevertheless, this discovery perhaps encourages the breeders to cross this variety of industrial hemp with others to create new strains that have higher contents of this cannabinoid. Also it is possible that the scientists decide to create it genetically to produce it in industrial quantities.
⭐ Conclusion
The future of CBM is not clear yet, especially since clinical studies have not still been conducted to determine whether human patients can be treated with this cannabinoid. Nevertheless, with the knowledge that is acquired on cannabis, it is not surprising that in the near future other investigations begin to explore their potential.

Alan Martínez Benito
CEO of Pev Grow, expert grower with more than 20 years of experience.
In constant struggle for the regulation of cannabis, mainly in the medicinal field.
See more posts
Best CBD Strains to treat different problems and diseases →