Also known as tetrahydrocannabinol, THC is the chemical that causes the psychological effects of marijuana.
THC is responsible for the behavior change in the person consuming it. This substance has several properties. One is to create euphoria because it stimulates brain cells that release the hormone dopamine. Take the person taking it to a state of great relaxation and also affects their sense of smell, sight and hearing.
When someone smokes marijuana, THC effects occur almost immediately. THC rapidly passes from the lungs into the bloodstream and from there is transported throughout the body, including, of course, the brain. The effects of smoked marijuana last between one and three hours. When smoking cannabis, THC is deposited much blood that if we consume marijuana as food.
If marijuana is consumed eating it as food or drink, THC effects take longer to appear: start after about half an hour but, however, last longer if the smoke (even to 4 hours).
The level of THC in the cannabis plant depends on how the marijuana plant is grown. THC is the main psychoactive substance of this plant but not the only one. An outbreak of cannabis contains over 400 different substances, 61 of them are cannabinoids.
Thus, the effects of a joint are the result of the combination of these elements. It is known that THC is assimilated through cannabinoid receptors, these receptors have the specific function to capture and absorb THC. These receptors are housed in different areas of the brain in many neurons. Thus, the THC can affect the field memory, the concentration or the movement field.
According to some American experts, a low dose of THC causes relaxation, reduced coordination, low blood pressure, drowsiness, increased appetite, euphoria, disinhibition, loss of concentration, like talking, laughing, impaired sensory and time perception .. .
If we consume THC in high doses, symptoms can range from hallucinations to delusions through memory loss or disorientation.
Medicinal treatment
THC alters transmitter release within the spinal cord, resulting in pain relief. There are many medical professionals who are in favor of these treatments, but the use of marijuana for medical purposes also has its detractors. Here, we will not stop at those who are not
in its favor, give some small touches, some data to support that cannabis can be used for medical purposes, of course, always with caution and considering that a person with a disease is to listen to trusted doctor.
Ten years ago, in 2005, Canadian authorities approved the marketing of Sativex 9, a mouth spray for the symptomatic treatment of pain in multiple sclerosis. This spray contains tetrahydrocannabinol associated with cannabidiol. It is the first drug in the world based on cannabis. But we must also say that marijuana users who have used this drug claim that its effect is nowhere near the effect of smoked marijuana, so the medication can not be used as a narcotic.
Also documented studies in inflammatory processes as ulcerative colitis or arthritis in cannabis acting as analgesic and anti-inflammatory. There are also some cases where cannabis has benefited patients with allergic disorders.
To conclude, we must say that you can get your marijuana plant will increase the amount of active ingredients. In our website Piensa En Verde you'll find enhancers THC, as Organik Enhancer THC , it is a rich organic and ecological Biostimulant product amino acids whose function is to increase the amount of active ingredients in medicinal plants, and the concentration aromatics. You can also opt for another great product like Organik Delta THC , rich in plant hormones.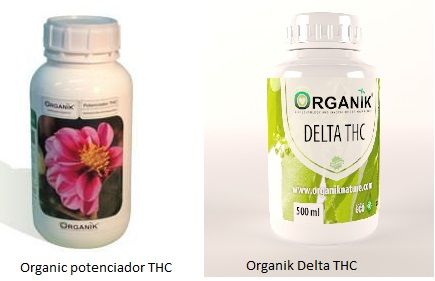 By Noelia Jimenez Team Piensa En Verde