Reading Time
5
minutes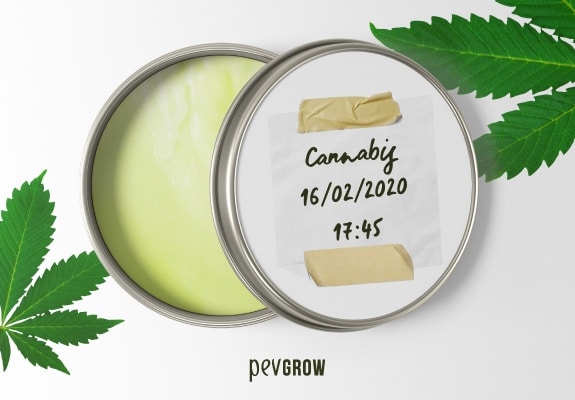 Cannabis cream is an ointment made from cannabis that has a multitude of medical applications. It is used externally, mainly to improve skin problems, but also to relieve localized pain among other things. There are more and more people who use it in their daily lives, especially since the release of the ads for Bavaria's cannabic cream, which aroused the curiosity of the general public.
In this entry we are going to see how it is done and many of its therapeutic uses. You feel like it, right? Well, I don't keep you waiting…
📖 How to make cannabis cream?
Easiest recipe:
The easiest recipe is to put a pot in a bain-marie to mix gently and without burning a little bit of cannabis and coconut oil or petroleum jelly. The amount must be the same, i.e. 3 cups of oil and 3 cups of cannabis that we have previously shredded. Gently cook the mixture for 60 minutes without boiling. We let it cool down and and we'd already have a cannabis cream.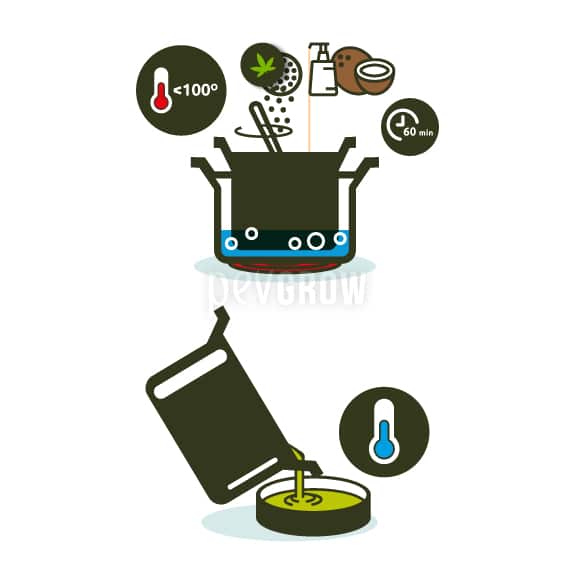 More elaborated recipe:
There are other recipes that require a more elaborated process. For example, the following.1 oz (30 grams) of beeswax
0.88 oz (25 grams) of cannabis buds
8.45 US liq oz (250 ml) of olive oil
16.9 US liq oz (500 ml) mineral water
Terpenes to your taste.
We will need two casseroles to place one inside the other. We fill the big one up to a third of its capacity with water and put it on the fire:
In the small pot put the crushed buds and then add the oil and mineral water and put this pot inside the other one.
Cook everything in Bain Marie for about 4 hours, stirring every 20 minutes or so.
Once time is up, remove from the heat and let it cool down.
Later the content has to be strained to filter the liquid and separate the vegetable remains. Place a tupper to make the liquid fall inside and with the help of a cloth strainer filter all the content, remember to press the strainer to expel all the substance.
Then put the tupper in the fridge for a couple of hours.
After that time you will see how the water has been separated from the oil, leaving the oil on top of the tupper.
Take the solid part and put it in a saucepan on the fire, add the beeswax in pieces and stir everything well so that it is uniform.
Then add terpenes or essence that suits you best, stir everything and turn off the fire.
Transfer the content of the saucepan to smaller glass or plastic containers and put them in the fridge so that they solidify a bit. In an hour they will have the perfect texture to apply to the skin.
This recipe takes about 5 hours to prepare, but it is very easy to follow.

Easier recipe:
Another recipe, somewhat simpler:
17 US liq oz (half a litre) of olive oil,
8.45 US liq oz (a quarter liter) of pure hemp oil,
a block of beeswax,
1 oz (30 grams) of cannabis,
and 0.26 US gal (a liter) of water.
Elaboration:
We put the oil, the cannabis and the water in a pan over a low heat (it is important that it never boils) for 4 hours and stirring from time to time.
When it has cooled down, we strain and pour the resulting liquid into a glass recipient and put it in the fridge for a day.
With the cold, the oil remains on the surface and we must remove it from the recipient and place it in a small pan to heat it (never boil) together with the beeswax.
After it has been thoroughly mixed, let it cool down and put the mixture into small recipients. The cream will thicken.
Anyway, if you don't dare to make the cream or you find the elaboration process too complicated, in PEV Grow you can find ready-to-use creams. For example, we propose the Cannabis Ointment Trompetol EXTRA CBD that will bring you a great freshness and softness in your skin, thanks to the combination of ingredients like olive oil, essential oil of Lemon or essential oil of Lavender. It will also give you a great relaxing feeling in both muscles and joints. And, of course, it has the magic ingredient: organic hemp extract.
Trompetol EXTRA CBD Cannabis Cream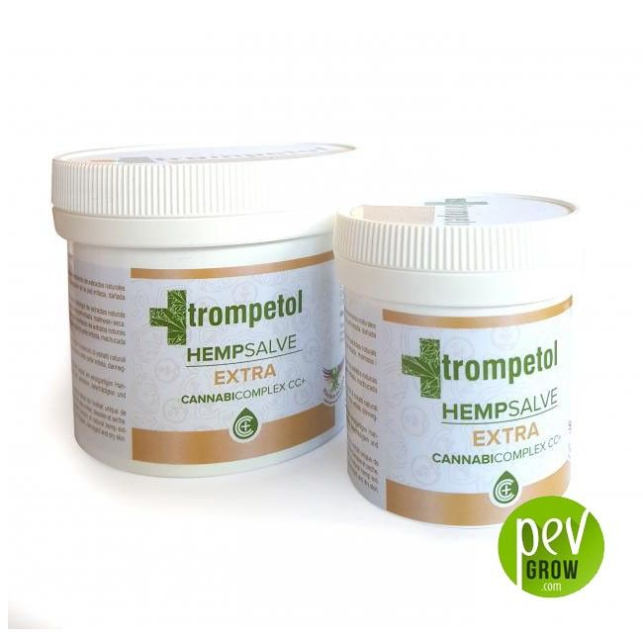 Trompetol EXTRA ointment, this natural cream contains more extracts of marijuana than classical Trompetol ointment and, therefore, a higher level of CBD Cannabidiol, for an even more potent anti-inflammatory and analgesic effect…
Active ingredients of the ointment marijuana Trompetol EXTRA CBD:
– Olive oil
– Marijuana seed oil
– Natural Extract of Cannabis Sativa
– Lemon essential oil
– Peppermint essential oil
– Lavender essential oil
✅ Properties of Cannabis Cream
This healing cream can be used to improve skin problems as it has a high antibacterial, anti-inflammatory and analgesic power. Also, many experts of the properties of these hemp creams claim that they are effective in the treatment of headaches, joints pain, arthritis, gingivitis and may even be beneficial in treating cases of multiple sclerosis and fibromyalgia. On the other hand, it prevents acne, is very useful in the treatment of psoriasis and improves skin lesions such as cuts or burns. Also, cannabis cream is very moisturizing.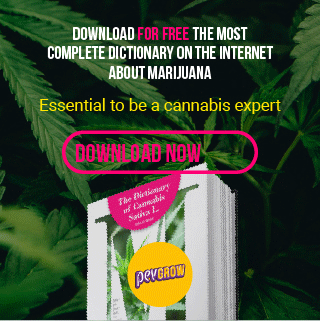 Free Download
Cannabis Dictionary
2023 Edition
Insert a correct email address
You must accept the privacy policy
SITE OF SHOPS ONLINE S.R.L with CIF: B98262777 and address for notifications in C/ VEREDA MAS DE TOUS Nº 22 LOCAL C, 46185 LA POBLA DE VALLBONA, VALENCIA, Phone: 961658271 Email: customer(at)pevgrow.com
At the name of Consulting we process the information you give us in order to provide the requested service, perform the billing of the same. The data provided will be kept as long as the business relationship is maintained or for the years necessary to comply with legal obligations. The data will not be transferred to third parties except in cases where there is a legal obligation. You have the right to obtain confirmation as to whether SITE OF SHOPS ONLINE S.R.L. is processing your personal data and therefore you have the right to access your personal data, rectify inaccurate data or request its removal when the data is no longer necessary
✨ Use of cannabis cream for pain
The ointment made from cannabis has proven effective in treating pain from inflammation, as well as stiff neck, rheumatism, bruises, muscle tension, menstruation, bites, arthritic pain, back pain, etc…
⛳ Cannabis Cream for Arthritis
The synergy produced by the union of THC and CBD represents the best medicine as an analgesic and anti-inflammatory. It is for this reason that cannabis cream smeared on a painful area is able to reduce the pain caused by arthritis.
Most treatments for arthritis do not work well because the osteo-articular system has few receptors for the vast majority of medicinal compounds. In contrast, joints have cannabinoid receptors that facilitate the action of THC and CBD to relieve pain and inflammation caused by arthritis.
It is recommended to combine the external use of cannabis cream with the intake of CBD or full spectrum oil. This boosts the effect and, in addition to calming the pain, provides a more appropriate mood to improve overall health.
🧐 Cannabis Skin Cream
Topical cannabis cream is very effective for many reasons. The first one is because it is rich in essential fatty acids such as Omega 3, Omega 6 and Omega 9, up to 80% of its content, more than any other natural compound, making it a super moisturizing product.
Vegetable oils strengthen the epidermal barrier function, acting in symbiosis with the skin sebum, reducing moisture loss.
The phenolic acid and vitamin E contained in the cannabis cream give it great antioxidant power, and they are very effective in fighting free radicals.
Sensitive skin can also be greatly improved with the help of this cream, due to its soothing action, especially CBD-rich cannabis creams.
Cannabis cream acts as a sebum-regulating agent, improving skin problems such as acne, eczema or irritated skin.
⚠️ Tips on how to use cannabis cream
1-If this is your first time trying this cream, start by using it on one area of your body and wait several hours to check that you are not allergic.
2-Combine the same cream base with different aromas to compare their effectiveness.
3-Decarboxylate cannabis before making the cream to enhance its effects.
4-Mix the cream with other components good for the skin such as glycerin, aloe vera, vitamin E, etc.
👾 Conclusion
Cannabis cream is your best ally to help improve skin condition and localized pain, and the best part is that you can make it as you like from your own home. If you liked the article consider sharing it, think it can help many people improve their lives, thank you.
You can make this recipe with Slurricane (Dosidos x Purple Punch) and Peanut Butter Breath Strain
Best CBD Strains to treat different problems and diseases →