How to make marijuana cream
0
689
[Total: 2 Average: 2.5/5]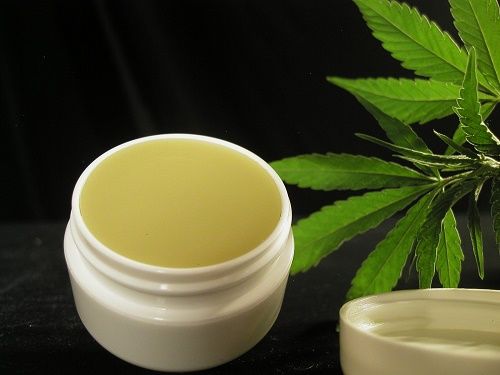 The cream of cannabis can be used to improve skin problems as cannabinoids containing marijuana are a good treatment for skin diseases.
This type of cream can be used to improve skin problems as it has a high antibacterial, anti-inflammatory and analgesic power. Also, many students of the properties of these creams claim that hemp are effective in treating headaches, joint pain, arthritis, gingivitis and may even be beneficial for treating cases of multiple sclerosis and fibromyalgia. Moreover, prevents acne, is useful in the treatment of psoriasis and improves skin injuries such as cuts or burns. In addition, cream cannabis is very moisturizing.
How is it done?
The simplest recipe is to put a double boiler pan to mix gently, and without burning, a little marijuana and coconut oil or Vaseline. The measures must be identical, ie, for example oil 3 cups and 3 cups of marijuana, which previously we will have crumbled. Boil the mixture gently for 60 minutes, without allowing it to boil. Let cool and we would have a cream hemp.
There are other recipes that require a more elaborate process. For example the following:
half a kilogram of coconut oil,
30 grams of marijuana,
25 grams of beeswax,
one tablespoon
oil vitamin E.
The preparation is carried out as follows:
heat the cannabis in the oven for 20 minutes at 115C.
Furthermore, coconut oil is placed in a pan and let it slowly heating until melted but not boil at any time.
Once 20 minutes have passed we took cannabis from oven and shred until a homogeneous powder.
Then, when coconut oil is liquid, add the marijuana and stir for a while.
Then we let stand for three days, we followed by heating at low heat for a few minutes.
The total cooking time is 48 hours.
After this time and when the oil has cooled, pour the mixture (straining to avoid residues) in a container.
We must also melt the beeswax and add this solution to coconut oil with cannabis stirring continuously until a homogeneous mixture.
Once all mixed, turn off the heat and allow to cool.
Then you can add vitamin E oil, pour the mixture in an airtight container and store in a cool place that will not light.
Another recipe, something more simple: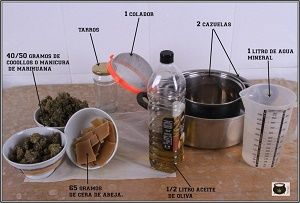 half a liter of olive oil,
half a pint of pure hemp oil,
a block of beeswax,
30 grams of cannabis
and a liter of water.
How to prepare:
We put the oil, marijuana and water in a saucepan over low heat (important than ever to boil) for 4 hours, stirring occasionally.
When it has cooled, strain and pour the resulting liquid in a glass container and put it in the fridge for a day.
With cold, oil remains on the surface and must remove the container and place it in a small pan to heat (never boil) with beeswax.
After it has been mixed well, allowed to cool and the mixture is introduced in small containers. The cream will thicken.
Anyway, if you do not dare to make the cream or the preparation process seems too cumbersome, in Piensa En Verde you can find ready to use creams. For example we offer the MyCBD moisturizer cream that will bring great freshness and softness on your skin, thanks to the combination of ingredients such as olive oil, beeswax and cocoa butter. We also provide a relaxing feel both muscles and joints and of course, brings the magic ingredient:.. Organic hemp extract. A ​​jar of this cream 100% organic, has a 100mg hemp oil extracted from the best quality.
Dosage
Hemp creams can be used frequently. You have to apply a small amount on the area that we want to restore and spread gently until completely absorbed. Like any other cream, avoid contact with the eyes, not ingest and keep out of reach of the smallest of the house.
By Noelia Jimenez Team Piensa En Verde