Reading Time
5
minutes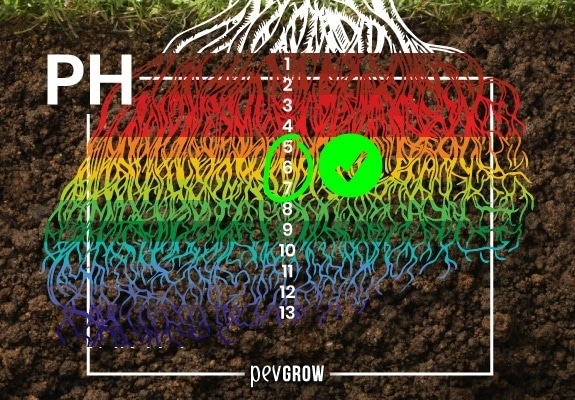 As with people, maintaining an ideal PH in marijuana crops is crucial to ensure proper nutrition and development of the plants, and many times we do not give it the importance it has. For this reason we have seen fit to create this article in which we explain what it is and what are the best PH values ​​for each stage of the crop, so I recommend that you read it carefully.
⭐ What is PH?
Join the Pevgrow cannabis family in our:
PH is the acronym for "hydrogen potential", so it indicates the amount of hydrogen ions that a body or any aqueous solution contains, and measures its degree of acidity or alkalinity. The scale of PH values ​​oscillates between 0 and 14, with 7 being the neutral PH, so any value below 7 is considered acidic, and between 7 and 14 it can be said to be alkaline.
The ideal PH for cannabis cultivation is between 5.5 and 7.0cannabis, varying depending on the type and phase of cultivation, since in "soilless" systems such as aeroponics or hydroponics it is better to apply more acid values ​​than incrops. marijuana on land. It also is good to raise the PH as the plants go through the phase, because in growth they prefer it lower than in flowering. If it is still not very clear what PH is, do not worry, because I am sure that once you read this entry completely you will understand it perfectly.
⛳ How important is PH in marijuana crops?
It is super important, because plants need to absorb nutrients to develop normally, and in order to assimilate these nutrients they have to come with adequate PH values. If you add fertilizers to irrigation and it has an incorrect PH it is as if you prepare a soup and you do not have a spoon to eat it, remember this.
To ensure that the plants have an adequate PH in the root system, which is the one that has to absorb the nutrients, it is necessary to check the PH of the irrigation water they drink, because it is the one that can vary the soil values, which in the end is the most important.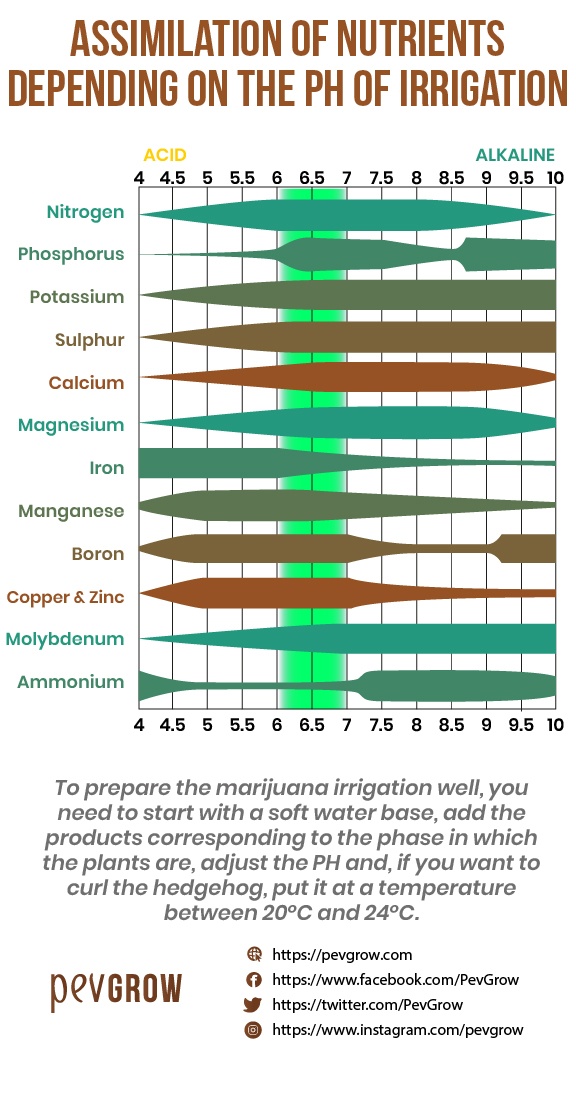 ✨ How is PH measured?
The best way to check it is with an electronic PH meter, and you have many different brands and models to choose from, with very competitive prices like this one from Wassertech, or this one from the Adwa brand that we think has the best quality / price ratio. There are also the drop kits that are still cheaper in the short term, although they are not as reliable and it takes longer to measure the PH.
These meters are used to check the PH of the irrigation water, you just have to insert the probe they contain in case they are electronic, and with the drop kit you take a small sample, add a few drops, and compare the color with the scale that comes on the product itself.
Well, we already know the way to know the PH that our nutrient solution contains, but if you want to raise and lower it, you need acids or alkaline products that cause the PH fluctuation, they are sold as PH – or PH + and they are very cheap. If you want to see a homemade way to lower the PH with products that we all have on hand, I recommend you read this interesting article.(Here I would put a link to the news "How to lower the PH at home" that we have not published yet.)
👌 Ideal PH for indoor cannabis cultivation
We are going to start with soil cultivation because they are the most widespread, since most people who join the world of- self cultivation of cannabis use the soil as a substrate. If we compare it with the ideal values ​​in soilless crops, we will see that the land needs slightly higher values, between 6.0 and 6.8 would be ideal, but if you want to see it better, take a look at the following tables:
Ideal PH for the indoor cultivation in soil during the growth cycle
PH ideal for growing marijuana indoors during the flowering phase
| | | | | | | | | | |
| --- | --- | --- | --- | --- | --- | --- | --- | --- | --- |
| Week | 1 | 2 | 3 | 4 | 5 | 6 | 7 | 8 | 9 |
| PH | 6,3 | 6,4 | 6,5 | 6,5 | 6,6 | 6,6 | 6,7 | 6,7 | 6,8 |
As you can see, we have put up to 4 weeks of vegetative growth, but if you want your plants to continue in this phase longer, you can continue with a pH of 6.2 perfectly. As with the flowering phase, if your plants require more weeks you can water with a PH of 6.6 to 6.8, although the ideal is that you expand the table proportionally. This is also the case for other growing systems, not only on land, if your plants need more flowering time you will have to extend the number of weeks.
Ideal PH for indoor cultivation in coconut during the growth phase
PH recommended for indoor cultivation in coconut during the flowering phase
| | | | | | | | | | |
| --- | --- | --- | --- | --- | --- | --- | --- | --- | --- |
| Week | 1 | 2 | 3 | 4 | 5 | 6 | 7 | 8 | 9 |
| PH | 5,9 | 6,0 | 6,1 | 6,2 | 6,3 | 6,3 | 6,3 | 6,3 | 6,4 |
PH perfect for hydroponic and aeroponic cultivation during growth
PH correct for flowering marijuana in hydroponics and aeroponics
| | | | | | | | | | |
| --- | --- | --- | --- | --- | --- | --- | --- | --- | --- |
| Week | 1 | 2 | 3 | 4 | 5 | 6 | 7 | 8 | 9 |
| PH | 5,8 | 5,9 | 5,9 | 6,0 | 6,1 | 6,2 | 6,2 | 6,2 | 6,3 |
🚀 What happens if we water with the wrong PH?
If you grow in soil, it may take several days to notice that the plants have an inadequate PH, because the soil itself dampens this error a bit. If you look at the bags of substrate you will see that they indicate the PH contained in the soil they carry, and it is usually quite stable, so it does not change for one or 2 irrigations with incorrect PH.
The problem comes when we water many times with a PH that is too high or too low, since little by little the PH of the substrate will change, until it reaches values ​​that can become a problem, because as I said before, If the plants do not have a good PH, they will not be able to assimilate the nutrients from the soil well. This occurs because when we grow on land, the plants take food from the soil, which we fertilize through irrigation with fertilizers.
Another thing is in coconut fiber crops, NFT (Nutrient Film Technique), hydroponics, or aeroponics among others, since in these systems the plants take the food directly from the irrigation, so the PH has to be the most precise possible to avoid problems.
✅ Conclusion
Today we have learned the importance of PH to be successful in marijuana crops, so you no longer have an excuse to get the best out of your crops. In this blog you will find much more information about cannabis nutrition, as well as guides to grow in the different systems that we have exposed in this article.
🎯 Frequently Asked Questions
How much does the PH of marijuana have to be?
The ideal PH value to be able to absorb well all the macro and microelements that cannabis needs is 6.0, but in reality it is between 5.5 and 7.0, because it is recommended that in growth it be closer to 5.5 and gradually increase until reaching values ​​close to 7.0
Do you have to measure the pH of the water before or after adding the fertilizers?
Always after adding fertilizers and other additives to irrigation water, because these products can cause a fluctuation of the PH, usually downward. In fact, if you have leftover nutrient solution and you are going to take advantage of it at another time, I recommend adjusting the PH again, because the most normal thing is that it has changed.
How to regulate the PH of the water?
Although it can be regulated at home with products used for cooking, the ideal is to use commercial acids created for this mission, since they are very economical (more than homemade products such as vinegar or lemon) and are much more stable, because they hardly cause the pH fluctuation in the nutrient solution.
Production of marijuana plants indoors and outdoors with different systems →