Reading Time
4
minutes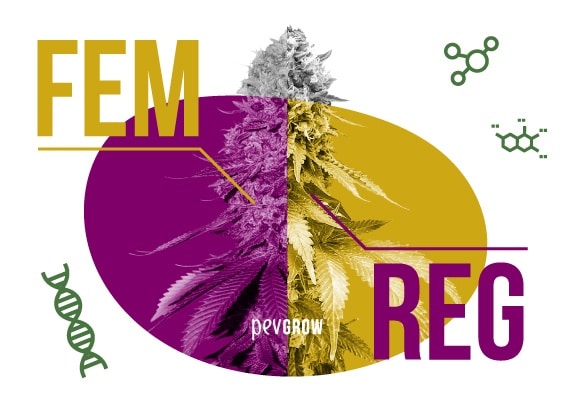 Feminized marijuana seeds have gradually displaced regular seeds as favorites in many countries. This is because these types of seeds offer certain advantages over normal or standard seeds. In this article we will take a look at the differences between them, why some are better for certain situations, and how to know which one to choose, do you feel like it? Well, let's go see them…😜👉
⚠️ What is the difference between regular and feminized cannabis seeds?
At first glance one cannot appreciate the characteristics that differ between lifelong seeds, and the modern feminized ones. They are identical on the outside, it would be impossible to recognize if the plant comes from a regular or feminized seed.
However, in their genome they do have a big difference, and that is that feminized seeds only contain female chromosomes (XX). This is so because to create 100% female seeds it is necessary to pollinate a female with another female, that is, (XX) x (XX).
Regular seeds come from the crossing between a female (XX) and a male (XY) so their genetic information contains both sexes, and they will show one or the other depending on several factors.
The only difference is that from a feminized seed only female specimens should come out, while from a regular seed both female and male or even intersex or hermaphrodite can come out.
Hermaphrodite feminized seeds can also be found, but this is due to a bad choice of parents in the breeding of the variety, therefore, can we say that feminized seeds are good?
Many people ask us if they will have as much flavor as the others, or if they will come out strong, they even doubt if feminized seeds are less powerful, the answer is that they are completely equal to the normal ones, so if they do not come out good it is because of the production process or because of a bad selection of the parents.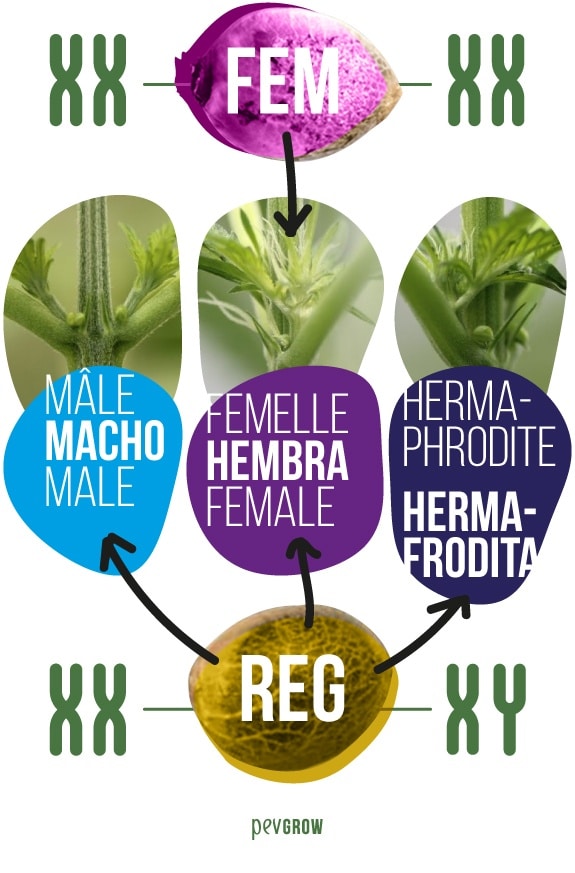 🎯 Are feminized seeds better than regular ones?
It depends on what you mean by better. For growers looking for practicality and simplicity feminized seeds can be better, because they allow you to germinate just the right amount of plants you need at any particular time. With regular ones it is necessary to put approximately twice as many plants, so that when removing the males there are enough females to fill well the entire cultivation space.
With feminized varieties you can make better use of the growing space, as well as saving on substrate and products such as fertilisers, insecticides, etc. You also avoid the problem that can happen if at a given moment you forget to remove a male, or you don't notice.
The most puritanical growers say that regular seeds contain more hybrid vigor than feminized ones. It really doesn't have much to do, hybrid vigour is achieved by mixing 2 different breeds, and it is greater the further they are from each other. The same goes for feminized ones, whoever doesn't believe me should cultivate a Moby Dick from Dinafem and think whether it is vigorous or not. From our point of view this is because some feminized strains on the market are S1, i.e. produced by the self-pollination of a cutting. Feminized seeds S1 may lose vigor due to inbreeding, but this also happens with regular seeds, you can see it in some landraces for example.
Moby Dick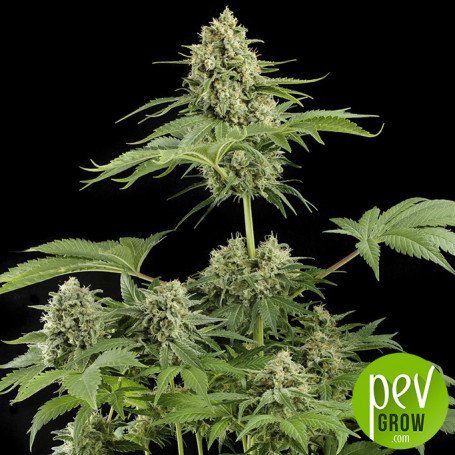 This is Moby Dick's prizes list, its trophy room needs an extension to accommodate them all…
Features
Type: Feminized
Bank: Dinafem Seeds
Genetic: Haze X White Widow
Phenotype: Hybrid Sativa / Indica
Harvest outdoor H.N: Mid October
Harvest outdoor H.S: Mid-April
Indoor production: 650 gr per m2
Outdoor production: 1500 gr/plant
Flowering period indoor: 60-70 days
THC: 17-22% – CBD: 0.01-0.2
More información about
Moby Dick
The great majority of feminized genetics on the market come from elite clones that have been extensively tested as smoking weed. This is a great advantage, as it is easier to guess the features your offspring may inherit.
To know the breeding quality of a male cannabis plant there is only one way, to check the level of its offspring. On the other hand, when you cross 2 mother plants that you have already used to smoke you already know their qualities both in the crop and in the final product, so when you make feminized seeds it is easier to guess the result of the crossing.
Many people think that regular strains are better for creating seeds, or that feminized strains are not good for breeding, we have found that this is not the case, when a plant is sexually pure female it doesn't matter if it comes from regular or feminized seeds.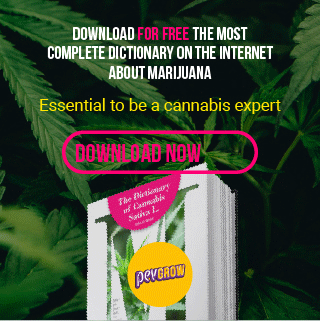 Free Download
Cannabis Dictionary
2023 Edition
Insert a correct email address
You must accept the privacy policy
SITE OF SHOPS ONLINE S.R.L with CIF: B98262777 and address for notifications in C/ VEREDA MAS DE TOUS Nº 22 LOCAL C, 46185 LA POBLA DE VALLBONA, VALENCIA, Phone: 961658271 Email: customer(at)pevgrow.com
At the name of Consulting we process the information you give us in order to provide the requested service, perform the billing of the same. The data provided will be kept as long as the business relationship is maintained or for the years necessary to comply with legal obligations. The data will not be transferred to third parties except in cases where there is a legal obligation. You have the right to obtain confirmation as to whether SITE OF SHOPS ONLINE S.R.L. is processing your personal data and therefore you have the right to access your personal data, rectify inaccurate data or request its removal when the data is no longer necessary
✅ Advantages of feminized seeds
They come from 2 elite clones in most cases
You can germinate only the seeds you need
Saves on time, resources and work
No sexing is required, which can be difficult for new growers
🔥 Advantages of regular seeds
They are the originals, for many their genetics are purer
Both males and females come out, so you can easily create new seeds
They do not need the intervention of chemical agents for their production
They are more effective as mother plants in serving clones according to some people
⛳ Infographics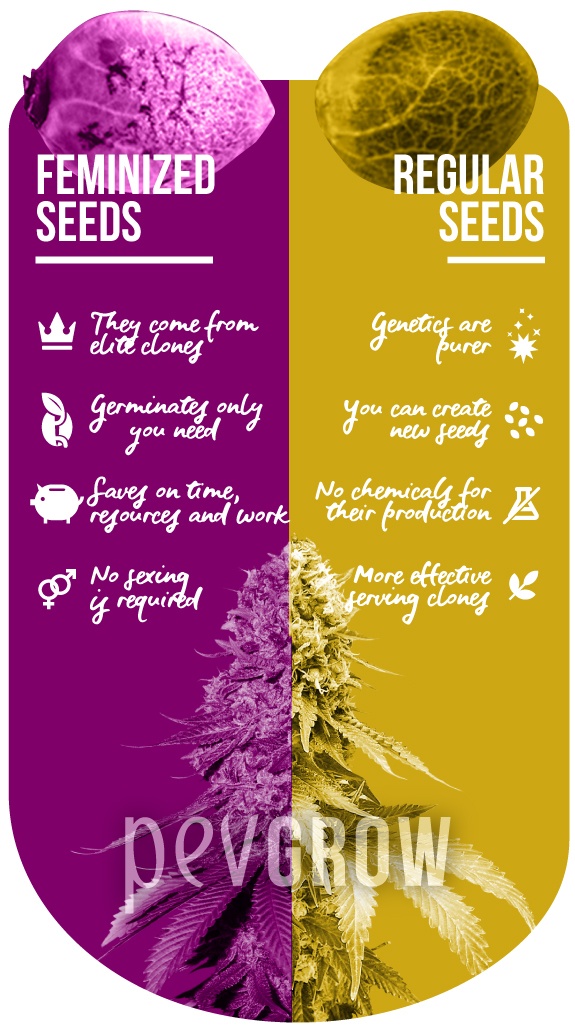 ✨ Conclusion
It must be clear that the most important thing in the quality of cannabis seeds is their genetics, and this is indifferent if it comes from regular or feminized plants. The choice of breeding parents is the key factor when producing seeds, not just measuring quality by the features we can measure.
It is important to know the level of stress they are capable of withstanding, as this is another quality they will transmit to their offspring, but feminized plants that are sexually stable, that withstand high levels of hydric, light, thermal stress, etc. are as good at creating seeds as stable regular ones.
If you want to see the best way to make feminized seeds I invite you to visit this other post, and if you liked this article consider sharing it, this way you help us and you can help many other growers too, thanks in advance.💪
Bio Bloom from Biobizz: How to use, dosage and chart →