Reading Time:
6
minutes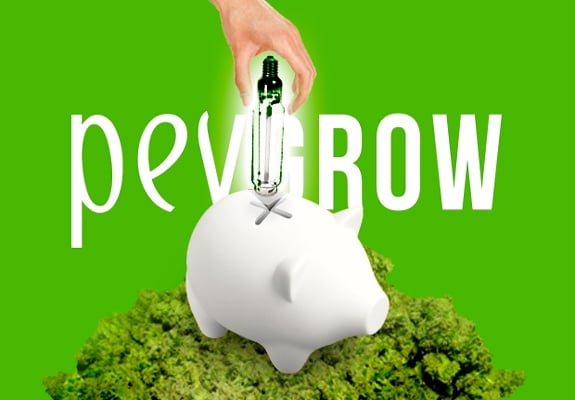 Dear Cannalovers!
Today I want to talk to you about some of the most effective ideas to improve the production cost of your buds. Some concepts that we are going to mention you already know but since many of you bring up doubts we have preferred to review it writing some words.
We all want our crop to give us the maximum production with the minimum cost?, using the minimum resources and using the minimum time possible, but you should know that any method is 100% perfect, since in nature there is no method that provides us with the cannabis panacea, giving us excellent buds without hardly offering a minimum of effort and dedication.
The technique and technology that we present you will make you optimize the yield obtained, in reference to the grams' number of dry bud for watt of electrical energy consumed in your indoor crop.
As you know, growing marijuana indoors, either from feminized marijuana seeds or from autoflowering seeds, requires knowing the behavior of the plant against artificial lighting for each stage of its vegetative cycle, so that we apply the number of light hours that plants require, as well as the necessary light spectrum, both for the growth phase and for the flowering phase.
Let's list the fundamental factors that directly influence the yield of your crop, measured in grams of marijuana per watt consumed:
? 1-Photoperiod in photodependent varieties
If we have chosen a feminized seed (or photodependent) we must manipulate the number of hours of light that the plants receive, for it we can program the focus by means of the use of a timer.
In the growth phase, when the seedlings have their first pair of leaves they can already be placed under the light of the high intensity spotlight.
What we want is that this phase lasts as short as possible. We must make our seedlings get as much light as possible, for this we will program in the timer a number of hours of focus on 18, with 6 hours of darkness.
In this way we are optimizing our plants growth.
This phase should not last more than one month, depending on whether its root development is satisfactory or not. What we want during this month is to get as much plant mass as possible.
Once in bloom, we can do the following to optimize the electrical expense:
?????????

To carry out this method with success you must choose very producing and short flowering marijuana varieties, since the very sativas genetics need a high number of hours of light, and of much intensity, to give a more than satisfactory production.
Almost 100% Indica varieties have worked very well with this method, providing yields of more than one gr/Watt through the use of high intensity LEC lighting equipment of 315W.
? 2-Photoperiod in autoflowering varieties
If we like auto-flowering varieties, we'll put our little ones under high intensity spotlights as soon as the seedlings show their first pair of leaves.
As with feminised, we must accelerate root growth to develop plant mass in the shortest time possible, for this we program the light timer to 20 h of light and 4 of darkness.
To optimize its yield measured in gr of bud per watt consumed we can reprogram the timer once the plant has begun to flower, leaving it at 18h, although we can always lower it if we see that the plants' growth has been satisfactory, and its flowering meets expectations in time and in plant mass.
Everything will depend on the genetics chosen. We are always right with THC-rich varieties such as OG Kush Autoflowering from PEV Bank Seeds.
Or with medicinal chemotype varieties such as Afghan Kush CBD from the Worldpharma Seeds laboratory.
? Growth spectrum, flowering or mixed?
The light spectrum is given by the bulb.
There are very polish growers in that sense, and change the bulb as they change the photoperiod to flowering, our experience tells us that both in growth and flowering the plant develops all types of chlorophylls. These are the ones that capture the differences in solar light spectra, without differentiating between them, either in growth or flowering.
That is why we always use mixed-spectrum bulbs.
If you grow with HPS luminaires a good choice is this:
If you prefer to move on to the new wonder of LEC lamps, their spectrum, highly optimized to imitate the sun, will make you protect yourself using sunglasses when you enter your indoor room.
Whether it's feminized or auto-flowering seeds your starting material, we'll always recommend mixed-spectrum bulbs for a crop that involves a full cycle. Another issue is if you are keeping cuttings or mother plants, in that case you can use fluorescent light of low consumption and blue spectrum. The low intensity will slow down its development, without causing stress to your plants.
⛳ 4-Should i place a 400, 600 or 1000w bulb?
The more luminous intensity or density of lumens reaches the plant, the more production you get, although of course, we do not want to waste a single watt.
The light density can be optimized using a lumens meter (or luxmeter):
This device will tell us if the focus intensity is correct according to the amount of plant mass you have in your cultivation space. You will have to measure the lumens in different points of the plant, to make sure that the light arrives homogeneously in all the vegetal surface. If it is not the case, you must use a focus of greater intensity.
The greater the space, the greater the light intensity we need, but above all, the greater the amount of plant mass, the greater light intensity is required.
⭐ Conclusion
To optimize the cost we recommend using 600W HPS spotlights or 315W LEC per square meter of growing space, with a number of plants not higher than 12, and with plant-focus distances of 60 cm in HPS, and half even if you use LEC.
Surely you will have a pleasant surprise if you start your indoor crop optimizing the light cost.
I hope that you have found useful this brief review of tips for optimizing your indoor marijuana cultivation, and do not forget to share your experience with us. Your support helps us grow with you.
See you at the next post…✍️
See you soon!?
Production of marijuana plants indoors and outdoors with different systems →