Reading Time
7
minutes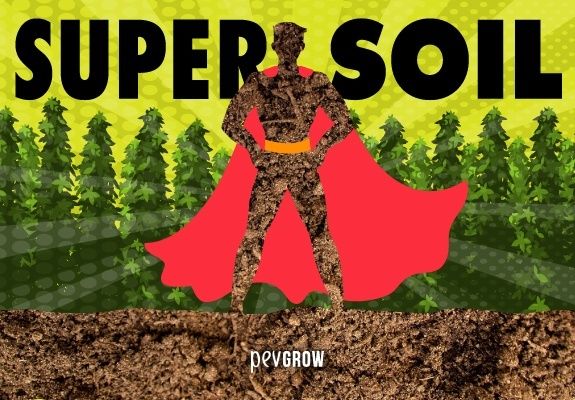 Super Soil is a concept that has become fashionable lately among marijuana growers and has proven that you can get the best harvest in a 100% natural and organic way, without investing a lot of money and being totally environmentally friendly.carefully following.
⚠️ What is Super Soil?
It is a mixture of substrate for growing marijuana, which contains all the nutrients that plants need for their perfect development, from birth or transplant to harvest. The secret of this "Super Soil" is the micro-life present in the soil, which facilitates the supply of all the food necessary in each phase of the plant's development.
It could be said that Super Soil is the combination of soil with other organic components to achieve a balance in the substrate that contains all the elements and trace elements that cannabis needs throughout its life. This prepared blend was popularized by the breeder who tries to Subcoolmimic the ecosystem that is naturally created in the soil, so it does not produce any kind of pollution on the planet.
🧐 How to make Super Soil? Subcool TGA Recipe
Below you can see the composition of the substrate blend Subcool shared on cannabis forums to produce around 8 pounds of Super Soil, which combines a commercial soil base with 9 added components.
Super Soil ingredients:
Organic substrate with coconut fiber and mycorrhiza : 4 Kilos
Solid earthworm humus :  2,2 Kilos
Bone meal : 200 gr.
Blood meal :  200 gr.
Bat guano :  200 gr.
Rock phosphate :  150 gr.
Epson salts :  100 gr.
Dolomites :  65 gr.
Azomite :  65 gr.
Humic acid :  10 gr.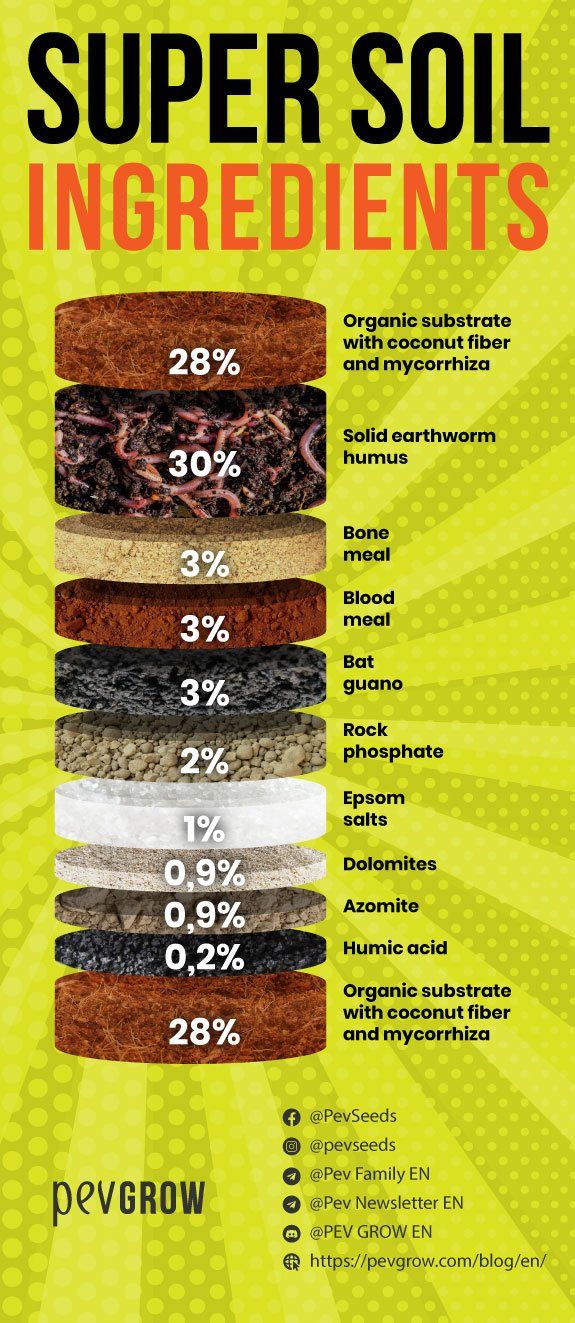 Preparation of the Super Soil substrate
The ideal to make the mixture as homogeneous as possible is to spread half of the substrate commercial used as a base and gradually pour the rest of the components on top, then pour the other half of the commercial support on top. If the commercial substrate used does not contain coir or mycorrhizae, they need to be added to the dough at this time.
Some growers use a concrete mixer for this mission, the creator of the recipe used a removable tank because it produced on average about 400 liters, but it can be done in a large basket or container, or directly on clean ground or by putting a protective cloth.
Once all the ingredients are well blended, it is important to water the entire mixture with water, cover it with a tarp or similar and leave it in the sun for 30-60 days to ferment. This is done this way because it can be too strong to grow directly, and it is possible that if we sow or transplant into fresh Super Soil some plants will suffer from over-fertilization or die directly.
👾 How is organic Super Soil applied to crops?
Subcool recommends using Super Soil as a flower bed so that the plants always have it at the bottom of the pots as a large reserve of organic nutrients. A good way to put this into practice is to fill a quarter of the pot capacity with Super Soil mix and finish filling them with a special commercial cannabis soil. In this way the roots begin to develop in a lighter substrate until they reach the bottom of the pot, where they have all the food they need at all times.
In outdoor crops where it is transplanted directly into the ground, the ideal is to make a good hole, which has an area of ​​at least 50 cm x 50 cm and a depth of another 50 cm, but it can be better bigger. In this case it is possible to fill a little less than half with Super Soil, because in the mother soil the roots are pulled on all sides, not only towards the flowerbed where we put our special mixture.
🎯 How is it grown with this type of substrate?
This is the simplest part, because from the moment you transplant the girls into the Super Soil, you will only have to irrigate with water alone, without the need to add fertilizers, stimulators or additives to the irrigation. Yes, it is highly recommended that the water is not hard, so it is possible that the tap water in some homes is not adequate.
It is also interesting to adjust the PH of the irrigation water, although it is not a crucial point when growing marijuana in Super Soil. Using only water in irrigation allows harvesting without the need to do the typical root washing, and even so, these buds will have the cleanest and most defined flavor imaginable. For the rest it is cultivated in the same way as the other substrates, so it is advisable to spray preventive treatments to avoid attacks by insects, fungi and other pathogens.
🔥 Super Soil for autoflowering
Some users have asked us if the Super Soil blend can be used to grow autoflowering strains, and the answer is yes, although we always recommend adding an extra component and varying some proportions a little to adapt the distribution of the nutrients to the special needs for this type of plants.
We know that autoflowering plants have a much shorter vegetative growth phase than normal photoperiod varieties, and this must be taken into account when preparing the mixture, so we remove some of the earthworm castings and compensate for it by adding a little more than the bat guano. In order for them to increase their growth rate and reach the largest possible size before they start flowering, highly recommend adding the trichoderma along with the mycorrhizae, which will both form a micro-life that improves symbiosis with the root system.
Another component that we can add when we want to grow automatic varieties in Super Soil is perlite, vermiculite or coconut fiber, in this case to increase the oxygenation of the substrate and make it more spongy so that the roots do not have difficulty colonizing. Below you can see what the adjusted proportions would look like, especially for the cultivation of auto flowering genetics:
Organic substrate with coconut fiber and mycorrhiza : 4 Kilos
Solid earthworm humus :  1,7 Kilos
Meal Bone :  200 gr.
Blood meal :  200 gr.
Bat guano :  300 gr.
Rock phosphate : 150 gr.
Salts Epson :  100 gr.
Dolomites :  65 gr.
Azomite :  65 gr.
Humic acid:  10 gr.
✅ Results of organic Super Soil, giant yields of delicious buds
The advantages of this type of substrate are many, although certainly the most interesting for us is the great yield that is obtained, especially considering that the plants only receive water until harvest. It has always been known that 100% organic cultivation increases the level and quality of terpenes, but recently it has been found that it also improves cannabinoid production, so buds will be more potent and medicinal as well as tastier.
The simple fact of keeping a soil alive means that the nutrients present in the soil are always potentially assimilable by the roots, which can take all the food they need at any time during cultivation, and this can be seen with the naked eye by looking at the plants, which appear healthy and vigorous.
🚀 Advantages of growing cannabis in Super Soil
Knowing exactly the true composition of the substrate we use
The plants have all the nutrients they need at their disposal
100% organic cultivation and totally respectful of the planet
No need to add fertilizers, only water until harvest
Better aroma and flavor in the buds
Infinitely reusable blend
Does not require washing of the roots before harvesting
By not adding fertilizer liquids, salts do not accumulate in the substrate
📲 Disadvantages of Super Soil
Some ingredients are not easy to find
Requires an initial investment greater than normal substrate
Time and physical effort to obtain a homogeneous mixture
Cannot be used directly , needs to rest for more than 30 days
Intended for large outdoor pots or, limited for indoor
Growing Growth rate alg or slower than using
👌 Super Soil prefabricated for sale
Some brands have marketed their own prefabricated Super Soil to make it easier for all growers in the world to grow with this soil, without the need to purchase all the components separately and having to mix them to create the right composition.
Earth Vibes Supersoil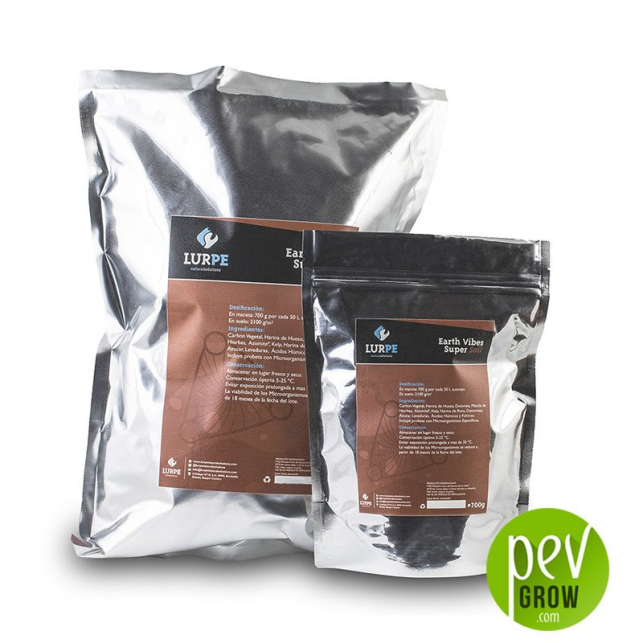 Lurpe's Earth Vibes Supersoil nutrient mix, the ideal product to create new micro life…
FEATURES:
-charcoal
-bone meal, rock flour,
-dolomite, diatomaceous earth,
-herb mixture,
-azomite, kelp,
-sugar, yeasts
-humic and fulvic acids.
Among all we want to highlight 's Earth Vibes Super Soil Lurpe, as they have created a super concentrated blend that can be combined with any type of commercial substrate to turn it into Super Soil. Saving distances, another good mix that serves to enrich poor substrates is 's Kilomix Atami, which in terms of quality / price is one of the most competitive on the market.
Kilomix B'CUZZ Atami 50L
Kilomix 50L B'CUZZ from Atami, a highly fertilized organic compound with which you can fertilize the soil and dispense with fertilizers during the first 6 to 7 weeks of cultivation…
Composition of Kilomix B'CUZZ Atami 50L:
Highly fertilized
Conductivity: 85 mS / cm
pH: 6
Contains:
-0,75 kg of NPK fertilizer
-6,5 kg of seabirds per m3
⭐ Conclusion
Super Soil is the most effective way to grow marijuana organically, as it ensures proper nutrition of the plants without giving up the most intense aroma and flavor and, most importantly, achieving record production. In case all these benefits seem few to you, this form of cultivation is the cleanest and most sustainable on the planet, so there are all the advantages.
⛳ Frequently Asked Questions
How to water Super Soil before using it?
It is not necessary to wet the Super Soil to carry out the composting process, just keep it moist for the 30-60 days it needs. Ideally, store the mixture in a container that can be closed or tightly covered so that moisture does not escape and the Super Soil does not dry out..
How long does Super Soil last?
Infinity may be the best answer, even if for this to happen it is necessary to keep the micro-life of the soil active, but as long as the ecosystem is in equilibrium it will be a valid ground to cultivate. Some growers remove the roots from Super Soil once they have harvested, then add bat guano and earthworm shoots with live worms to enrich it again and recycle this substrate over and over again.
Super Soil Vs Living Soil Is it the same?
Super Soil is a concept popularized by Subcool, which refers to a very complete type of Living Soil, but it could be said that it is the same. Living Soil is any type of substrate that maintains an active microbial ecosystem, i.e. a living substrate that benefits from these small organisms to convert matter into assimilable food for plants.
Best varieties of weed to relieve different types of pain →