Reading Time
7
minutes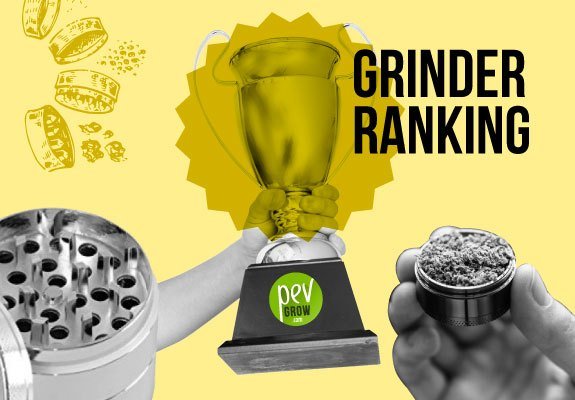 Every year new models of grinders of all kinds appear, improvements to previous models and new technologies applied to grind marijuana in thousands of different ways. There are grinders to use at home in a quiet way, and other small or portable ones that are ideal for when we go out. Many clients and friends often ask us what is the best grinder on the market? And this question is complicated because it does not have a single answer, since it depends on the needs of each one, as well as on their economic capacity.
To try to best answer this question, we thought it might be a good idea to do this article with the best grinders to buy in 2022, but separated into different categories, so sit back, get comfortable, and enjoy reading.
⚠️ Best electric grinders for the laziest people
Electric weed grinders are becoming more and more popular due to the convenience of their use, since it is enough to insert the cannabis and press a button to achieve a perfect grind, without the need for more effort. It is a kind of grinder machine that can have different designs, but the operation is very similar, and there are some really cheap models such as the metal electric grinder, with an aluminum body and a large bowl that can hold 2 or 3 grams of bud.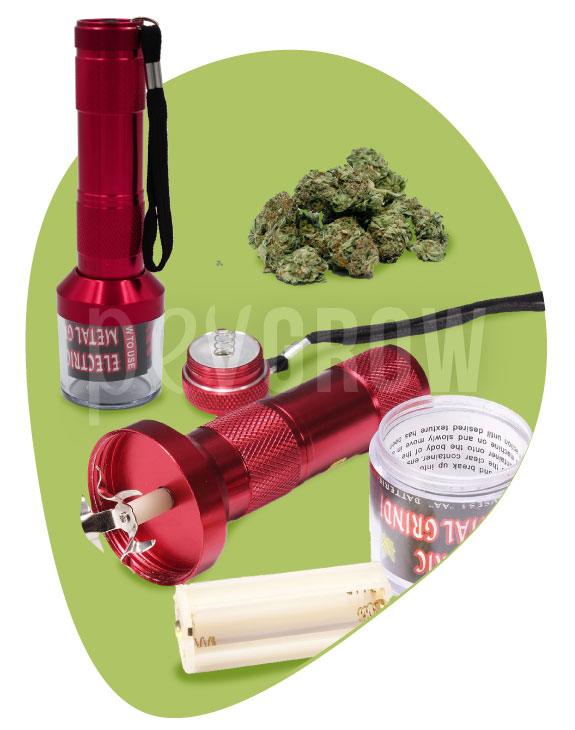 Buy Electrical Metallic Grinder
However, if you can invest a little more money, within the electric grinders on the market, the Otto grinder from Banana Bros stands out above the rest, since in addition to chopping marijuana automatically and very effectively, it is capable of filling cones without help, so it is also the best grinder for pre-rolled cigars. The battery can be charged via USB, so the price of the Banana Bros Otto grinder is a bit higher than the others, but it's worth it for all the time you save.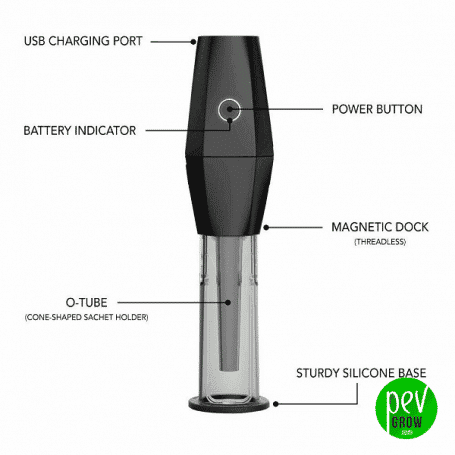 Buy OTTO automatic grinder with roller
🎬 The best grinders to catch kief or hash
They are also very practical, although not as comfortable as the electric or automatic ones, the best pollinator grinders make good use of the plant material because they are separated by several pieces and in the lower part it contains a mesh that filters the chopped marijuana to separate a part of the resin. Within this category there are many different models to choose from, some very cheap like the High Drum Champ grinder that is within the reach of any pocket.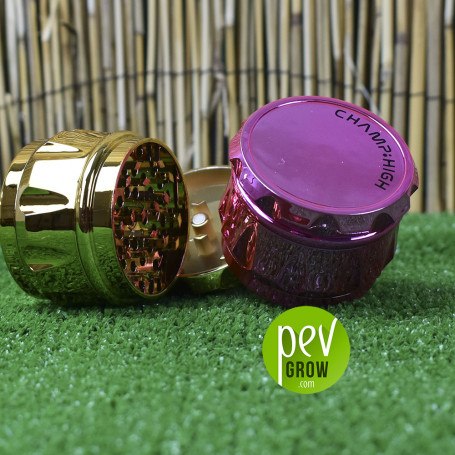 Buy Grinder High Drum Champ
The pollinator grinder with a grinder is also very practical because it has a small crank that is used to turn the blades, and this can be ideal for those moments when your hands are sweaty or wet for any reason, or grind much faster than with the other models of grinder. All you have to do is insert a bud, close the grinder, turn the crank several times, and open the grinder to remove the minced yerba. At the bottom you will find all the accumulated hash or kief, which you can mix into your cigar or leave for later.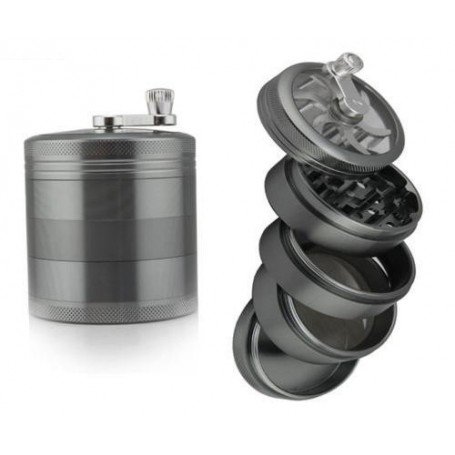 Buy Pollinator Grinder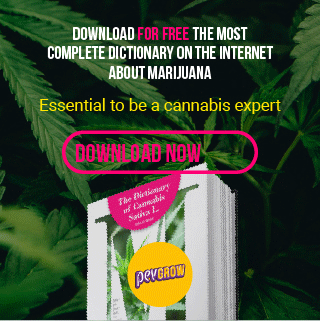 Free Download
Cannabis Dictionary
2023 Edition
Insert a correct email address
You must accept the privacy policy
SITE OF SHOPS ONLINE S.R.L with CIF: B98262777 and address for notifications in C/ VEREDA MAS DE TOUS Nº 22 LOCAL C, 46185 LA POBLA DE VALLBONA, VALENCIA, Phone: 961658271 Email: customer(at)pevgrow.com
At the name of Consulting we process the information you give us in order to provide the requested service, perform the billing of the same. The data provided will be kept as long as the business relationship is maintained or for the years necessary to comply with legal obligations. The data will not be transferred to third parties except in cases where there is a legal obligation. You have the right to obtain confirmation as to whether SITE OF SHOPS ONLINE S.R.L. is processing your personal data and therefore you have the right to access your personal data, rectify inaccurate data or request its removal when the data is no longer necessary
🧐 Metal grinders for all tastes
The metal grinder or metallic grinder is still the most popular due to its durability, and there is so much variety that you will surely find one that perfectly suits your tastes and needs. If you are short on money, the 2-part metal grinder is perfect for you because it is made of aluminum and its price is the lowest on the market, so you will get good quality with the minimum amount. If you prefer this material for its hardness and you can invest a little more money, don't think about it and ask for the 4-part metal grinder with pollinator, it's really worth it because you can take better advantage of cannabis.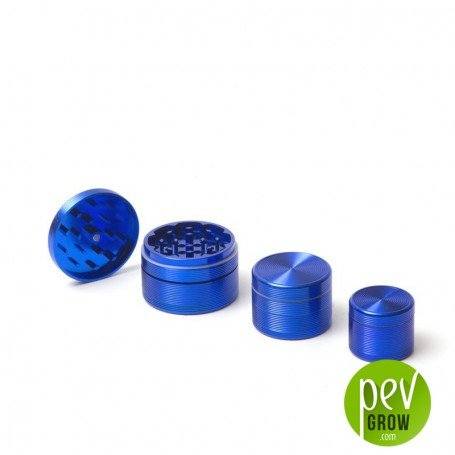 Buy Grinder 4 parts
In this same category, The Bulldog's 3-part aluminum grinder with a pollinator to catch the kief is one of the best sellers in the world for several reasons, and that is because this legendary Amsterdam coffeeshop has a whole legion of followers in Europe and America, the design is very eye-catching, and its price is very competitive. This same brand also offers a beautiful model of a metal grinder with a pollinator that has The Bulldog logo on one side and a grinder system to grind faster, made of aluminum and zinc alloy to be light as well as resistant.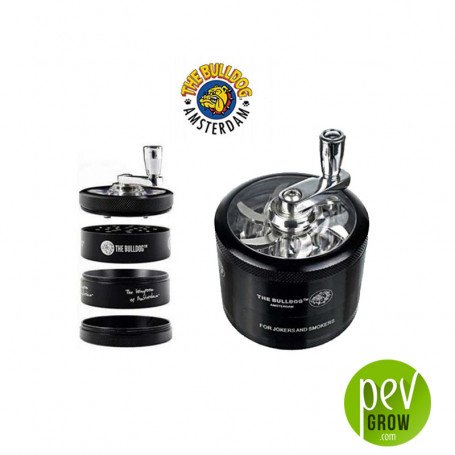 Buy Swing Grinder The Bulldog
The metal grinder keychain is another very practical option for when we leave the house, since thanks to its size you can keep it in any pocket or attached to the belt loop of your pants, and you can carry it with your keys so you don't lose it. It has been designed in Amsterdam and a raised marijuana leaf is engraved on the upper face. On the opposite side we have the 100 mm Maxi XXL Grinder, a marijuana grinder made of 4-part steel with a pollinator, ideal for stoners.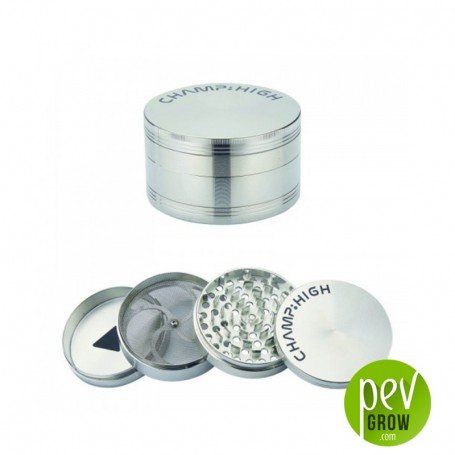 Buy Maxi XXL Grinder (100 mm.) Champ High
🎯 Can't you spend a lot? Don't worry, the plastic grinder is your solution
The cheapest and lightest grinder on the market is the plastic one, since for the price of a pack of tobacco you can have a grinder for life, but always with a minimum of maintenance, of course. Within this type of marijuana grinder, the magnetic plastic grinder is the most sold, but you have other variables that are also very interesting.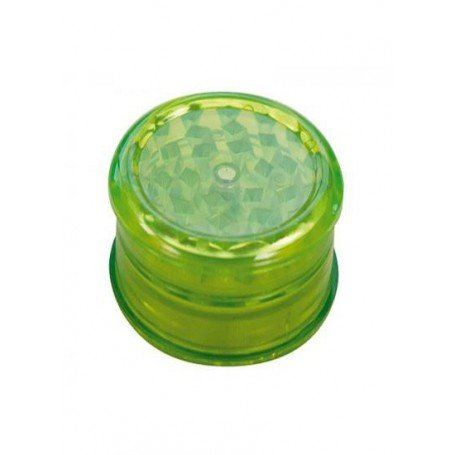 Buy Plastic Grinder magnet
Have you seen the Ooze tray grinder? If you don't know it, I think you're going to love it, because it's a plastic tray that has a grinder built into one end, so that after chopping the cannabis it can be transferred to the tray to facilitate filling and rolling the cannabis. joints Plastic grinders cannot be cleaned like metal ones, since corrosive products can damage them. If you want to see the best way to keep it intact, in this article you can read how to clean a plastic grinder or any other material in the most practical way.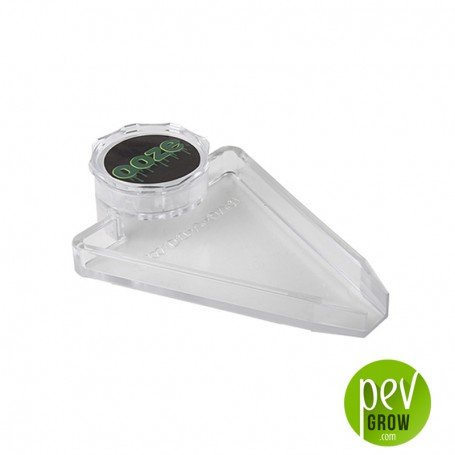 Buy Grinder Tray Ooze
✅ Best grinder brands for Maria
Marley : This brand does not only manufacture grinders, but it has 2 models that we have to highlight for their design and quality. The Marley Natural small grinder measures 60mm, has a pollinator to collect the hash, and is made of premium walnut wood. The most gourmet consumers have available the large Marley Natural grinder, which in addition to being able to grind a greater amount of marijuana, is also made of walnut wood except for one part that is made of borosilicate and acts as a transparent camera to see the chopped material.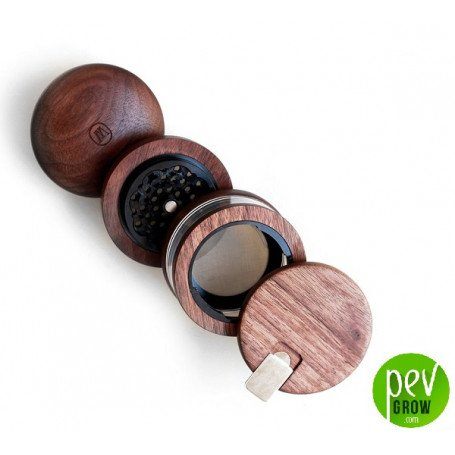 Buy Large Grinder Marley Natural
Quick Grinder : Until recently it was the best grinder for weed on the market, because it combines quality materials with a spectacular design, but the best and newest thing about the Quick Grinder is its anti-friction system and especially because of the button it incorporates to facilitate grinding cannabis flush. A grinder for life that you can now get at a very competitive price.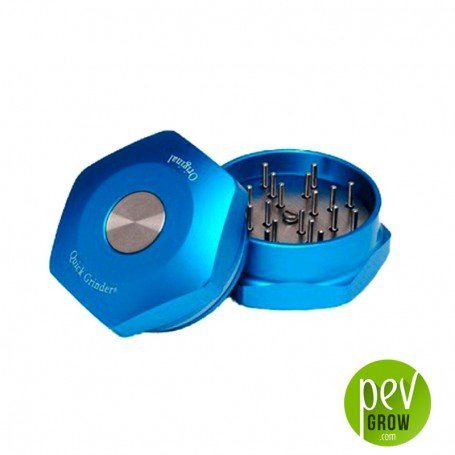 Buy Quick Grinder
Greend3d : The Greend3d brand specialized in the manufacture of grinders with 3D printers. Pevgrow's Greend3d grinders are as light as plastic ones, but with the advantage of being much more resistant, since they are made with a type of fiber called thermoplastic that mixes corn starch, tapioca roots and sugar cane. There are 6 different greend3d models, Piccolo, Cookie Slim version, Cookie normal, Locker, Pol-N and Zompo and you have a lot of different designs to choose from.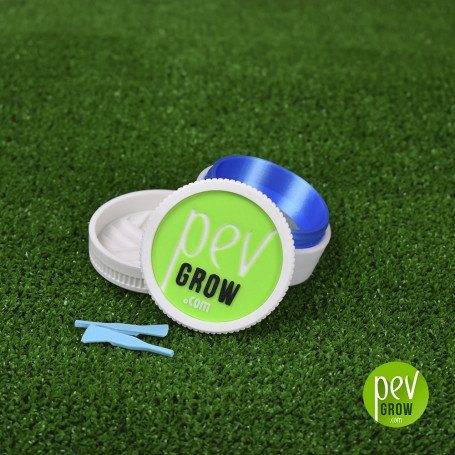 Buy GrinderPev
Thorinder : Thorinder brand grinders are inspired by the god of thunder from Norse mythology, with a different design that catches the eye at first sight. They are made of very durable matte black aluminum, and you have 2 models to choose from depending on your needs. The Thorinder Mini grinder is perfect for transporting due to its small size, and the normal Thorinder is more designed for use at home. Both models are 4-part and contain a pollinator to be able to recover the filtered hashish.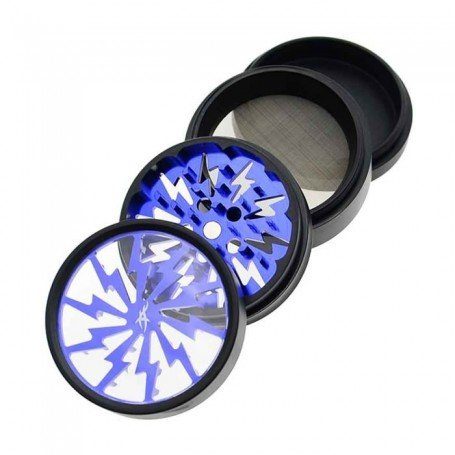 Buy Grinder Thorinder mini
SLX : One of the grinders preferred by the most gourmet consumers or those who can invest a little more money in their marijuana grinder. It's the grinder's iphone, as the SLX grinder is made of aerospace aluminum and coated with a non-stick material. There are 2 different sizes, 50.8 mm and 62 mm, and up to 5 different colors to choose from, all very pretty.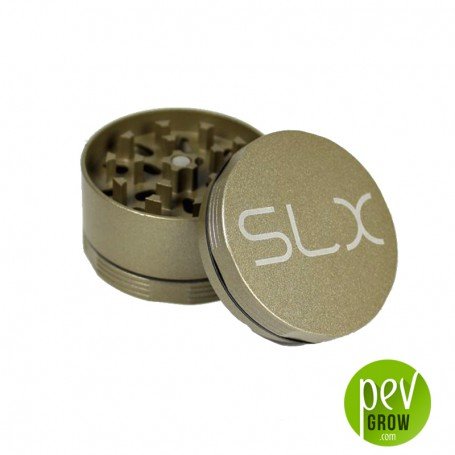 Buy Grinder SLX 2.5 Anti-adhérent
🚀 Other types of grinder for cannabis
The classic grinder par excellence is the 2-part wooden grinder, but it must be said that over time they have become obsolete. But if you long for the wooden grinder but prefer modern technology, don't worry, because the Wooden Grinder Champ High model combines noble wood with gold metal pieces, it has 4 parts and contains pollinator, it measures 60 mm in diameter and it is really precious. However, if you like the wooden grinder, from our point of view the best ones today are those of the Marley Natural brand.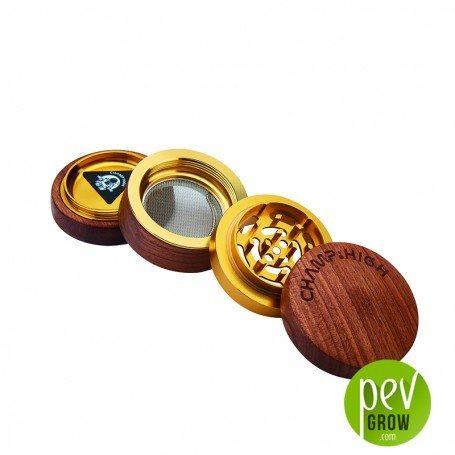 Buy Wooden Grinder Champ High
The grinder card was very revolutionary at the time because it has nothing to do with other grinder models, and its technology is simple but very practical. Its operation is very similar to that of a cheese grater, and it is enough to rub a bud through its grid so that the chopped yerba falls through the other side. One advantage is its size, since it can be perfectly put in the bag, another advantage is its lightness, but the best thing is its price, unbeatable. And last but not least, we have the Pumapunku ashtray grinder from Super Smoker, with a design as striking and functional as the Quick Grinder, but with the advantage of containing an ashtray on top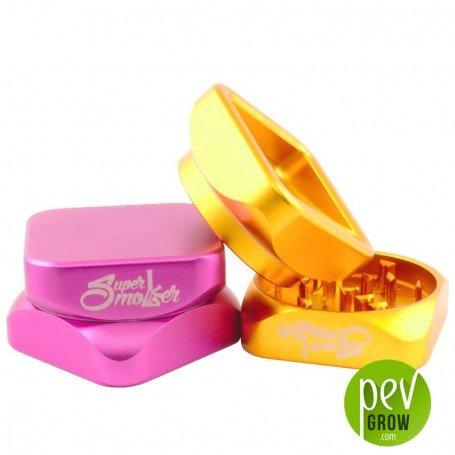 Buy PumaPunku Ashtray Grinder
✨ Conclusion
It is incredible to see the evolution that the sector that manufactures articles for smokers has had in recent years, to the point that right now you have products for all tastes and budgets, like the ones we have seen in this article on the best grinders in weed from the market. Do you know any other quality grinder that we have not included in this post? If so, I would appreciate it if you tell us in the comments to complete this article together.
⭐ Frequent questions
What is a grinder for?
It is used to chop, chop or grind marijuana to facilitate its rolling in a joint or its consumption in a bong or vaporizer. Believe it or not, until just 15 or 20 years ago we ground cannabis with scissors or directly with our own hands, something that is very uncomfortable, slow, and never looks the same as with a good grinder.
Where can I buy a good grinder for marijuana?
Due to the variety of models, quality/price ratio, after-sales service, and above all due to the great guarantee of satisfaction, I am sure that you are in the best place to buy a good grinder, because at Pevgrow we have been advising cannabis consumers for more than 10 years and we think we can meet the expectations of each client.
Top 10 Cannabis Documentaries: A Comprehensive View →