PEV Grow presents Super Skunk Auto, one of the classics of Sensi Seeds that, which as you know, is synonymous with quality materialized in a cannabis seed from one of the world's largest seed banks. It is the automatic version of a variety that has captivated thousands and thousands of smokers around the world, with which it has managed to shorten its flowering period to 80 days from germination without giving up its productivity and its great aroma and taste.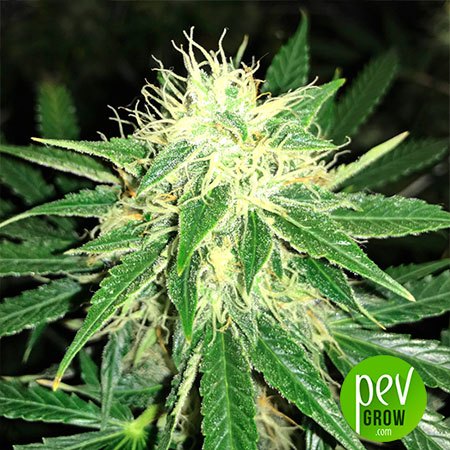 What's Super Skunk Auto like?
Super Skunk Auto by Sensi Seeds is predominantly an 80% Indica hybrid, which grows vigorously but with short stature. It does not usually exceed 80-90 cm in indoor crops and 120 cm outdoors in the best conditions. His internal distance is short, and his adaptability to the environment is fantastic.
What does Super Skunk Auto taste like?
Its organoleptic properties are one of its main differentiating elements. A very sweet flavor that combined with the power of Skunk genetics come together in an absolutely perfect mix that will elevate your taste buds to the stratosphere of pleasure.
What are the effects of Super Skunk Auto?
Its effect is very relaxing, so you should not abuse of it during the day, better do it at home near the stove (in winter) and enjoying a marathon of Game of Thrones or while you take a warm bath. Say goodbye to stress!.
How do you grow Super Skunk Auto?
In indoor crops, the choice of a good lighting system is key to the success of the plant, so after several tests, I recommend installing a LEC 315w focus, as its technology Light Emitting Ceramic has a unique power and low emission of heat, ideal for maintaining stable temperature between 20 and 26 degrees. Its productivity is magnificent, 500 gr per m2 with 11 pots of 9 liters with astonishing ease cultivation. Even the most novice will be able to boast of being an expert.
In outdoor crops place it in a definite pot of about 20 liters, because of its size it does not need anything else, and you can collect a bunch of first-class buds. Its resistance to pests is total, an authentic Spartan, which thanks to its Ruderalis genetics holds everything that they throw to it: cold, humidity, etc. Farmers in the north of the country will finally be able to unleash their desire to grow marijuana outdoors with Super Skunk Auto.
Enjoy this magnificent cannabis masterpiece made by the Sensi Seeds masters and discover an extraordinary cannabis variety, with a great flavor and excellent productivity.