Very few people know that Northern Lights genetics was one of the first to be used to create autoflowering plants. Since the original came out, back in 1980, it already started to show its talent for cannabis breeding, but it was in Holland where it became one of the favourites to create new strains. Do you want to know well the qualities of this lady? You can see them down here.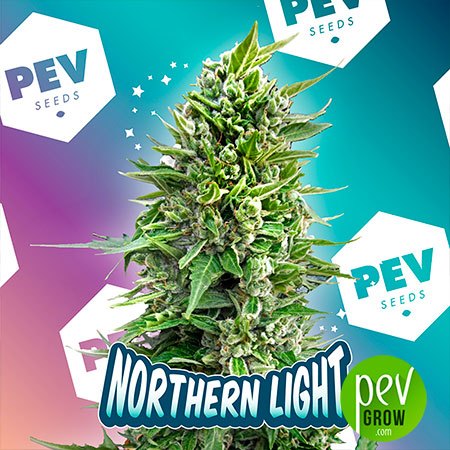 What does Northern Lights Autoflowering look like?
Northern Lights Autoflowering is a very homogeneous, fast, productive and very easy to grow marijuana plant. It yields well both indoors and outdoors, and is one of the varieties that best withstand mistakes or misdirection during cultivation.
It grows with much vigor, develops strong stems, quite a lot of branching and many knots in little space, a detail that anticipates its high production. Its leaves have wide, very serrated leaflets and a dark shade.
How do you grow Northern Lights Autoflowering?
The ideal is to prepare an aerated substrate, rich in nutrients, and with the dressing of some magic powders, in this case Trichoderma and/or Mycorrhiza. You can take the All Mix of the brand you prefer and add 25% of perlite and microlife to the dose marked by the manufacturer. This way you will prepare a perfect support for the roots.
In indoor cultivation you can put 9 plants per 3x3ft (square meter), in pots of 4 US gal (15 liters). We prefer to plant in a 0,8 US gal (>3 litre) pot and after 20 days transplant to the final pot, but you can also plant directly into the final one, but be careful with watering.
If you plant Northern Lights Autoflowering outdoors, the best time to grow it is in spring and summer. In this case it is better that the definitive pot is of greater volume, to obtain the maximum production give it more than 13,2 US gal (50 liters) of substrate and all the sun that you can.
When is Northern Lights Autoflowering harvested?
It's pretty fast, just like the photodependent version. In indoor cultivation needs about 75 days to complete its cycle from seed. If you like the effect very narcotic you can let it ripen for another week.
Grown outdoors may take somewhat longer, but is rare to reach 3 months of cultivation. It is also true that in open air conditions it can vary more and this can make your crop grow a little longer.
How is the production of Northern Lights Autoflowering?
Very high, in best autoflowering XXL's style on the market. Indoors, illuminated with 600w HPS, you can get the gram/watt, i.e. 21,2 oz per 3x3ft (600 grams per square meter).
Each outdoor plant can exceed 5,3 oz (150 grams), when grown without restrictions in places with many hours and intensity of sunshine.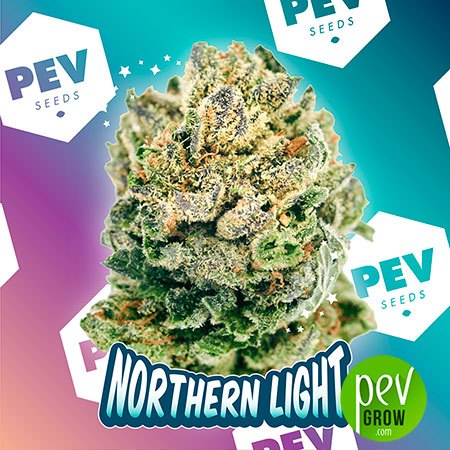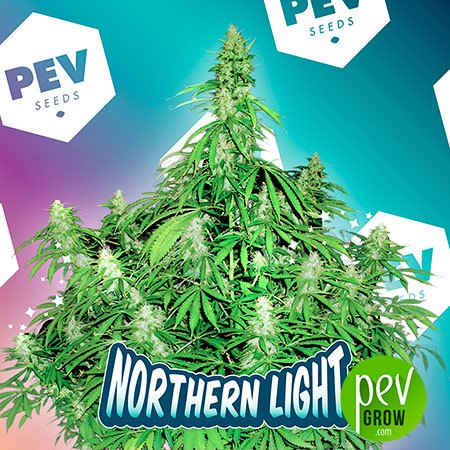 What is the aroma and taste of Northern Lights Autoflowering?
The aroma is sweet and floral, of medium intensity and quite pleasant. The taste tends more towards the fruity side, with a very smooth smoke coming in from the beginning to the end of the joint. Although it is true that it is not the tastiest variety in the world, it must be said that it is a flavor you won't get tired of, as it happens with other more intense terpenes.
What effects does Northern Lights Autoflowering variety produce?
It is an indica with all its letters, it relaxes body and mind, sedative and very pleasant. Its effect is quite prolonged in time and if you go too far it can leave you sleeping. It is an appropriate weed for users and patients who need medical cannabis to treat ailments, relax or sleep.
Buy Northern Lights Autoflowering Seeds from PEV Seeds
NL Auto by PEV Seeds is one of the easiest and fastest ways to get marijuana. It's one of those once-in-a-lifetime varieties, so if you haven't grow it already, you're already late...
You may also be interested in: