Northern Light Auto Sensi Seeds
Offer!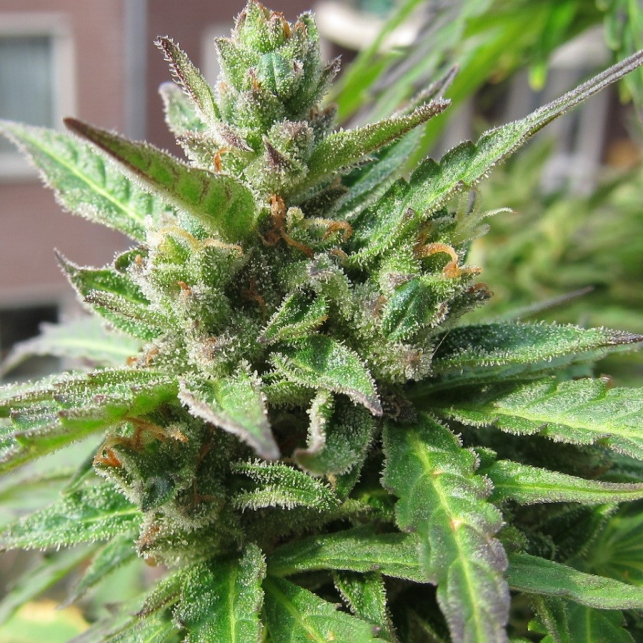 Description
This is undoubtedly one of the most famous auto-flowering marijuana strains and one of the most prized. It stands out for its abundant production and its sweet taste, really pleasant for your palate.
The Sensi Seeds seed bank, to which the autoflowering Northen Light variety belongs, can be more than proud to have created seeds with such brutal characteristics as those associated with it.
It can be grown both indoors and outdoors, being the months of May/June the ideal time to grow if you choose the second option and harvest its buds at the end of August.
A good plan, don't you think?
But there's so much more. This variety has been awarded numerous times and it is not surprising considering its characteristics. As a result of the crossing between Haze and Skunk, this marijuana strain is predominantly indica and resulting elongated plants with thick and resinous buds, being able to collected 80-90 days after grow them.
Another of the enticing aspects of this strain is its sweet, but intense honey flavor, with some earthy touches. Without a doubt, an ideal variety to relax, so there are many auto-cultivators that use it before going to sleep. It helps you rest, but also helps you fight the stress of the day.
Besides, the next day you won't notice any effect.
Video of Northern Light Auto Sensi Seeds
More info
Bank: Sensi Seeds
Seeds: Auto-feminized
Mod. Culture: Indoor/ Outdoor
Phenotype: Indica 80%
Height: 60-90 cm
Flowering: 50-60 days
Production: High
Data Sheet
| | |
| --- | --- |
| Genetics | Haze |
| Genetics | Skunk |
| Features | Cannabis Cup |
| Effects | Relaxing |
| Effects | Sleep all night |
| Flavor and aroma | Earthy (earth) |
| Symptoms | Insomnia |
| Banks | Sensi Seeds |
| Type | Autoflowering |
| Weather | Sunny/Mediterranean climates |
| Weather | Temperate/continental climates |
Send us your questions! We are happy to help you.
There are no questions about this product, be the first to ask!
| | |
| --- | --- |
| Cristina R. el día 23/05/2018 | They were the first that we sowed and it was really the best in harvest and quality. Excellent |
| | |
| --- | --- |
| RODRIGO A. el día 19/05/2018 | I thought it was a very good plant to use for medicinal purposes, both for ailments and to relax, I thought it was easy to grow with large buds and very straight and very productive, complicated for the climate of my city particularly that is humid and varies a lot between the summer and the other seasons but still a plant highly recommended within the predominant Indicas, thanks for the space. |
| | |
| --- | --- |
| Carmen C. el día 14/05/2018 | Well my experience was extremely strong, I went in pale, a friend had the center of a Northern Light cured for 4 months and in the morning we got up and without eating anything we put together a giant bat like twice as big as a cigarette and when I smoked I turned pale a very strong and quite indica strain. Not recommended for smoking before breakfast hahahah Greetings! |
| | |
| --- | --- |
| Jose L. el día 08/05/2018 | Excellent harvest the best I've ever been given |
| | |
| --- | --- |
| Sandra P. el día 03/05/2018 | Indoor cultivation, acceptable production, serving to soothe my pains. High favorites in CBD and with THC. |
| | |
| --- | --- |
| Felipe A. el día 01/05/2018 | The crop was grown outdoors was very large and grew big and fat buds and fertilizers and was a plant that left me wanting more I recommend it completely to anyone. |
| | |
| --- | --- |
| Jeffrey F. el día 29/04/2018 | (INTERIOR WITH FOCUS HPS 400W, NORMAL METHOD, 8 POTS OF 7 LITERS) THIS IS IF THEY ARE SOME CARS THAT I LOVED FOR THEIR GREAT SPEED AND FINAL PRODUCTION, GOOD GROWTH RECOMMENDED FOR BEGINNERS, ALREADY IN 25 DAYS BEGAN FLOWERING, I CULTIVATED IT WITH THE RANGE TOP CROP, GOOD FLAVOR, COMPACT CUSHIONS CONCENTRATED IN THE CENTRAL STICK, VERY FILLED WITH RESIN AND IN 55 DAYS WAS READY. I GOT ABOUT 215 GRAMS OF TRUTH THAT I DIDN'T COMPLAIN ABOUT THIS GREAT CAR. |
| | |
| --- | --- |
| Gerardo R. el día 24/04/2018 | It was a rather strange experience but very good, what made it more difficult for me, and I was discouraged by the plagues that were very difficult to treat but in the end I managed to beat them, I just used a lunar calendar and it worked quite well I think with some other things that plant would have been a marvel but still for me was a good result. |
| | |
| --- | --- |
| ignacio f. el día 23/04/2018 | In my house I can not have indoor, so I threw it outdoors ... use only apical cuts to grow branches and be leafy. It gave good results, I got 47G dry (I'm an amateur grower, that was the second crop I did) so what feed was a good production despite all the mistakes I had. I had problems with potassium deficit which I was able to solve, luckily haha. Only use Hessi products for that crop. |
| | |
| --- | --- |
| Daniel H. el día 21/04/2018 | I grew outdoors I changed from an 11 litre pot to a 20 litre pot after the last one to a 50 litre pot I just gave her love and a lot of care the plant gave me an amount of 400 grams dry very happy and I like to say I grew it. |
| | |
| --- | --- |
| Anibal M. el día 20/04/2018 | The truth is that I did not cultivate it directly, but it is the plant of my taste, it has a unique taste and its journey is psychedelic. |
| | |
| --- | --- |
| Ricardo C. el día 19/04/2018 | It was an outdoor coconut crop and it was only 2 because I didn't have much experience at the time the production wasn't much ( say about 1 oz.). per plant but I like it very much and I want to plant again with the knowledge I already have |
| | |
| --- | --- |
| Mariana C. el día 14/04/2018 | I started to grow without knowing anything (I'm still learning in fact)...I'm a medical grower and the first insoles are broken....I'm already going to the second crop to see what happens |
| | |
| --- | --- |
| Dann G. el día 10/04/2018 | My crop was grown outdoors in a 7 liters pot was a single seed that was given to me by a friend who bought me the pack of 3, and I loved the cars, I just didn't get much production because I didn't have the right nutrients, I got about 25 to 35 grams more or less is what I estimate with the naked eye without scale. |
| | |
| --- | --- |
| Camilo C. el día 09/04/2018 | Well it was my first crop so I didn't have much experience, my crop was outdoors, I was watering the seedlings with top crow fertilizer from the beginning and then see the great results. With my friends we were amazed to taste such a good plant and it was among the favorites in the catalog and one of the entrepreneurs in the crop. |
| | |
| --- | --- |
| Alexandre P. el día 05/04/2018 | The truth is that it wasn't a bad idea to buy these seeds, they came out pretty hard buds and when I smoked them, they went in pretty well, although I thought they were going to grow more, since in the catalogue it said it would be from 60 to 90 cm, I got a maximum of 50 because of how fast it grows at the beginning you think it is going to be enormous. |
| | |
| --- | --- |
| Victor v. el día 05/04/2018 | the cultivated plant is auto n.Lights of sensi seeds outdoors all organic, use flowerpots of about 15 liters of peat with organic earthworm humus, use organic fertilizer of bloom of trabe and kalong bat guano many hours of sunshine, about 75 days from sowing to harvest, some came to the 78 days the dry production rolled around the 50, 60 grams the most productive plant put 6 plants ,fruity flavor like nectarines and peaches ,very marked flavor to be cultivated organic ,leaves you smiling, happy but not numb ,greetings and good smoke |
| | |
| --- | --- |
| juan c. el día 05/04/2018 | Good experience an earthy taste with touches of wood and strong smell like when it rains good central low broad truncheon and to harvest in 65 days took me a long time in indor I put it in pots of 7l a light bulb of 400w I got 250g of 6 autos very good quality 250g |
| | |
| --- | --- |
| Tanausu G. el día 05/04/2018 | The cultivation was indoor, three pots in a 400w light bulb. The truth is that the production was a bit low, maybe it was my fault for not giving it the necessary attention, but the quality was pretty good. It has good high and taste. |
| | |
| --- | --- |
| MARIA JESUS .. el día 05/04/2018 | I used the interior method with 4 flowerpots, a 600 W light bulb and a production of 300Gr but it was a very nice and spectacular experience. |
| | |
| --- | --- |
| Fabiola C. el día 05/04/2018 | My experience has been quite good I have grown it outdoors, which is where I feel most comfortable planting, use 3 pots for different transplants do not use all natural products for different stages of growth and fruit formation system, very happy with the final shape of the plant, smells, flavors I would love to continue to know different bushes to see the peculiarities of each one a strong greeting |
| | |
| --- | --- |
| manolo s. el día 05/04/2018 | Outside in pots I put 6 seeds. They are large plants to be automatic and very good harvest, large heavy and dense buds, very odorous odor between sweet and sdco, very resinous. Plant easy to cultivate and strong against pests. It has a slightly long flowering but the wait is worth it. |
| | |
| --- | --- |
| juan manuel r. el día 04/04/2018 | Bearing in mind that I am in the other hemisphere and especially in an area of Argentina that has periods of high humidity and heat higher than 35 º the plant responded in the best way inside, having a very good crop and very good quality. |
| | |
| --- | --- |
| ricardo p. el día 27/03/2018 | Indoor cultivation with sodium light of 400 watts, without special cultivation method, in 11 liters pot and another in a typical fair bag, reached a meter 20 cms approx, differed only by the width of the plant, and finally by plant were 45g dry per plant, with an aroma of coffee, and an intensely pleasant anesthetized moment. |
| | |
| --- | --- |
| Marcos P. el día 26/03/2018 | To be auto the amount of flowers is barbaric I grew them indoors without spotlights or anything in the closet and I planted several seeds because I thought it would be under their amount of flowers... but they were amazing 4 out of 4 and the truth is that more than cars seemed feminized... works well |
| | |
| --- | --- |
| Santiago G. el día 25/03/2018 | Hello, the sum of experience was given by the progress of the crop itself, thus seeing all the stages of growth, fighting pests, and with a painstaking daily care, both in the low and in the good, has good resistance to pests, good growth, strong stems, good tonality of pistils, the harvest lasts between 9 and 10 weeks approximately, and obtained 88.5 grams total, very good taste and aroma, a nice indica (80%) (rudelaris 20%), I am grateful with my harvest, now it is time to let go and enjoy the work you have done. |
| | |
| --- | --- |
| Tomeu B. el día 21/03/2018 | I grew it outdoors in an 11L pot, with a universal substrate, using the range of biocanabium nutrients composed of: growth, flower bud enhancer and resin enhancer, the plant was not affected by any pest thanks to its rapid development. The result was great with 50g dry, the quality was great with a very powerful effect and very sweet nuances. |
| | |
| --- | --- |
| Daniel S. el día 15/03/2018 | I grew it outdoors, on a balcony of my house with a white masking mesh, I used organic biobizz products, the production was actually quite decent, I thought it would be too small but I took out about 40 grams. I used a pot of 11 since it germinated. |
| | |
| --- | --- |
| gabriel c. el día 03/03/2018 | Good morning, I was fortunate to cultivate Northern Light Auto from Sensi Seeds with which I applied the method of gulliber. In a Smart pot on my terrace (outside), when I harvested my production in this plant was 83 grams. Thank you. |
| | |
| --- | --- |
| Juan Antonio s. el día 28/02/2018 | To begin with I chose a natural automatic crop but in the open air I used three flowerpots in the process and occupied the faithful banana tea which provided me with everything I needed to fatten the pruned apical flowers resulting in an unforgettable harvest. |
| | |
| --- | --- |
| Bryan M. el día 21/02/2018 | My experience in this of him growing cannabis has not been as great as that of other expert growers but in my case I want to tell you how it was when I planted my first quality seed, before I had about two plants which took me deeper into this subject and was like a pleasure to do it, good for the northern lights I used simple materials soil extracted from a forest for my house and organic fertilizer that I had made about 5 months ago with all the organic waste that I had collected from my house vegetable husks, fruits, leaves and worms to create organic compost? and already with 5 months of decomposition I joined it with all the forest soil for which I had already germinated my seed I planted it and waited until they spent their first two months had already grown big enough with its leafy leaves and its bright green had already made me realize that its smell was different was something sweeter as well as softer so I forced myself to change the pot to a much bigger souvenir that I bought it in a market of plants was orange as 50 kg capacity was 50 kg. Day of the Dead season and I painted with feathers was like the most terrifying marijuana plant of those nights I liked that plant so much that when it was in its last flowering season I didn't really want it to die although I knew it had had a more experienced harvest when I saw its different growth and physical as a plant that took a little more notes and because the time came I just did what I had to do to say goodbye to that marijuana plant and remember it as the most special one... |
| | |
| --- | --- |
| eduardo b. el día 15/02/2018 | Spectacular soft scent was from outside grow about 100g |
| | |
| --- | --- |
| Abel T. el día 11/02/2018 | I'm not a fan of autos, I wait a lot for a little girl, but I always plant some for smoking. I had that in a 50l pot outside with abundant sunshine and the truth is that the production did not go very well, the flavor was quite typical of autoflowering with very light nuances of nother light, I was not satisfied even though the buzz was quite powerful, I give a six out of ten because it is not at all a real nother, who likes cars I suppose he will be interested in a greeting |
| | |
| --- | --- |
| Alfredo m. el día 07/02/2018 | Very good for my first time left me totally satisfied even though I didn't think it would be so difficult or maybe. It was to be first but waiting for your own harvest has no comparison at this time I have 2 more sown and are already in flowering is better than going shopping and more if you do not consume anything bought and wait for your harvest good smokes. |
| | |
| --- | --- |
| Esteban P. el día 07/02/2018 | I grew it indoors, with a 400w sodium lamp. As always, I begin the cultivation in a glass after germinating, then I pass to 3 liters pot, transplant to 10 liters and when I pass to flowering final pot of 15 liters. |
| | |
| --- | --- |
| michael l. el día 04/02/2018 | my experience with this strain caused me a lot of attention as to how this strain can grow so fast this auto-flowering strain is very resistant to climate change and gives a very good production with resin-filled flowers with a good level of thc.., the plant is recommended for beginner growers or those who start in this world of self-cultivation because its size is very good for indoor cultivation and that you harvest in three months is very good and with a matter of flavor-yield relationship with its citrus and earthy flavors give a touch of class to this classic genetics giving dense smoke of very good flavor....the method I used was indoor with a wide spectrum LED focus of 1000 watts at a distance of 1.20mts between plants and the bulb both in growth and flowering process there was no change in relation and supports well the changes in light. increasing the production by making an apical cut to increase it as in three months of flowering gave me 500 grams of flowers very rich in resin for medicinal use, this plant is highly recommended and if I were given another opportunity to have such good genetics I would produce it again... |
| | |
| --- | --- |
| ivan r. el día 03/02/2018 | Well I tell you that it was a very good experience, I had never cultivated an automatic seedling before, in my closet I made an indor, only a flowerpot, in my closet I lined it with aluminum foil I put 6 low consumption lights and small extractors, and luxury? with a growth fertilizer I made it grow a lot, I put some timer in the light and I gave it 20 of light and only 4 of darkness and it grew a lot, to the imedio month I changed the hours of Light to 12/12 and a flowering fertilizer and very happy with the production apart from the experience I never thought of cultivating a seed and I loved it I think I would do it again |
| | |
| --- | --- |
| yoel g. el día 30/01/2018 | Do the outdoor cultivation making apical pruning until you get a total of 8 main tips. It had a fast enough growth to be outdoors and large about 2 meters and a little more. It took a time of 4 months and something from planting until harvest. Its buds were quite large and very resinous. The effect that causes me is a great Suvidon with joy and a lot of hunger, in the end a very nice relaxation. I recommend this variety |
| | |
| --- | --- |
| Celestin M. el día 30/01/2018 | Without a doubt a delicacy of the palate is the northern light auto! and with a very intense smell. I planted 3 plants, in growth I helped them with a low consumption at night and day in the sun. Flowering only sun. Harvest in 85 days, 30g dry each and some buds full of resin. The effect is a little strong for beginners ;) |
| | |
| --- | --- |
| Sergio A. el día 16/01/2018 | Spectacular, it has nothing to envy its female sister, this car tastes just like a feminized northern light, a slightly demanding crop because you have to be very careful not to overdo it with food or irrigation, but you don't have to be too short either, ideal for growers without large cultivation spaces because it has good and abundant branches if you don't want to make it too high. |
| | |
| --- | --- |
| Ivan David A. el día 15/01/2018 | Well, I was lucky enough to be able to test it indoors and outdoors, I didn't do any pruning, as they were car, I still didn't try to prune any car. Looking back... I think it gave me better results indoors, due to the weather outside I had several problems. It didn't grow as much as other auto varieties I had, it was also susceptible to mold, all of which affected the final result, in production and flavor, however it still retained that flavor of Nothern. Indoors the thing changes, well cultivated will give you a "big" plant (compared to other cars) and quite branched, with some hard buds with that classic earthy flavor that characterizes this variety, another advantage I found in its day was its smell, it is not as strong as other varieties, some skunk or cheese are not easy to avoid that its smell, but with this one did not have that problem or complaint. Indoor with a 400w bulb, take out some... 20-22 grams on average, in outside maybe as high as 30 I am faithful to this variety since I met it in 2010, although I prefer a regular or feminized one, the cars are still very smooth, with thc levels still low... the experience is not the same. |
| | |
| --- | --- |
| Marcelo B. el día 15/01/2018 | Some of the best automatic seeds that I planted in my indoor 3 seeds in 3 pots 11 liters and a Sodium 400 watts light bulb with an electronic ballast and fertilizers of Bio bizz it tripak and delta 9 with bloom moster bloom in bloom with a full relaxing and anxiolytic effect and production of 65 grams per bush approx. |
| | |
| --- | --- |
| paul a. el día 26/01/2017 | I am really fucking high after smoke that, nice |
---