Santhica 70 are industrial hemp seeds that have the certificate that accredits them as variety approved by the E.U. so that can be cultivated in a totally legal way, as long as the indications are followed and do not exceed 0.2% THC as required by law.
This variety has been on the European circuit for many years, but it has only recently become in great demand by the public, due to its very special chemotype among other things, and here are the reasons why.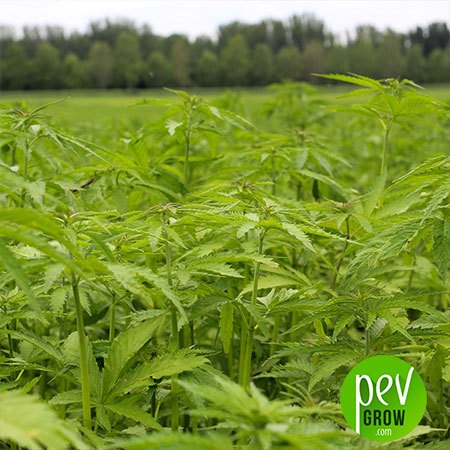 What is the variety of hemp Santhica 70 like?
This is a monoecious variety, so all the plants show both sexes naturally. This is an advantage for hemp seed producers, because pollination is maximum, as is the final yield.
However, for growers looking to harvest clean, seedless flowers, this is not the ideal variety for the same reason. It was developed in France by the national federation of hemp growers, as were many other classic varieties certified by the European Union.
One of the most important qualities of this genetics is its CBG content, 2% to 3% of the total biomass, something very rare, since the main cannabinoids usually found in both hemp and psychoactive marijuana are THC and CBD.
How to grow Santhica 70 seeds?
Genetically are prepared for cultivation in the Atlantic climate, but it must be said that are very well adapted to temperate climates, and even to the Mediterranean, as long as the heat and drought are not intense.
If the seeds are germinated very early, the mature plants can grow up to 8.2 ft. (2.5 metres), but in general they reach less height than other varieties of hemp grown for fibre.
What is Santhica 70 harvest used for?
Since this variety became popular among traditional hemp growers, its cultivation was extended mainly by the harvesting of large quantities of seeds, which could then be used to produce hemp seed oil rich in Omega 3, 6 and 9. These growers also used the fibres, albeit as a by-product, as better certified strains were available for that purpose.
But the great international impact that these seeds have achieved is because of their high content of cannabigerol, a non-psychoactive cannabinoid that has several very interesting pharmacological properties.
Buy EU-certified Santhica 70 seeds
In our growshop online we give you the possibility to buy seeds of Santhica 70. If you were thinking of investing or entering the emerging cannabis market, this is your chance.


Sex: Monoic
Fiber production potential: 30% to 35%
Seed production potential: From 800 to 1000 kilos per hectare
Biomass production potential: 8 to 10 tons per hectare
Oil content per seed: From 28% to 30%
Weather: Atlantic
Precocity: Medium
Fiber richness: 30% to 35%
CERTIFICATE ONLY AVAILABLE FOR WHOLE BAGS (1KG or 25KGS) AND FOR THE EU