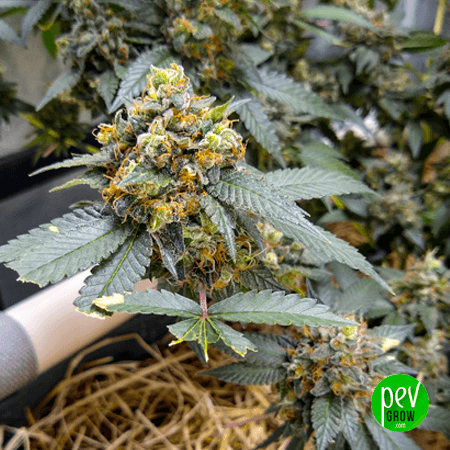 The Dosi OG feminized marijuana seeds from Spain Bulk Seeds form plants that surprise for their original organoleptic properties, without detracting from the density and hardness of their flowers, as well as their extraordinary potency.
What is the genetics of these feminized seeds?
To obtain this genetics, the famous Do-si-dos was crossed with an elite clone of OG Kush reversed, in this case the tasty SFV OG Kush. It could be said that it is a backcross of OG Kush, since Do-si-dos also contains this prestigious strain among its genes.
The final chemotype is approximately 70% indica and 30% sativa, although its appearance can be misleading in this regard.
What does Dosi OG look like?
It grows at full speed, especially vertically, and lengthens the knots quite a bit., in the style of hybrids with a lot of sativa load. On the other hand, the leaves are rather wide, and it does not produce many, something that comes in handy indoors. In flowering it reaches twice its size, but forming golf ball-shaped buds, of good size, extreme hardness, and with a very good calyx / leaf ratio.
How are these seeds grown indoors and outdoors?
Indoors you have several ways to achieve success, but we recommend pruning FIM to maximize results. Once you have removed the main tip from your plants, you can decide whether to place a mesh to make SCROG or reinforce the branches by applying the Supercropping technique. With  9 plants / m2 in 11-liter pots and 4 weeks of growth vegetative, you will occupy the entire illuminated area with large buds.
Outdoors you have to try to give them hedge shape, doing as many pruning as necessary at the highest points so that all the branches develop as much as possible and aspire to have the maximum light. If you can transplant to mother earth do not hesitate, and if not try to grow in the largest pots you can.
When are the Dosi OG harvested?
In indoor cultivation the fastest specimens are ready in just 8 weeks of flowering, although some plants may need a few more days. Outdoors are cut from the end of September to the beginning of October in the northern hemisphere, and from the end of March in the southern hemisphere.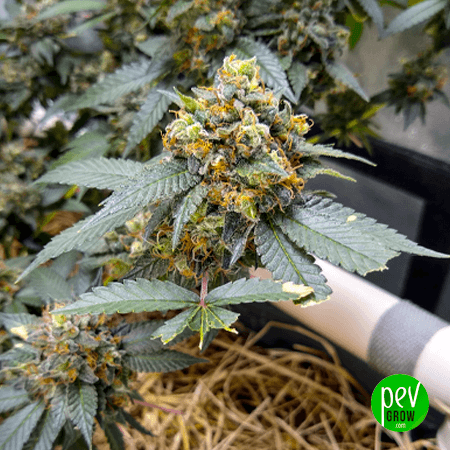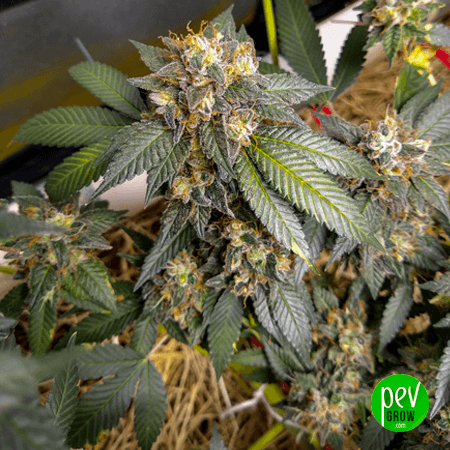 How much do these seeds from Spain Bulk Seeds produce?
The bud yield is medium / high, with between 400 and 450 grams / m2 indoors, and going from 500 grams / plant outdoors. Another thing is the production of trichomes, and in that for sure the Dosi OG is among the highest on the planet without a doubt.
How is the aroma and taste of Dosi OG?
The first thing that comes to mind when you smell a bud of this herb is the walnuts, something that attracts a lot of attention. On the other hand, in the flavor floral nuances are discovered, sour, and of course nutty, but when the smoke is exhaled the aftertaste that remains in the mouth is very menthol, a unique combination in the world of marijuana.
How is the effect of this cannabis?
It is medicine for the body and soul, very appropriate for people who suffer from chronic pain due to its high analgesic power. It causes absolute happiness, reconnects your chakras so that you can see everything in a different way, to the point that it seems that the problems are volatilized with just a couple of puffs. If you do not have a great tolerance to THC, I recommend that you treat it with respect, because its effect is powerful and very long-lasting, the kind that satisfy all consumers.
Buy Dosi OG seeds from Spain Bulk Seeds with the best quality / price ratio
Just for its genuine flavor and the quality of its effect, it is already worth trying these feminized seeds, but it is also this genetics It is special to select mother plants with premium American genetics ... I would not think much about it.
You may also be interested in: