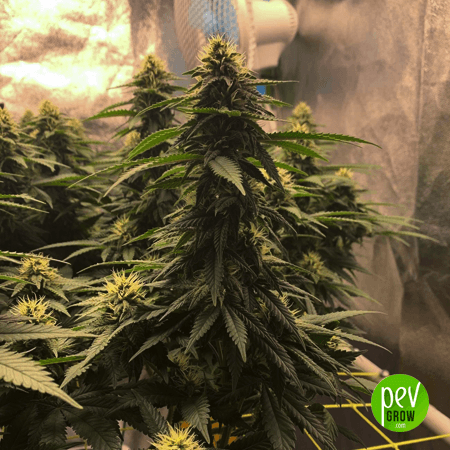 PevGrow introduces the new Cherry Pie by Female Seeds. In order to conceive this magnificent variety, the Cherry AK and the all-powerful Purple Punch have been genetically combined, managing to leave the best of each one of them in this plant: its power, its terpenic profile and a brutal facility of culture.
What is the structure of Cherry Pie plant?
As it could not be otherwise, this mostly indica strain has a structure very reminiscent of a Christmas tree, with a base with many branches, which tend to shorten as they reach the top. Its production is usually concentrated in a large central tail, forming long foxtails.
What is the taste of Cherry Pie cannabis?
In the mouth it is pure fantasy, some touches of sweet cherries, with a skunk finish that will make your taste buds dance in ecstasy of pleasure.
What is the effect of Cherry Pie weed?
Its effect is long lasting and strong, especially at the body level, although everything starts with an awake and happy mind that with each puff evolves into a much more relaxed state physically, ideal to share with your partner and enjoy the typical movie night plan.
How to grow Cherry Pie?
In climate-controlled crops it is a champion. A plant that fits perfectly into almost any grow room or cabinet, as its size is very discreet. Its cultivation does not require professional knowledge, but you will have to install an anti-odour system to avoid detection by neighbours, the best option is to install a carbon filter. I have placed it in 2.9 US gal (11 litre) pots and I have been able to fit a few specimens per 3x3ft (m2) comfortably.
Outdoors, it will be ready for cutting to mid-October, so if you live in a rather cold and rather rain-prone area, you will have to take this into account, plant it a little earlier or directly put it in a greenhouse. In growth, so that its root development is appropriate, apply in the irrigation water Start Up by Plagron.
What is the production of Cherry Pie?
Indoors you can get between 15.8 and 22.9 oz per 3x3ft (450-650 grams per m2). Under the sun, you can get between 12.3 and 17.6 oz (350-500 grams) per plant.
Cherry Pie by Female Seeds, one of the last varieties to arrive in our catalogue but already has a very special place in our hearts. Don't miss it!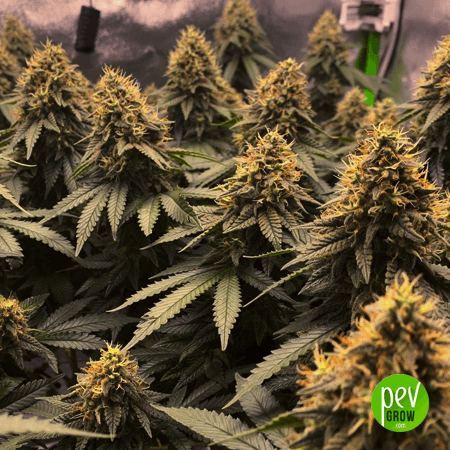 You may also be interested in: