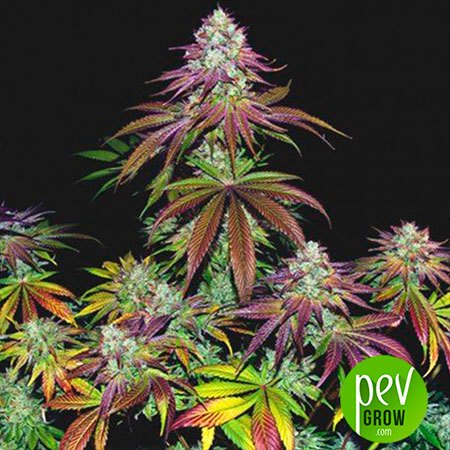 The Dutch seed bank Barney's Farm is betting heavily on the genetics coming out of USA the last few years, and Mimosa Evo is another proof of that. If you want to discover all that this variety hides I advise you to keep reading...
What is the genetics of Mimosa Evo?
This is the feminized version of the Symbiotic Mimosa's one, in this case Barney's have used an elite clone from Emerald Triangle to produce their S1 seeds. The original genetics is a cross between Purple Punch and Clementine, where clearly the Punch provides color and structure and the Clementine gives it all its citrus flavor, which already comes in dominant form from its ancestor, the Tangie.
What is Mimosa Evo like in general?
Imagine the plant you would like to have in your garden, because surely this strain will be very close to what you want. Mimosa Evo is beautiful, with some purple colors to fall in love with at first sight, but that's the least of it.
The production is incredible, there are few seeds that can give you more buds than this, but not only creates large and heavy flowers, the amount of resin is very high also. The aroma is delicious, but so powerful that it can betray us during its growth if we don't do something about it. And its taste, what to say about its taste, you better try it because you may have never tasted a weed with such an intense bouquet.
How are these seeds grown?
In indoor cultivation we recommend giving at least 3 weeks of vegetative growth to develop perfectly. It branches a lot and these branches end up at a good height, near the main tip, so can be left without pruning and will yield similarly to pruning, as it responds well too. You can put 9 plants per 3x3ft (m2) in 2.9 US gal (11 litre) pots, or 16 in 1.85 US gal (7 litre) containers, both ways will fill the whole growing area in a short time. We advise to increase ventilation in flowering, as well as the use of dehumidifiers, because the buds are very dense and barely transpire.
Outdoors if we prefer to prune and if you want to make it very big, prepare some structure where you can support the branches. Try to make several FIM pruning, first to the main tip, and after 2 or 3 weeks to the secondary branches.
Both indoors and outdoors I recommend use organic fertilizer for its nutrition, it will reward you with an incredible taste, try it and tell us.
When is time for the harvest with this plant?
If you grow it with artificial lights it will need around 9 or 10 weeks of flowering to fully mature. If you like the effect very relaxing wait until 70 days, but if you prefer to be more active better with 65.
Outdoors it is cut in mid-October in the northern hemisphere, like most commercial genetics. In the southern hemisphere the harvest is in mid-April.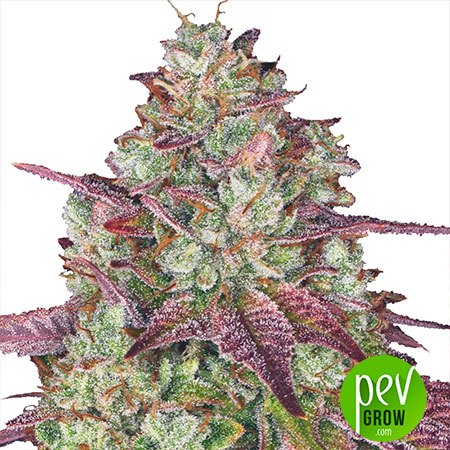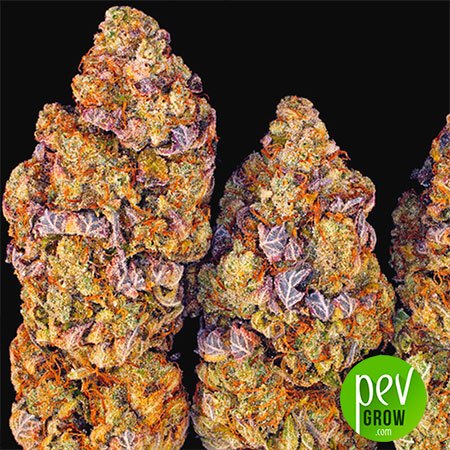 How much does Mimosa Evo produce indoors and outdoors?
It is on a par with the most productive
varieties of cannabis
 on the market, in general, as its yield of buds, resin, terpenes and cannabinoids is brutal. In indoor growing 
can reach 24.7 oz per 3x3ft (700 grams / m2)
if grown without limiting factors.
Outdoors, in the open or greenhouse, it will become a large tree if you germinate it in early spring, and in some cases it can reach 70.5 oz (2000 grams) or more.
What is the aroma and taste of Barney's Mimosa Evo?
The aroma is very strong as we said, you will go again and again to smell their flowers, that when you rub them, they give off an impressive citrus scent. In its flavor clearly predominates a fruity, fresh tangerine with a touch of berries that lingers in the mouth and asks you more and more.
What is the effect of this variety?
If I tell you that it has a THC level of about 25%, you can get an idea of the power of its effect, that can be excessive if you don't have high tolerance to weed. Basically it's like a sativa hybrid, fast and stimulating high, it motivates and produces happiness if you don't smoke too much, because it can also knock you out.
Buy Mimosa Evo Feminized Seeds Online
I really tell you that it is difficult to find a more complete cannabic genetics, and the best thing is that in Pevgrow we send them to you with a great quality/price ratio and the best after-sales service in the market, take advantage!