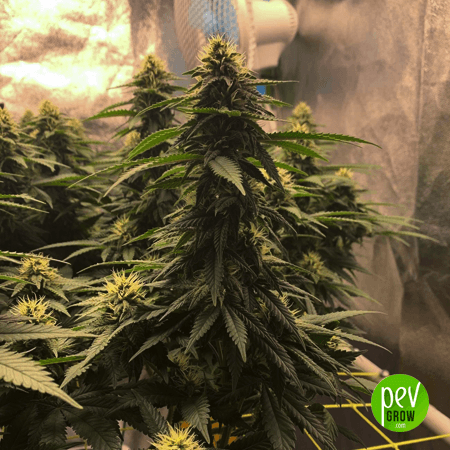 Marijuana Cherry Pie, delicious and provocative available in Pevgrow
Now on offer marijuana seeds Cherry Pie, a delicious strain resulting from the crossing of two excellent genetics the Durban Poison with Grand Daddy Purple. The result is an indica dominant strain that is easy to grow and offers a euphoric and energizing effect.
How does it grow?
It grows compact and medium sized, it has many branches that are separated with a short internodal distance between short and mediuma, which gives it a leafy tree appearance
Its leaves are large and intense green, which make a marvellous match with the purple tones that bathe it in certain parts.
This plant does not grow too long, we recommend that you avoid pruning, its flowers will be ready to cut between the 8th and 10th week of flowering.
What does Cherry Pie taste like?
This weed will evoke the fragrances of the classic Skunk but loaded with tasty notes of cherries, its flavor is sweet and exotic, will captivate your senses and you will realize that you have made a great decision to grow it.
What effect does it produce?
The effect is euphoric and stimulating, both mentally and physically, ideal for eliminating daily tensions generated by stress, also enhances creativity, elevates your mood and loads it with positivism.
Its medicinal qualities are excellent, indicated in patients with bipolar disorder, anxiety, migraines, also helps in the relief of chronic pain and with syndromes associated with severe depressive states.
How do you grow Cherry Pie?
Being an easy to grow genetics, you won't have any problems harvesting even if you are inexperienced.
Indoors it takes between 56 to 70 days for the flowering stage, grow fast and you will see them develop lush and very eye catching with their beautiful colours.
You can place 14 specimens per square meter under a light of 400 w, in pots of 7 liters, we recommend you to place an anti odor filter to avoid being recognized in your garden.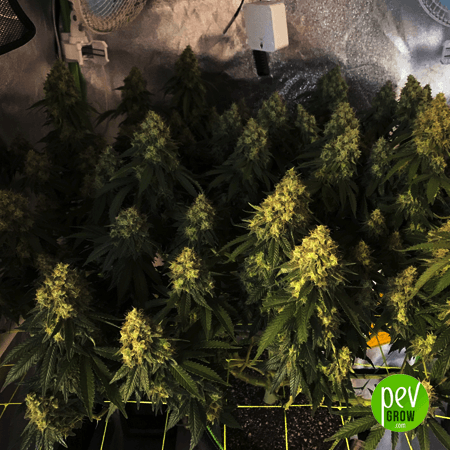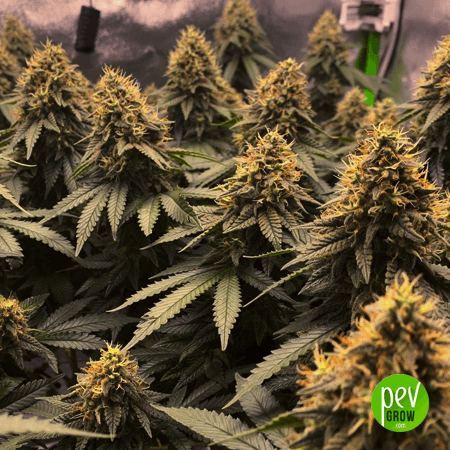 Grown outdoors it will be ready by the end of summer, it has a great vegetative vigour, leave it a comfortable space for its growth so that the sun and air can easily circulate throughout its structure.
It favours temperate climates, although you can also sow it in other climates as long as they are not so extreme.


What is the yield of Cherry Pie?
In indoor growing it produces 450-650g per m2 and in outdoor growing expect yields of 350-500g per plant.


Buy Cherry Pie feminized seeds
Buy now Cherry Pie feminized seeds from the seed house: Spanish Bulk Seeds, only here at Pevgrow.
You may also be interested in: