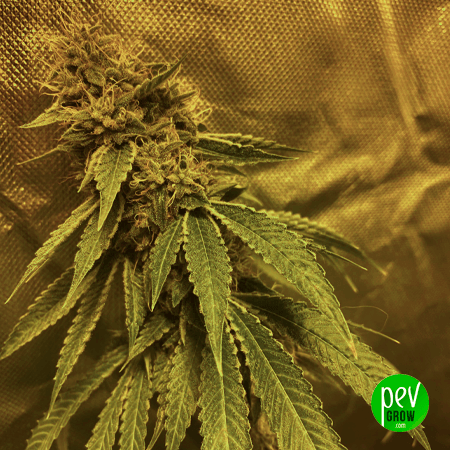 SFV OG are feminized marijuana seeds created by Spain Bulk Seeds that represent the San Fernando Valley OG variety, the most widespread OG Kush clone in the world at the moment. Its origin is in the very heart of California, and as with other great American genetics, there is a true legend surrounding its creation.
What is the genetics of these seeds?
Although there is some controversy with its original genetics, it is thought that it arose from a cross between Chemdog x (Lemon Thai x Hindu Kush) From this mixture came the first selections of OG Kush, where SFV OG stands out, but without detracting other great elite clones like Tahoe OG, Ghost OG, or Larry OG. The chemotype of this strain is very balanced, having around 50% indica and 50% sativa.
How is SFV OG in general terms?
Its constitution is surprising because traits of both indica and sativa can be seen with the naked eye, since it grows with great distance between nodes, but with wide leaves and great strength in general. Its stems are quite flexible, something that helps a lot to guide its growth as we are most interested. It develops medium sized buds, with a round shape, and an impressive density, impossible to break with your hands. A characteristic feature of SFV OG is its resin production, possibly the quality that has given it its current reputation.
How are these seeds grown indoors and outdoors?
Its cultivation is not complicated at all, you just have to take into account some details. In indoor cultivation it is more interesting to put about 16 plants / m2 in 7-liter pots, and after 2 or 3 weeks do a apical pruning or FIM to stop vertical growth and promote lateral branching. Once flowering has entered, it may be interesting to remove the low branches where the light does not reach, since this way the production is concentrated in the highest points.
Outdoors it is better to prune several times throughout the vegetative growth phase, first to the main tip and then to the next more developed branches. If you do it like this, your SFV OG will end up with many shoots that will later become good buds, and will facilitate the entry of light and air into its structure.
When are SFV OG harvested?
Its flowering period in indoor crops does not usually exceed 9 weeks, but as with other polyhybrids, the point of maturation depends on the type of effect you prefer. Outdoor SFV OGs are harvested during the first fortnight of October in the northern hemisphere, and for outdoor growers in the southern hemisphere the harvest arrives from April 1 to 15.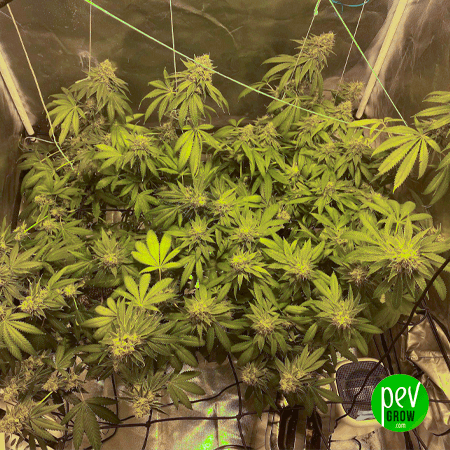 How much do these feminized seeds produce?
It is quite feasible to achieve a production of 17.6 oz per 3x3ft (500 grams / m2) in indoor cultivation with SFV OG seeds, just by following the advice I gave you above, it can be easily achieved. Outdoors each plant can give you between 14,4 oz/plant and 24,6 oz/plant (400 and 700 grams) of buds ready to eat. The production of resin and essential oils is exaggerated, a hallmark of all members of the Chem family.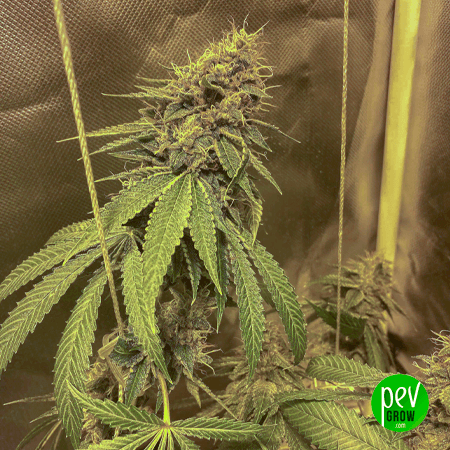 How is the aroma and taste of SFV OG?
Intense, long-lasting, and delicious in equal measure. The aroma begins to be powerful as soon as the first trichomes begin to appear, becoming more and more pronounced as the flowering progresses. The flavor fills the mouth without having to wait for it to cure, a balanced mixture of earthy, citric, spicy, and with chemical notes reminiscent of gasoline, very genuine and pleasant to the palate.
What kind of effect can we expect with this marijuana?
Very complete, psychoactivity to the maximum coupled with a great total body relaxation. Consumers with little tolerance will have to be careful and not consume too much, because its high THC content causes an acceleration in thoughts that can be overwhelming for the they are not used to it. On a medicinal level it is very appropriate to relieve tension and pain, treat glaucoma, and whet the appetite.
Buy SFV OG feminized seeds from Spain Bulk Seeds at the best price online
When you try these seeds you will understand the reasons why OG SFV became the favorite clone of OG Kush, and that is that its quality exceeds even the most high expectations.
You may also be interested in: