Reading Time
3
minutes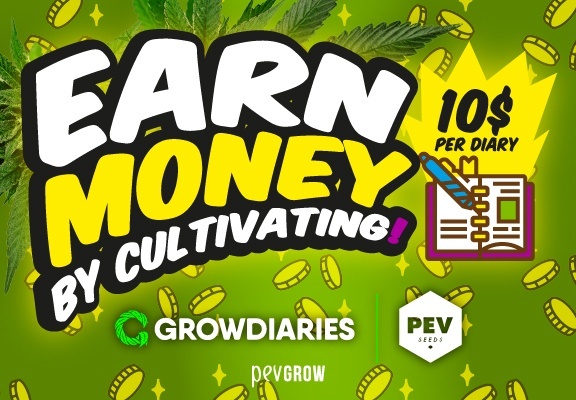 PEV Seeds is launching a new contest on thepage Growdiaries, and this time all participants will have a prize, and  you don't have to be among the first to win gifts, and the best thing is that if you do you don't have to do anything special , sounds good right? Well, read on because you're going to hallucinate …
⭐ Earning just to cultivate?
Join the Pevgrow cannabis family in our:
That's right, just as it seems, because with this new contest you will receive a 10 € discount coupon to spend on Pevgrow just to make a growing diary of one of the PEV Seeds strains. You can choose from feminized seeds like Gelato Cake or Gorilla Glue, autoflowering like White Widow Auto or Tropicanna Cookies Auto, or medicinal genetics like CBD Time or OG Cookies Cream CBD.
⛳ How can I participate in this PEV Seeds competition?
It's very easy, if you haven't registered on the platform Growdiariesyet'd, you better a look at this article where we explain what you need to do. If you are already auser Growdiaries, all you have to do is enter the PEV Seeds section and click on the button at the top right that says "+ Start my diary" (If you browse with a Smartphone you have to press the 3 dots that are in the top right corner of the screen)
Now you have to fill in the boxes it asks you, such as the name of the newspaper, the PEV Seeds varieties you will grow, the type of crop, the form of irrigation, etc. and once you have everything validated you must come to this page and fill in our "Diary started" form to enter the contest.
✨ What gift will I receive?
As soon as we receive the notification of your new grow diary with PEV Seeds, we will automatically send you a 3 € discount voucher to spend whenever you want. How about € 3? Wasn't that € 10? Yes, you will receive the remaining 7 € once you have collected this crop in Growdiaries and filled out our "Harvested Diary" form which you will find here. You also have one good discount 5%available  for separate purchase your seeds ENP at the best market price, here it is : GDPEVSEEDS
🚀 When begins this new competition ENP Seeds and Growdiaries?
It is already active, and all PEV Seeds seed diaries started counting from 1st October 2021. You can monitor your indoor or outdoor cultivation, and don't worry about the harvest date, because if you have already finished this contest, you will also receive your prize. Journals started on a date prior to October 1, 2021 will not participate in this contest.
✅ Don't know the Growdiaries website yet? You don't know what you're missing out on
Growdiaries is currently the world's premier cannabis forum, the meeting point for growers, seed producers, fertilizer and lighting producers, and the entire marijuana industry in general. In this article you can see how Growdiaries works and it would be great if you bookmark it, because that's where we inform you about the new contests we are running, which tend to be quite frequent.
One of the best things about this platform is the ability to compare different brands of cannabis growing products. There are classifications with the different scores that consumers give to each of the products they use, and at the same time you can see how they worked in their grow diaries.
🎯 PEV Seeds in Growdiaries, check the quality you can get with our seeds
In the section that PEV Seeds has in Growdiaries you can see more than 200 diaries made by more than one hundred growers different, so you can check the quality of these seeds and give note that the best gift of all is what you will collect.
If you're hesitating between growing indica or sativa, regular feminized or autoflowering, come and see the follow-ups that growers around the world have done, both indoors and outdoors, in many different conditions. This can help you get an idea of ​​what the strains you are thinking of putting on are eating, see when products are applied, and have a lot of data before choosing your seeds.
🧐 Prepare to Win
You have already seen that growing seeds from the PEV Seeds bank in Growdiaries has many advantages, now you just have to choose the genetics you prefer and grow them to the best of your abilities. 1 per day = € 10, no small print or impossible conditions, because with PEV Seeds you will always win.
High from weed, everything you need to know →