Gorilla Glue cannabis variety has quickly become one of the favorites for many consumers. And the truth is that it is not surprising, because this cannabis plant has everything you could ask for: delicious taste, speed, high production of flowers and resin and above all an overwhelming power.
This strain gets its name from the stickiness of its incredibly thick layer of resin, which makes the scissors unusable while harvesting. Gorilla Glue is a well-known brand of glue from USA.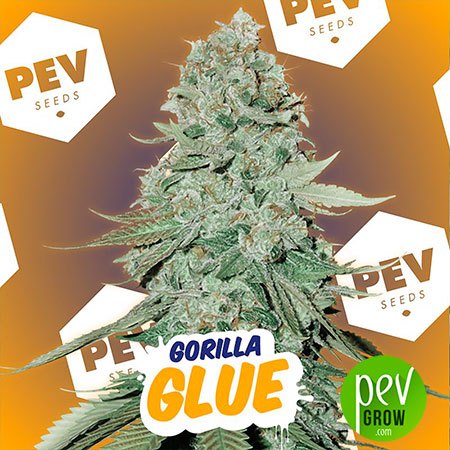 What genetics does Gorilla Glue have?
Gorilla Glue seeds come from the original clone known as Gorilla Glue #4, accidentally emerged as other great cannabis genetics. It all started when Joesy Whales was blooming a few clones of Sour Dubb and Chem Sister in a small closet. Chem Sis is a hermaphrodite and some male flower she formed ended up pollinating Sour Dubb.
Few seeds came out, and Joesy Whales didn't really expect anything special from them, he didn't even plan to try them. But a friend of his known as Marrdog ended up putting 6 seeds from which all the females came out. The #1, the #2 were special, but the one labeled #4 turned out to be an outstanding marijuana plant.
There are theories that the Gorilla Glue variety contains Diesel Chocolate, although others deny it. Whatever the genetics, what is clear is that it is a compensated polyhybrid, practically with the same distribution between indica and sativa.
Our feminized version comes directly from the original clone, and in order to fix its most representative features it was crossed with a little dominant reversed.
How is the Gorilla Glue variety?
It is a cannabis plant with a morphology similar to genetic OG, with a wide distance between knots, branching, and quite wide leaf. The color of its leaves is quite clear compared to others, forms very dense buds with the largest layer of resin you can imagine.
It is very easy to cut, responds well to pruning and its feeding is not difficult, so it can be considered an easy variety to cultivate. Its cultivation requires less experience than its use, which can knock down people with low tolerance for cannabis.
How is Vip Gorilla grown indoors and outdoors?
Due to its open and branched structure we recommend to use the technique known as "Screen Of Green" in indoor cultivation. You can put 4 plants per meter with many prunings during a long growing period, or 9 plants with fewer prunings and less cycle at 18 hours.
For its diet we recommend organic fertilizers, as the intense flavor that gives you is enjoyed much better when grown naturally. 
In outdoor cultivation is advisable to use some type of structure in which they can support the branches when they begin to fatten the buds.
When is the PEV Seeds Vip Gorilla harvested?
If you grow the Gorilla indoors you can start harvesting after about 9 weeks of flowering. In outdoor cultivation or greenhouse will have to wait until early October in the northern hemisphere to complete its maturation successfully. In the southern hemisphere it is harvested at the beginning of April.
How much does the Gorilla Glue variety produce?
It can be considered that the Gorilla Glue is a good producer in general. Indoor yields are over 500 grams per square meter. Outdoors each plant can give you more than 1 kilo, planted early in mother soil and cultivated correctly.
The resin production is extremely high, probably Gorilla is the variety of marijuana with the highest concentration of trichomes on the planet. Nowadays it is one of the most used plants to elaborate cannabis extractions due to its incredible return of more than 20%...Impressive, isn't it?
How does the feminized Vip Gorilla taste?
In organoleptic matters is spectacular, with an intensity of flavor comparable to few commercial marijuana seeds. The taste is complex, you notice the Chem part, but mixed with floral and citrus notes that remain in your mouth even minutes after having consumed it.
In concentrates such as hashish, rosin or BHO, so many terpenes accumulate that the nostrils collapse. Gorilla is one of the few strains of marijuana that exceeds 5% in concentration of terpenes.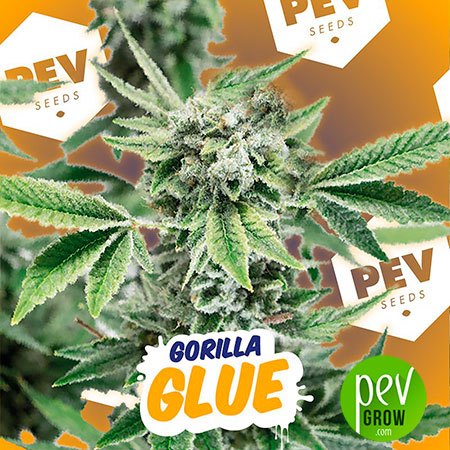 What effect does Gorilla Glue produce?
As we mentioned before, Gorilla Glue is not a variety for beginners, and it is not a joke. With more than 25% THC and a combination of terpenes that enhance the psychoactive effect, it can be said that this marijuana is a hard drug.
With only a couple of draughts you begin to notice how it rises, and when you least expect it you find yourself immersed in an intense journey without return. Psychoactivity is impressive, but it also causes tremendous physical relaxation, so the effect is total.
This effect may be beneficial for users who need medicinal cannabis to treat depression, whet appetite or relax muscles.
Where can I buy feminized Gorilla Glue seeds?
You couldn't really be in a better place if you were looking to buy marijuana seeds of the trendy variety. At Pevgrow we give you the option of acquiring the best feminized version at the best market price. So don't doubt it anymore, and don't be the last one to try the genetics everyone talks about.
You may also be interested in: