I'm sure you've heard of a cannabis strain called Gelato Cake, mostly because it's the most famous cannabis plant today. And it is possible that you are wondering...What has this strain that makes it so good? Don't worry, you'll soon see why Gelato Cake has become so popular in the weed Olympus.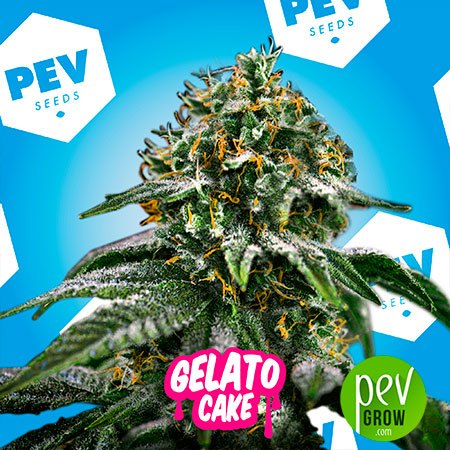 What is the genetics of Gelato Cake?
It is a cross between Sunset Sherbert and Girl Scout Cookies, a direct descendant of the prestigious Cookie Fam. It can be considered a retrocrossing of Cookies, although morphologically they have quite a few differences, especially in the shape of the flowers.
Seeds of Gelato Cake marijuana are the fruit of an excellent work done by the great Mario Guzmán, alias Sherbinsky. This breeder was a member of the San Francisco Bay Area collective that created Girl Scout Cookies, although he became famous internationally when he presented his other great creation, Sunset Sherbert. That's why no one better than the Sherbert's father to continue with the cookie lineage, first as sorbet and now as ice cream.
How is the cannabis variety Gelato Cake?
It is a plant with the appearance of a sativa hybrid in terms of its structure, although the flowers and leaves are more similar in shape to the Indicas. Its leaves have a very pronounced and particular sawing. It grows with a wide distance between knots, quite branched and with good vigor.
In flowering can triple its size, forming buds throughout the structure, medium size and resin frost. The calyx/leaf ratio is very good, which helps a lot when harvesting.
How is Gelato Cake grown indoors?
Thanks to its good branching, high growth rate, flexibility of the branches and good response to pruning, it is a good candidate to use the SCROG method. It does not need high doses of fertilizers to perform well, many times, more does not mean better.
In flowering, it is necessary to control that the humidity does not rise too much, especially when the buds are formed. This variety creates very dense flowers, so it is interesting to improve indoor ventilation and try to reduce the relative humidity as much as possible.
How do I grow Gelato Cake cannabis outdoors?
It is highly recommended to prune for several reasons, first because you will increase production, but also to prevent possible fungi in large buds. In outdoor cultivation it is necessary to use a structure to support the branches, or at least some tutors.
If you want to plant Gelato Cake outdoors control the possible rains during the flowering, if you put it in flowerpot it is possible that you have to protect it at some point. If you grow in greenhouses you avoid the problem of rainfall, but it is still interesting to use preventive fungicides.
When is Gelato Cake harvested indoors and outdoors?
In indoor cultivation Gelato Cake can be cut after about 10 weeks of flowering. If you like a more cerebral effect, you can harvest it a little earlier, but if you prefer a more narcotic effect, leave it for 10 to 11 weeks.
Outdoors Gelato Cake is harvested in mid or late October in the northern hemisphere, and from mid to late April in the southern hemisphere.
How much does the Gelato Cake variety produce?
Although the buds of Gelato Cake are not very bulky, it is necessary to consider that they are very dense, hard and heavy. If you have ever held in your hand the buds of Cookies you can get an idea how the flowers of Gelato Cake look like.
Indoors you can get a production around 450 or 500 grams per square meter. In outdoor cultivation each plant can give you almost a kilo of dried buds.
The resin production is well above average, and only at the level of Cookie Fam.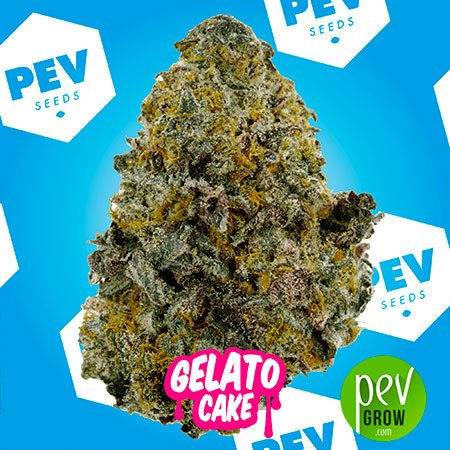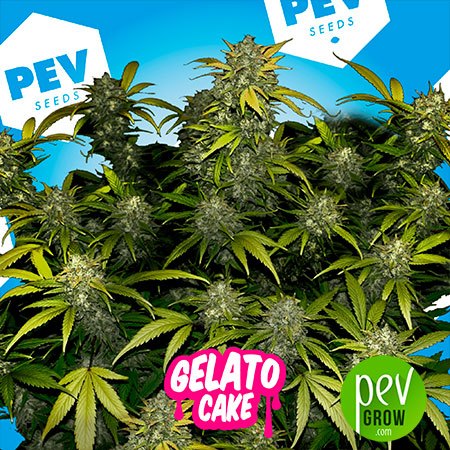 How does Gelato Cake taste?
Here is one of the most famous features of Gelato Cake, because it is a taste that leaves no one indifferent. Sweet, citrus and very fresh, so much so that many people are reminded of lemon ice cream, a delight.
For cannabis extractions it is difficult to find a better variety, the large amount of resin gives an incredible return, and the powerful profile of terpenes it contains gives an unbeatable final quality.
What are the effects of Gelato Cake cannabis?
It can be said that it is a complete effect, total, that satisfies even the most experienced consumers. Its 25% THC allows it to make even high tolerance smokers sit up, and it can be excessive for sporadic or inexperienced users.
Just a few puffs and you begin to notice a tingling in the back that invites you to predict that what comes next is strong. And it is, before you know it you'll be immersed in a sea of ideas and thoughts of all kinds. But this is not the end of the power of Gelato Cake, since on a physical level it causes you a very pleasant relaxation, which can be beneficial for people who need cannabis as a form of medication.
Gelato Cake Seeds for sale at the best market price
You can search and compare through all the websites, you won't find a feminized version of Gelato Cake marijuana variety with better value for money. So don't wait any longer, order your seeds and start discovering why this weed has set a before and after in the cannabis sector.
You may also be interested in: