The best lighting of indoor marijuana culture
0
189
The right choice depends to a large extent, the quality, quantity and volume of our growing marijuana. Based on the square footage of our culture, the type of seed or the growth phase in which our plant is, the illumination shall be one or the other.
When you venture to grow marijuana, the first thing you have to think about is if you want to do it indoors or outdoors. If outdoor, chances are that your plants do not require artificial light, except a place to live in the world where light is scarce during the growth of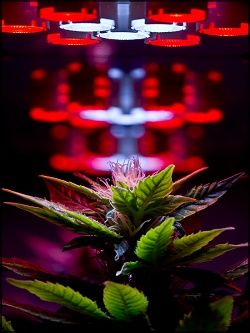 your plant. However, if you go for indoor cultivation, which is most common among people doing self-cultivation, this will be one of the most important aspects to consider. Your right choice will depend the success of your crop.
And is that if something marijuana plants need many hours of light. And unable to give it in a culture indoor artificial light is the best substitute. But beware! Not all the lighting is good, because if you do not choose the correct corresponding to your type of plant forms, can spoil the whole crop. Conversely, if you choose the correct bulb, you can improve the volume and quality of your planting.
So today we want to focus on the choice of light and all items that are necessary for it. We begin!
Lighting your crop needs
Just as in the case of human light affects us just another or, for example, in the case of decoration or display of products is best to use a type of lighting that another or to a certain distance, in the case of marijuana cultivation indoor is exactly the same.
On the one hand, plants need artificial light, which will be replacing the solar star and bring them the vitamins necessary for proper development. But in the same way and that is not good as we constantly give us the sun and less as what times of day, plants need a type of bulb or another based on the one hand, the proportion of the cabinet or growing space in which to grow and secondly, based on the growth phase in which the plant is located.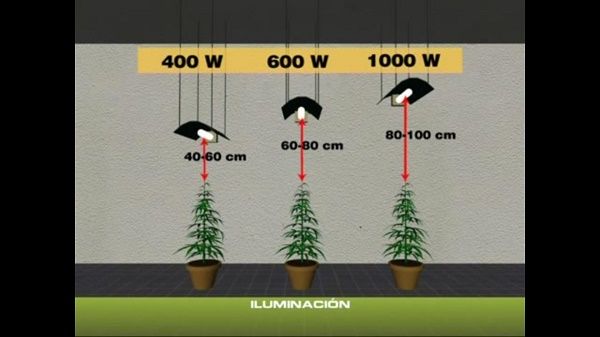 Although the explanations can be extensive and complex, we would like to reduce it at various points to that simple, may be able to purchase your needed products and you start auto-grow marijuana.
Of course, on Piensa en Verde you can find all the articles that we will discuss below. We work with the best brands so that we have the guarantee that you get along a good product, which will benefit the growth of your plant, provided that the use is due.
Thus the aspects to consider when choosing a lighting well for our culture, are:
– Color of the bulb: blue or red. The first color is used in the case where plants are in the growth phase and power will be around 450 nm to 500 nm. For its part, the color red is used in the part of flowering and its intensity rises from 610 nm to 750 nm, as already support higher light intensity and demand is greater. In the case of blue lights, many growers used low consumption lamps with this color. Thus hardier plants and ready to get a nice bloom.
In the case of red lights, experts often use LED lights because they consume and pollute less and the effect is the same as that of ordinary bulbs that give off that color. In case of not wanting to use LED bulbs they are often also use HPS bulbs home, whose products also can find in Piensa en Verde.
The use of this color is because it best mimics sunlight during the fall months, which is one of the periods of flowering cannabis plants.
Finally, it notes that there are farmers who also use green lights bulbs because they are not as powerful as red, no stress getting plants as well as could do some red bulbs.
Type lighting system: this is also chosen according to the results we want to obtain, on the one hand and, based on our type of plant on the other. The most common lighting systems are:
a) Fluorescent and light bulbs: both have a low consumption power and do not emit as much light as they would normal bulbs, so is the lighting experts use in case you want to remove seeds or rooting cuttings. Both fluorescent tubes, such as light bulbs you can find them at our online store. In this regard it is noteworthy the low-power kits that will help you save on different aspects of your growing marijuana.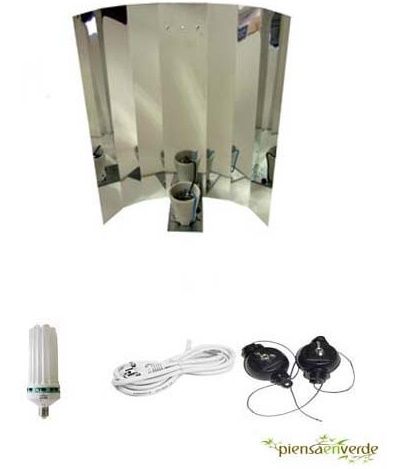 b) halide bulbs or HM: which are used when we seek to obtain explosives crops. The same, they need to illuminate a ballast, are ideal for the pre-flowering and flowering, helping, as mentioned, to obtain unique results. If this is your case, you can see the products that we offer you in this section of Piensa En Verde. With this type of bulb plants will not grow as elongated shape, but much more compact and therefore flowering also be more abundant, the main objective of using these bulbs, as we mentioned at the beginning.
c) HPS bulbs or sodium vapor high pressure: this type of bulbs is very special and are flowering queens for years. And is that one of the advantages of using this type of bulbs is that there are a mixed type, which can be used in all phases of plant growth,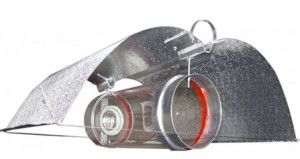 saving that entails, but if you want to get more specific results , HPS lamps also exist for each phase. In any case, you can take a look at our online store and see if you stay with these bulbs will decant or more LED panels, which are those that are now gaining ground among the supporters of the self-cultivation of marijuana. If deciding on the HPS, which have been very successful for years and still do, of course, we do recommend that you do not lose sight of the Cooltube reflector, which will help to reduce the heat emitted by this type of light bulbs and that is not always good for all plants according to what type of growth phase are.
As mentioned, if you wish, you can replace the HPS bulbs with LED bulbs. Why? Mainly because the results are as good as those of the HPS bulbs, but with the advantage of not emit as much heat as the first and, therefore, no need for any reflector to cool the growing space of marijuana. In this sense, it will not be necessary you employ powerful extractors, since only generate heat, as we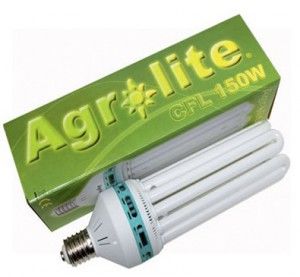 said, so they are already two advantages. The only drawback is initial price, but it should be stressed that, ultimately, is also saved as the savings in consumption of light is important and we can not forget all the hours of light they need and what our plants this means in the electricity bill.
Now that you have a more or less distinct types of lighting that is more commonly used in the cultivation of marijuana idea up to you to choose which type of lighting should be used to achieve the goal you've set for yourself.
In our lighting section also you will find other important items for better dimming or to protect yourself from radiation of some bulbs. Just consult here. Happy farming!
By Noelia Jiménez, Team Piensa En Verde