Reading Time
9
minutes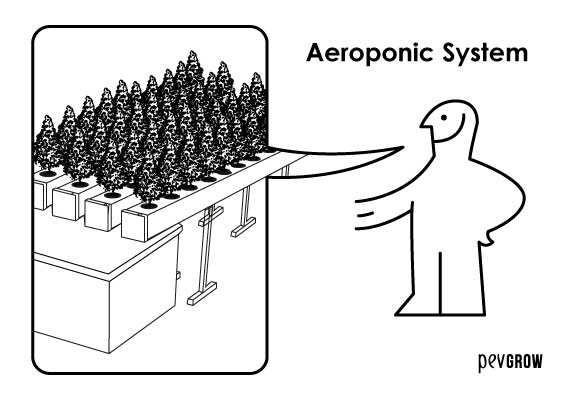 When it comes to growing marijuana, we're inundated with a wide variety of different methods. Having consulted on many marijuana operations, I've seen that the majority of profesional growers utilize the aeroponic system for the best results.
Although a vast majority of professional and large-scale growers use an aeroponic system, you too can drastically improve your crops by switching to this soilless method as well. By learning about this simple yet efficient system, you'll be growing High-Times grade marijuana in no time. Imagine that! ?
Are you ready to enter the cutting edge world of aeroponic growing systems? If you are, read on and discover how you can reduce flowering times and maximize your yields.?
✨ What is An Aeroponic System?
Join the Pevgrow cannabis family in our:
First and foremost, you need to understand the aeroponic definition. Aero is from ancient Greece meaning "air," and ponic means "work" .Therefore, in an aeroponic system, air is doing the work.
In an aeroponic growing system, plants are placed in neoprene discs that hold them in place. The roots are entirely exposed below this disc and dangle above small misting systems. These misting systems are then programmed according to the needs of the cannabis plants and release nutrient-rich water directly to the roots.
The atomized water isn't just filled with the necessary nutrients, it's also filled with precios oxygen. This is where aero comes into play in an aeroponic system. When any plant lacks oxygen, its root system will begin to rot, and marijuana is no different. This dual function of the misting system is why aeroponically grown marijuana plants thrive.
As the root system receives specially formulated food, it immediately takes up the necessary nutrients and the plant begins rapid growth. Excess nutrient drips back down into the aeroponic chamber to either reused or discarded, depending on your given setup.
It's important to note that aeroponic chambers differ from hydroponic systems by having their roots suspended in air. Hydroponically grown plants have their root systems suspended in water.
👌 How Do Aeroponic Systems Work?
Ok, now that you've got the basic idea of what an aeroponic growing system is, it's time to learn how the complete system works.
Let's start with the aeroponic chamber. This chamber varies in size depending on your growing environment. It all depends on the space available to you and the estimated size of your plants during the flowering stage.
The chamber can be a large plastic tub with a corresponding lid that has pre-installed holes for each plant. Underneath each hole will be atomizer to mist the root system. Each atomizer will be connected to a pump that is submerged within a reservoir of nutrient solution.

To increase efficiency, I can only recommend you to connect the pump to a timer to créate optimal feeding intervals.
Above the aeroponic chamber is where the leaves and buds grow. This is a familiar sight for you because you'll be keeping an eye on the developing flowers as the HPS lighting hits the demanding leaves.
The reservoir within the aeroponic system is continuously monitored with a pH and EC meter to avoid large fluctuations.
✅ Advantages and Disadvantages of Aeroponics
Let's start with the advantages of using aeroponics for growing marijuana. Possibly the most significant benefit to aeroponics is the explosive growth in a short amount of time. We all know that in the world of marijuana growing, timing is everything. According to Northeastern University of Boston, MA, aeroponics can increase growth rates by a whopping 200%.
By increasing the growth rate substantially of your marijuana plants, you'll be able to begin the flowering phase much faster than growing in traditional methods; such as in soil where you can't control each variable. Another advantage is that your cannabis plant fully utilizes the nutrient solution to increase bud production significantly. When I was visiting local medical marijuana operations in Los Angeles, CA, I couldn't help but notice the gigantic buds toppling over and oozing with resin. These operations were always using a state-of-the-art aeroponic system.
Another advantage of growing cannabis in aeroponic systems is that you can build your own aeroponic system cheaply. These DIY aeroponic systems can be pieced together on the Pevgrow website. Homemade bucket aeroponic systems are perfect for beginners to start their journey into growing cannabis aeroponically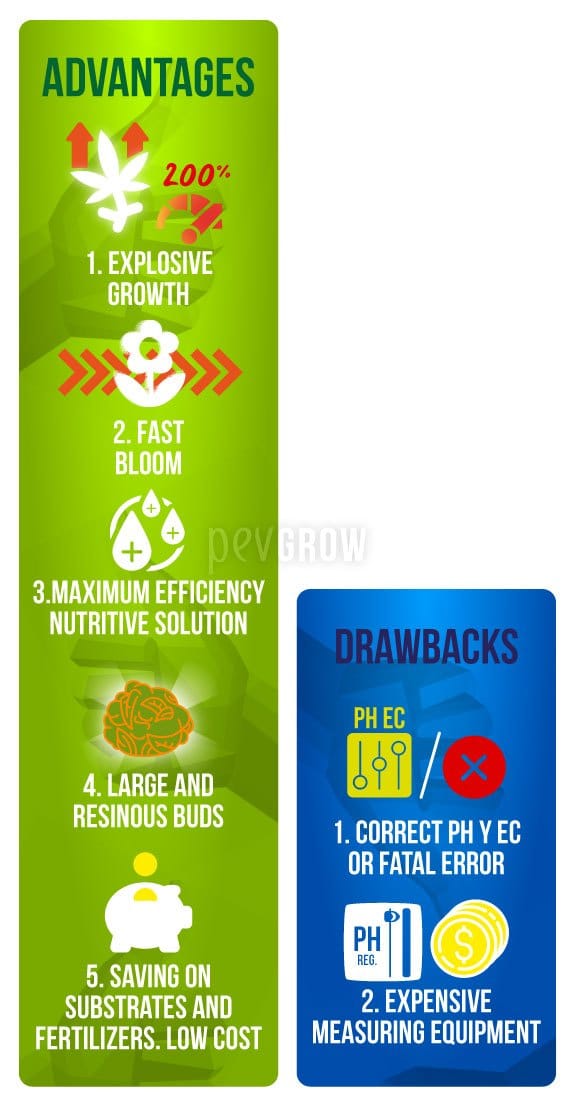 As we know, what goes up, must go down; and therefore I need to tell you about the disadvantages of growing in an aeroponic system. The main downside is the increased learning curve. Since the plants' entire environment is completely controlled, any mistake can lead to drastic consequences. Most beginners and veterans alike are prone to having issues with maintaining the correct pH and EC of the nutrient solution..
Another downside of growing marijuana in aeroponic systems is that equipment such as pH and EC meters are costly (we invite you to visit our "Measuring Instruments" section.). Also, depending on the size of your chamber, you may need a more expensive high-pressure aeroponic system..
If the nutrient solution suddenly becomes too acidic or basic, the plant can go into shock that will either instantly kill it or stunt its growth for an extended period. Since there isn't a buffer that is found in marijuana plants grown in soil, you will need to make sure your pH is in the necessary range at all times.
⚠️ Are Aeroponic Crops Good Quality?
Now this is the question you've all been wondering, isn't it? Let me ask you: why do some of the world's best marijuana growers only use aeroponic grow systems? It's because of the picture perfect bud quality!?
In a fine-tuned aeroponic grow operation, the buds reach their full potential. Trichome production is fully maximized, and pistil growth flourishes to increase the overall size and weight. When the roots are happy, so is the rest of the plant. Although it will take patience and practice, once you get a hold of growing weed in an aeroponic system you will never look back!?
⛳ Build Your Own Aeroponic Setup
Together with PEV Grow, you can begin building your own high-pressure aeroponic setup. Creating your own aeroponic garden gives you greater flexibility because not every grow room is the same size. DIY aeroponic setups allow for customization where pre-made aeroponic systems fall short.
– First, you'll need to measure the usable space that you intend to work in. Make sure you consider ample space to walk around your aeroponic weed garden to make inspecting your prized marijuana plants a breeze. Your chamber should include a lid to make sure that the roots won't be affected by light.

– Now that you have your space measured, it's time to sift through the essential parts of an aeroponic chamber to fit your available space. Your aeroponic chamber can be a tub or even a 19-liter bucket. Your chamber should include a lid to make sure that the roots won't be affected by light.

Roots grow best when covered with absolute darkness, and any light leakage can affect root growth. On your lid, mark out the spots in which your plants will be inserted, with a circumference of 50-75mm. In these holes, you'll place neoprene discs to act as the base of your cannabis plants.

– Next, depending on the amount of nutrient solution in your chamber, you'll need an adequate water pump to move the nutrient solution from the bottom of the chamber to the atomizers. You'll need a high-pressure pump that is capable of at least 7 Bar. Next, you'll need a regulator that will keep your pressure pegged to -7 Bar.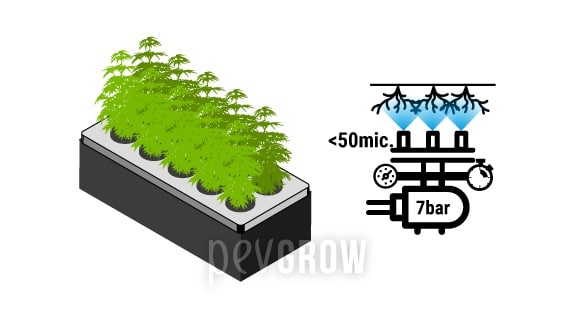 – At the bottom of your high-pressure aeroponic chamber, you'll want a rotating water mixer to oxygenate your nutrient solution and to keep it from stagnating. Stagnant water is the cause of root pathogens and needs to be avoided at all costs..
– Connected to your high-pressure pump is a timer to control the on and off times of the entire aeroponic system. More expensive control switches have integrated functions such as an onboard solenoid or pressure switch to make the process more efficient.
– Connected to the pump will also be a pipe to water the root system of the plants, the nozzles should be rated to 50-microns or smaller and should spray in a cone-like pattern.
The overall benefit of using high pressure versus low pressure is that the misting system is capable of spraying roots with droplets of 50 microns or less. Marijuana roots absorb the nutritive solution more efficiently in small micron sizes.
– After all of this simple yet straightforward work, you can now fine-tune your system to turn on and off at optimal times. These times are going to be different for everyone, since growing room conditions, cannabis genetics, and aeroponic setups vary. At this point, it's all about experimentation and finding out what works best for you..
⭐ How to Calibrate your pH & EC Meter?
Growing marijuana in a high or low pressure aeroponic system is extremely rewarding. The general benefits of aeroponics make it worth the time and effort. These growing systems have a learning curve, especially with pH and EC meters.
pH-meter
A pH meter is a necessary instrument to measure the acidity or alkalinity in liquid. The pH meter gives cannabis growers valuable insight into the composition of the nutrient solution that your plants are intaking. Generally, in aeroponic and hydroponic grow systems, when there's an issue with the plant, it can usually be found with the help of a pH meter..
First, you'll need to purchase a pH meter. Next, you'll need to calibrate it so that it accurately reads the pH of your nutrient solution. For this step, you'll need to follow the product manual's directions. You'll need small amounts of pH 4, pH 7, and pH 10 to calibrate your pH meter fully.

Once you're in calibrate mode, a small amount of each pH solution at room temperature in a separate cup. Place your pH sensor into pH 4. It should read 4, but if it reads higher or lower, then you will need to adjust it until it reads 4. Next, rinse your pH sensor with distilled water so that it doesn't contaminate the next test. Place your pH sensor into the pH 7 solution. It should read 7. Lastly, place the pH sensor into the pH 10.



Voilà ! Now your pH meter is fully calibrated and ready to monitor your aeroponic marijuana garden.
EC-meter
Next, an EC meter is a necessary tool to own if you're growing cannabis aeroponically. EC stands for electrical conductivity and accurately measures the amount of salt in your nutrient solution. This is a beneficial tool to make sure your nutrient solution isn't too strong or weak
To calibrate your EC meter, you'll do a similar process to that of the pH meter. Your EC meter should come with a small packet of calibration solution, which is usually rated at 12.84. Place your EC calibration solution in a small container and turn your EC meter to calibration mode. Place the sensor inside the solution, and it should read the specific number on the calibration package. If it doesn't read this number, then you must manually set it

Now that your pH and EC meters calibrated, you're ready to keep your aeroponic cannabis garden healthy. By utilizing these two amazing tools, your cannabis plants will thank you with a bountiful harvest oozing with sticky trichomes.
👾 Which is the Best Nutrient Mix for Your Aeroponic Garden?
The reason aeroponically grown marijuana plants grow so fast is in part due to the nutrient solution used. Although many professional growers utilize their own unique nutrient mixture, it's not recommended that beginners try this. It's best that beginners start growing aeroponic marijuana with pre-made nutrient solutions by companies such as Advanced Nutrients, Dutch Formula, and House & Garden.
These pre-made nutrient mixes are filled with appropriate levels of macro and micronutrients that are necessary for each stage of growth in the life cycle of cannabis. For example, Advanced Nutrients sells aeroponic-specific products that are for the growth stage, flowering stage, and additives for fattening up your buds and increasing resin production
All nutrient makers will provide you with a general guideline to follow when using their product. It's advised to follow their instructions, but since your cannabis grow setup, strain, and environment differ from theirs, you'll still have to go through trial and error to find what amounts of nutrient work best for you.
By carefully using nutrient mix and employing your EC and pH meters, your marijuana plants will thrive in your new aeroponic system.
💻 Conclusion
Now that you've learned the basics of aeroponic grow systems and how they work, you'll son have a new sense of confidence during your journey into the world of aeroponically grown marijuana.
You now understand that although the benefits outweigh the disadvantages, you still need to take precautions to ensure the overall health of your cannabis plant. All of your hard work will pay off once you see oversized buds glistening with sticky trichomes throughout your plant canopy.
If you have any questions or comments, use the text box below, and we'll respond as fast as possible. If you found this article beneficial, spread the word! ? Growers around the world deserve to know the overall benefits of growing marijuana with aeroponics.

Alan Martínez Benito
CEO of Pev Grow, expert grower with more than 20 years of experience.
In constant struggle for the regulation of cannabis, mainly in the medicinal field.
See more posts
Production of marijuana plants indoors and outdoors with different systems →